The humble egg is mostly preferred in cakes and cookies when not eaten as an omelet with the sunny-side up or hard-boiled for breakfast. We look at the best egg recipes to give an interesting twist to the egg in the meal.
Oyako don
This savory Japanese street food is a rice bowl dish with varied toppings with two core ingredients – chicken and egg. At its humorous (and somewhat unsettling) best, don is short for donburi, literally translated to "mother and child". It's a complex recipe with all the Eastern sauces and cooking techniques, but the result is rewarding!
Bouillabaisse of eggs
Originally French, this one has an American twist and tastes extraordinary! With olive oil, tomato puree, garlic, onions, saffron, salt, pepper, bread and of course eggs, the ingredients can be varied as per your taste.
Egg Chaat
Mix tomato ketchup, chili sauce, tamarind extract, lemon juice, roasted cumin, and salt for a chaatsauce. Cut a boiled egg in two and spread the chaatsauce over it. Sprinkle some chopped onion, tomato and coriander leaves with some chaat masala and your egg chaat is ready!
Egg and Sausage Casserole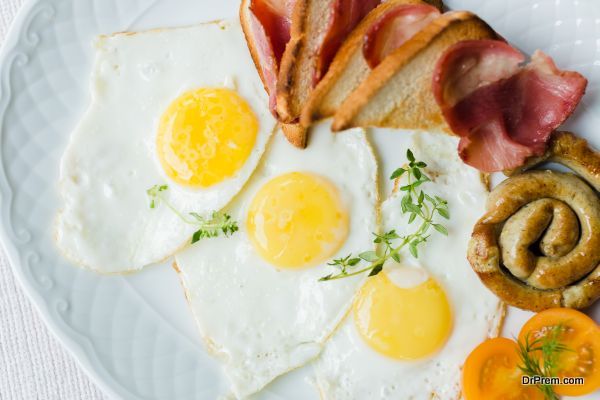 Classic combinations for breakfast, for this recipe, cook the sausage and crumble it. Preheat the oven to 1650C and prepare a baking dish with roll dough and add the sausage. Mix beaten eggs, cheddar and mozzarella in a large bowl and season the mixture with oregano. Pour it over the sausage and crescent roll and pop the baking dish in the oven for 25-30 minutes. Voila! Your dish is ready!
Baked Omelet Roll
Blends eggs, milk, flour, salt and pepper together till smooth and pour it in a baking pan. Preheat the oven to 2300 and place the baking pan in it for about 20 minutes. Later, sprinkle with cheese and loosen the edges of omelet from the pan. Carefully roll the omelet and place the seams side down and cut it to six equal-sized pieces before serving.
Stuffed Egg
This is a curry that is prepared with onions, ginger-garlic paste, garam masala, tomatoes, beaten curd and water.   Further, add salt, pepper, tamarind paste, crushed nuts, goat cheese, butter and lemon juice and blend to smooth consistency. Fill the stuffing in boiled eggs and dip the stuffed eggs in a batter of flours, salt, pepper and other spices. Depp fry it and serve it with sauces or breads.
Egg can add flavor to the blandest cooking, try these recipes and mix up your own recipe with egg in the center-stage.