Hanukkah is the best time to invite your friends and relatives, get together to spend a memorable time and indulge you in numerous fun activities. The festival is incomplete without some special hanukkah recipes that include salmon, latkes, brisket, salad, cookies, donuts and more. We bring for you some delicious hanukkah recipes that will add to your holiday celebrations. Have a look: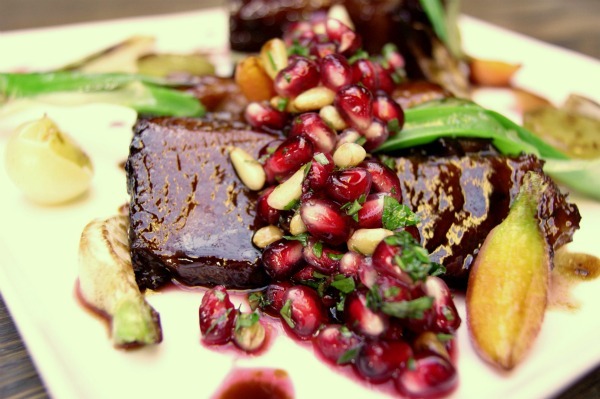 Herb Baked Salmon
Time required: 15 minutes
Ingredients
Extra virgin olive oil – 1/2 cup
Lemon juice – 2 tablespoon
Dried oregano – 2 tablespoon
Dried basil – 2 tablespoon
Salt – 1/2 tablespoon
Ground pepper – 1/2 tablespoon
6 garlic cloves, minced
4 skinless salmon fillets
Method
First of all, preheat the oven to 375°F. Mix all the ingredients, except salmon, in a bowl. Put salmon in a pan and pour marinade over it. Now, marinate for about half an hour. Now, put salmon on a broiler pan and bake for 5 minutes. Then, carefully turn over and bake again for 5 minutes.
Traditional Hanukkah Latkas – Potato Pancakes
Time required: 20 minutes
Ingredients
5 potatoes
2 onions
3 eggs
1 tsp. salt
1/4 tsp. pepper
Between 1/4 to 3/4 cup all-purpose flour
Oil for frying (canola is recommended)
Method
Peel onions and potatoes. Place them together in a food processor and pulse. Now drain them well. Now place this mixture into a bowl and add beaten eggs, salt, pepper and flour. Now pour some oil in a frying pan and heat it over medium flame. Then, put 1/4 cup of the mixture in the pan. Then flatten it slightly so that the entire pan cake cooks well. Now fry on each side and take it out once it turns golden brown. Your latkes are ready. Serve with applesauce.
Decorated Hanukkah Cookies
Time required: 28 minutes
Ingredients
1 cup butter or pareve margarine
1 1/4 cup sugar
2 eggs
1 teaspoon vanilla
2 teaspoons baking powder
3 cups all-purpose flour
Non-stick cooking spray
Sanding sugar in various bright colors
Method
Preheat oven to 400 degrees fahrenheit. In a bowl, place margarine, add sugar and mix well. Then add vanilla and eggs and mix again. In a separate bowl, add baking soda in flour and mix well. Now make two balls out of the dough. Roll it till 1/8 inch thick and then using cookie cutters, cut into shapes. Spray the non-stick cooking spray on the top surface of all the cookies. Now carefully make designs, create lines or holes, without damaging the cookies. Now, sprinkle sanding sugar over the cookies and then bake at 400 degrees fahrenheit for 5-6 minutes.
Hanukkah doughnuts – Sufganiot
Ingredients:
25 grams yeast
1 tablespoon sugar
1 tablespoon water
1 tablespoon flour
3 cups flour
50 grams (1/4 cup) margarine, melted
Dash of salt
3 tablespoons sugar
2 egg yolks
1 1/4 cups water
Jelly
Oil
Powdered sugar
Method
a. Making dough: Mix yeast, sugar, water and flour in a bowl well and wait till yeast is formed. In a separate bowl, mix 3 cups of flour, salt, sugar, egg yolks and margarine. Then mix the yeast mixture with the flour mixture. Stir adding water slowly until smooth. Now cover the bowl and let the yeast form.
b. Making doughnuts: Roll the yeast dough on a floured surface. Now cut out circles from the dough using a small glass. Put a drop of jelly in the center of one circle. Place another circle over it and attach well. Now repeat the same with all the circles. Then, cover them with a piece of cloth and let the yeast form.
c. Frying the doughnuts: Heat oil in a deep pan. Fry the doughnuts on both sides until they turn brown in color. Take them out on a plate and sprinkle powdered sugar.
Cauliflower Latkes
Time required: 55 minutes
Ingredients
1 Cauliflower (cut into pieces)
3 Beaten eggs
Half cup wheat flour
Salt (1 tablespoon)
Black pepper (Half tablespoon)
Oil
Method
Boil some water in a large utensil. When the water is boiled, add cauliflower and cover the utensil. Let it cook for around 20 minutes over low flame. When the cauliflower peaces become soft and mashable, drain them. Now place them in a bowl and lightly mash using a fork and let it cool. Now, add eggs and flour and mix till it turns into a pancake-like batter. Sprinkle salt and pepper. Drop few tablespoons of oil in a pan and heat it. Now, drop a handful of batter into the frying pan and press them using the back of a large spoon. Flatten and cook them for 2-3 minutes on both the sides. When they turn brown, remove from the pan. And your lips making latkes are ready.