Dark chocolate is one ingredient which is very flexible and you can make many things out of it. Especially if you are thinking of making a dessert, it is the best. There are varieties of the option to make homemade dark chocolate dessert recipes for your sweet craving at home. They are so easy and some of them are instant to make. Let's see some of the easy dark chocolate recipes to make at home.
1.     Dark chocolate frozen banana shake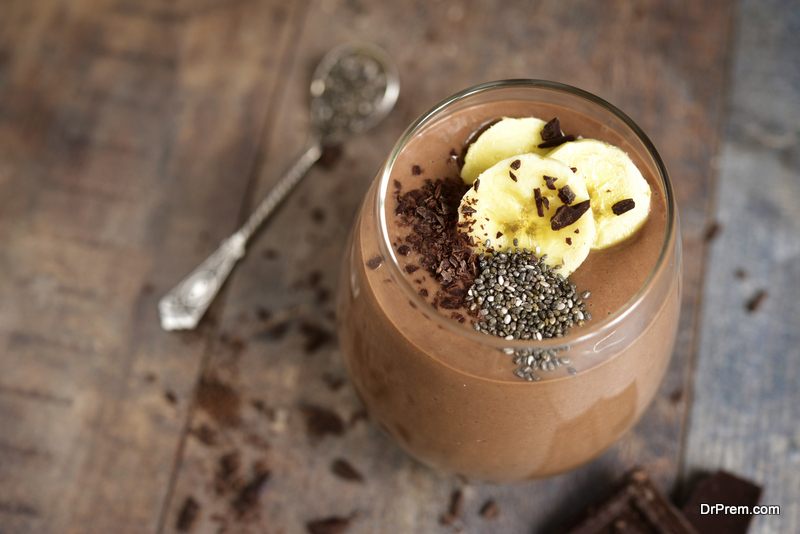 This chocolate shake is just amazing and ideal for any time of the day.You can make it instantly whenever you feel hungry and has sweet tooth cravings. A healthy solution to your hunger. This is instant, you don't need to cook and can make it without an oven. Let's find out how to make it.
Ingredients (For 1 cup shake) :-
2 bananas- frozen
coconut milk
5 tsp dark chocolate cocoa powder
cold water
1 tbsp almond butter
Pinch of cinnamon
Instruction:
In a blender simply combine the entire ingredient and blend till you get the smooth shake texture. The thickness of the shake completely depends upon your taste and preference. When you make the shake, start slowly and slowly the shake becomes smooth. If you want to add more almond butter or chocolate, you can add it anytime. To give it a final touch, garnish it with some shredded dark chocolate to make it look attractive and enhance the taste as well.
2.     Dark Chocolate Chunk Oatmeal Cookie Bars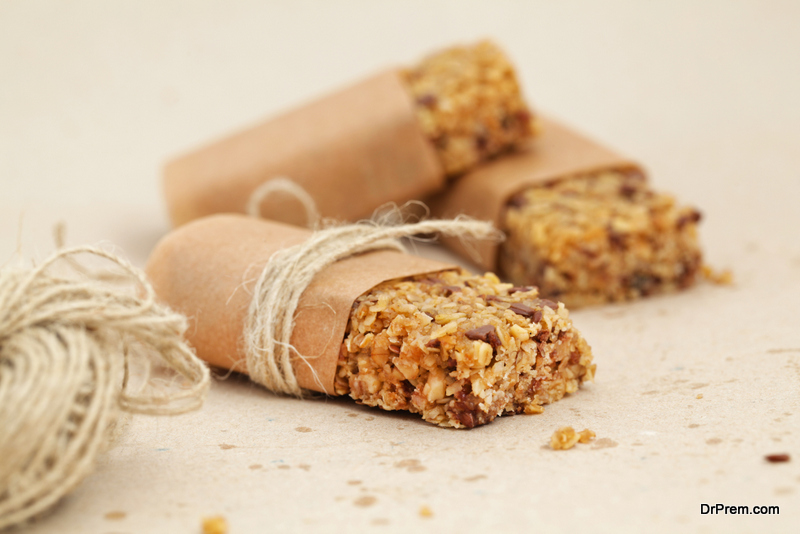 This dark chocolate recipe is one of the healthy cookies you have eaten; you can call it a bar, a cookie or a brownie. These are healthy as the fiber in oats;the antioxidants in dark chocolate make it even more healthy treat. A fun, healthy and innovative dessert to try. Let's try this recipe.
Ingredients:-
dark chocolate chunks- ½ cup
1 cup melted coconut oil
Egg-2 no.
brown sugar- 1 cup
all-purpose flour- 1 cup
wheat flour- 1 cup
baking soda
salt to taste
vanilla essence 
Instructions:-
First of all, preheat the oven to 350 degrees and grease the baking dish with butter.
In a mixing bowl, add the entire ingredient. Oatmeal, flour, eggs, coconut oil, brown sugar, baking soda, salt,and vanilla essence. Mix it properly until the dough combines together.
Now add the dark chocolate chunks and mix it properly into the dough.
Now you have to make layers of the dough. In the greased dish spread the dough and sprinkle dark chocolate chunks and repeat this process by making one more layer. Sprinkle a little more on the top to make it look attractive.
Now the final step, bake it around 25 minutes. Let it cool and cut it into pieces and the very nutrient bar is ready.
This is one of the Best recipes to try with Dark chocolate. Enjoy this healthy bar anytime of the day and your tummy will thank you for that.
3.     Dark Chocolate Chip Zucchini Bread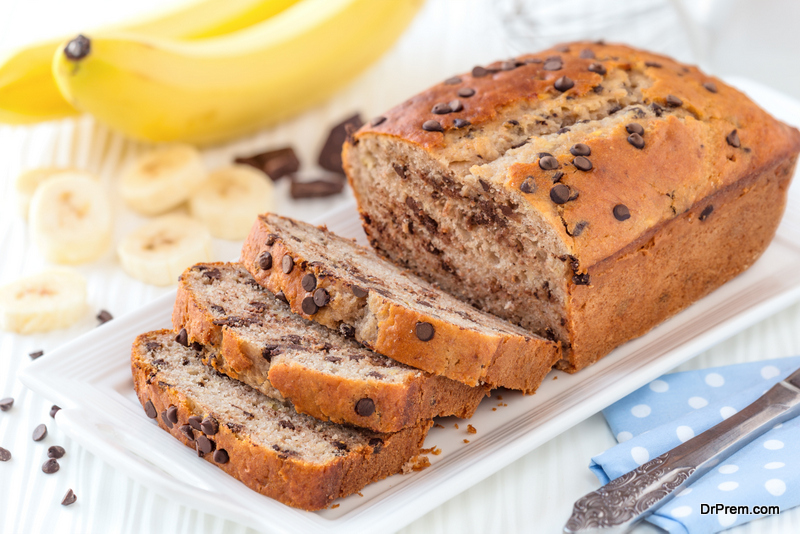 This one is the best health and nutritionist dessert recipe which you can cook at home. A healthy dark chocolate chip and zucchini bread.Yes, you can bake your very own super delicious bread at home. 
Ingredients:-
shredded zucchini
dark chocolate chips
Chopped walnuts, toasted
cups all-purpose flour- 2 cup
whole wheat flour-1 cup
sugar- 2 cups
baking cocoa
cinnamon powder
baking soda
salt
baking powder
Eggs-2, whites.
buttermilk
vanilla extract
Directions:-
Preheat oven to 350°. Grease it and dust with flour, tapping out extra.
Take a large bowl;beat the all-purpose flour, wheat flour, sugar, cocoa, cinnamon, baking soda, salt,and baking powder. And in another bowl mix rest of the ingredient until combined.
Now add the flour mixture and mix it to form a moisture consistency.
Fold in Zucchini; add chocolate chips and walnut into the mixture.
Transfer the mixture into the greased pan and bake it for 55-60 minutes. Check it with the help of toothpick if it comes out clean, your bread is ready.
Let it rest for 10 minutes, loosen the side with the help of a knife and now transfer it into a plate. Cut the slice and enjoy your wholesome dessert treat.
4.     Warm Double-Chocolate Pudding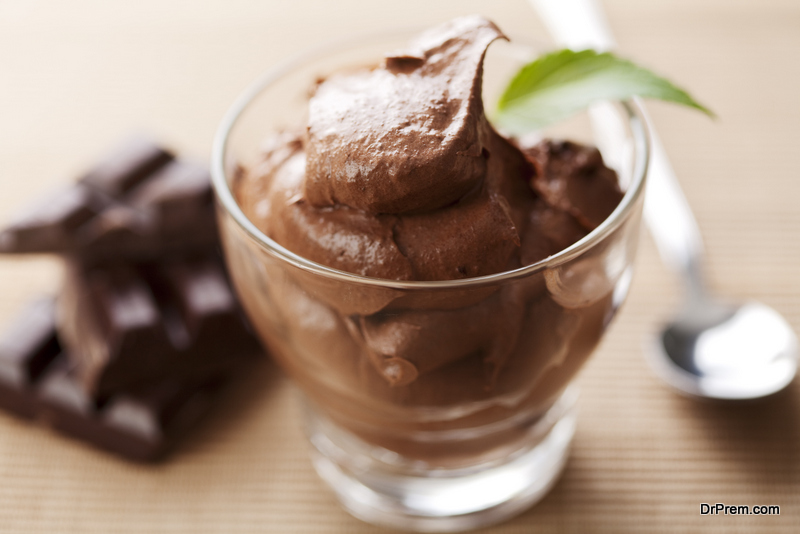 This Warm double chocolate pudding willsurely make you crave for more. A perfect dessert treat to stop your hunger craving. Let'ssee how you make it.
Ingredients:-
sugar
fat-free milk
baking chocolate -chopped
dark-chocolate candy bar
Cooking spray
sugar-1/3 cup
egg substitute-1/3 cup
applesauce-1/4 cup
6 tablespoons frozen fat-free whipped topping
some custard cups
Preparation:-
Preheat oven to 320°.Now Mix Sugar eggs and stir well.
Take chocolate stir until chocolate mix well. Slowly add hot milk mixture to sugar mixture, moving constantly with a whisk.
Pour this mixture into the custard cup. Place it into the baking pan.
Now add hot water into pan around and bake at 325 degrees for half an hour it sets completely.
Cool it for 30 minutes and now remove the cup from water.
For making the layer, first, melt the dark chocolate in a glass bowl and keep aside. Mix 1/3 sugar and egg substitute in the mixer. Now add the dark chocolate and apple sauce and mix again. Give a final touch by pouring it evenly on the custard layer. And again you have to repeat the baking process for 20 minutes. After that remove the cups and top it with the whipped cream. And your delicious double-chocolate pudding is ready to serve. Enjoy!