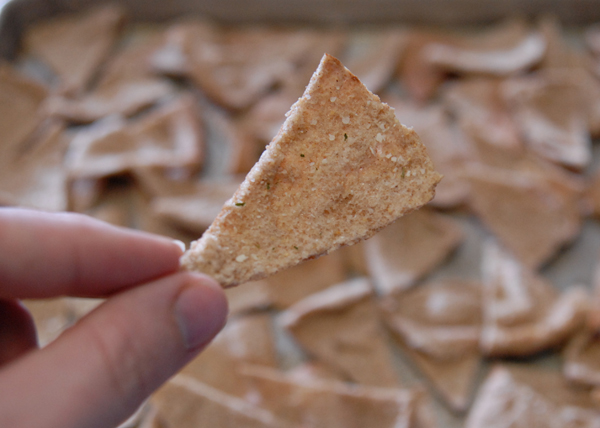 Name of the dish: Pita chips.
A round pocket bread that is mostly popular in the cuisines of the Mediterranean region, the Middle East and Balkan region is called "Pita bread". Pita is widespread from the Balkans via Greece, the Levant, the Arabian Peninsula and Turkey. Pita is the western name for 'khubz', the Arabic bread. The "pocket" in the pita bread is made with the help of steam that helps to enlarge the dough. Once the bread flattens and cools, a pocket is produced in the center. The bread is cut into two crescent-shaped pockets of bread. This pocket can be used to hold cheeses, meats, salads and cooked vegetables.
Traditional dishes that include pita bread are falafel, souvlaki and kebabs. Pita is mostly used to serve as a spoon for dips or sauces like hummus and to envelop falafel, gyros and lamb or chicken kebabs just like in sandwiches. Pita or pita is served on special occasions. Pita is a round bread loaf that can also be flavored. Pita is thicker and crunchier than other chips like potato and tortilla chips. The method of making and eating pita may have a customary connotation, for instance, during the night before Christmas Eve, each and every housewife makes a pita and garnishes it with symbols that convey fertility to the farm animals and a rich harvest from the fields.
It is also believed that pita brings wealth and health to all the members of the family. As per custom, the house-wife conceals a coin in the pita. The person who finds the coin is considered to be the healthiest and the richest person of the household. Before marriage, the bride's future mother-in-law makes a pita for the couple and sieves the flour seven times to make the pita soft in order to make the couple's future soft and prosperous.
Pita is also made specially for guests. A traditional greeting in Bulgaria involves pita and salt or honey. The traditional meaning of this ceremony is understood from the idiom "to welcome someone with bread and salt ". These popular pitas are usually baked at a temperature 450 °F or 232 °C, after which the compressed rounds of the dough puff up considerably. Pita is consumed with dips in Greece. Pita chips can be dipped in hummus or any other traditional favorites such as ranch or French onion dip. Pita chips are a healthier option than fried potato chips which are loaded with cholesterol.
In the 1970's, Pita bread became very famous in the Western countries. Pita sandwiches that are also known as "pocket pitas" or "pita pockets" became pretty popular mainly in the reign of health food. Even though pita bread has a very lengthy history, it continues to develop and transform to satisfy the requirements of this modern era. Even though it is still traditionally made in ovens and served along with souvalki and kebabs, pita can also be found in many grocery stores, fast food menus and even in many famous restaurants. As with any other food items, pita breads and chips are gaining popularity all over the world. Even you can make pita chips at home very easily.
Complexity level: Easy
Time taken: 5 minutes
Ingredients for making garlic pita chips:
1. 6 teaspoons of olive oil
2. 3 large loaves of pita bread
3. salt
4. 2 small crushed garlic cloves.
5. Garlic powder
6. Dried basil
How to make:
1. Preheat the oven to 425 degrees.
2. Mix the olive oil, crushed garlic, garlic powder and dried basil. You can also use garlic powder and pepper powder.
3. If desired, you can use several flavors like red pepper flakes, cumin or chipotle pepper or even Italian spices. It depends on a person's taste buds.
4. Mix them well and let it sit for 2-4 minutes for the flavors to incorporate with one another.
5. Now, take each pita loaf and cut them into eight triangles with the help of a pizza cutter for fast and easy cuts.
6. Position the pita pieces on a large baking sheet or cookie sheet.
7. Spray each pita piece with a tiny amount of cooking spray.
8. Then, apply the garlic mixture evenly on each and every side of the pita triangles. Shower the pita bread with coarse salt.
9. Bake for about 5-8 minutes.
10. You can eat the pita chips just as they are or you could team it with any choice of sauce or dip.
11. Store your pita chips in an air tight container. Pita chips stay fresh for about one week.