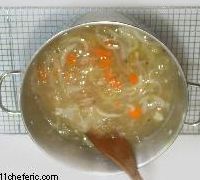 Court-Bouillon is perfect for poaching your seafood, especially when the stock has perfect pairings. Tricky , I think Stanca has got a better answer to keep away the stench of salmon sausages provided they aren't very soft, as those seafood which have a soft texture might break while poaching. This vegetable and herbal stock with white wine will permeate in the pores of the seafood and then make it perfect for baking.
As it has flavors it is better not to overdo it condiments, sauces or seasonings.
Thanks Stanca, for making seafood an easy and exciting job. You can to rub in some wonderful dressings before pushing it into the oven or saute it with cider apples for getting a veggie-fruity delight.