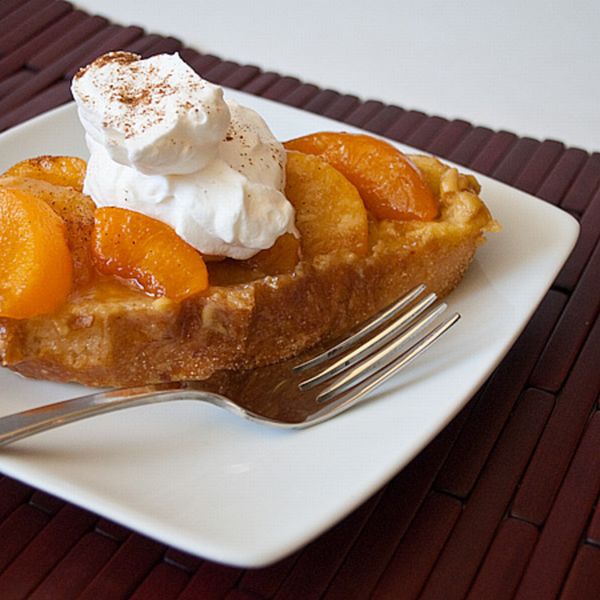 Having a good and healthy breakfast is the key to good health. It gives you the strength and energy to do all your daily chores. A healthy breakfast makes your day, but it is more better if you have a tasty and tempting breakfast; and what's more healthy and fresh than your favorite strawberries and peaches. So here's is a yummy recipe of strawberry peach stuffed French toast. Freshness of peaches and strawberries combined with fresh cream cheese, this dish will surely make your breakfast a memorable one. Also, it serves as a romantic breakfast for your partner, so get ready to surprise him/her.
Complexity level:
Easy
Time taken:
You will not require more than 35 minutes to cook this dish.
Ingredients:
1. One large, ripe peach (peeled and the pit removed)
2. Fresh strawberries (stem removed and the fruit diced to small pieces) – 1 pint
3. Soft cream cheese – 4 ounces
4. Sugar – 2 tablespoons
5. Grand Marnier – 1 tablespoon (optional)
6. An unsliced loaf of either brioche, challah, or white bread
7. Large eggs – 3
8. Milk – 1 ¼ cups
9. Vanilla – 1 teaspoon
10. Cinnamon – ¼ teaspoon
11. Maple syrup
12. Butter or vegetable oil, for frying
Process:
1. Preheating the oven
The first and the most important step is to preheat the oven to 300 degrees.
2. Preparing the filling
1. Cut and keep aside one half peach in to ¼ inch slices for toppings. The other half of the peach has to be cut in to small cubes. Mash or mix the diced peach, strawberries, sugar, cream cheese, and Grand Marnier.
2. You have to then cut the bread in slices of 1 inch.
3. Now cut a pocket in the slice of each bread with a knife. See to it that the pocket is as deep as possible.
4. Once the pockets are prepared, fill in cream cheese mixture in each pocket.
3. Preparing the batter
For making the batter, you will have to mix and whisk in eggs, milk, sugar, and cinnamon.
4. Cooking up
1. Heat up a skillet over medium heat (mostly a large skillet).
2. Soak two to three slices of bread in the batter for not more than five seconds. Remember to flip it over and soak it for 5 more seconds and then place them on a plate. Keep the bread still for one minute to allow it to soak the batter.
3. Pour a teaspoon of vegetable oil or butter on the skillet.
4. Now place the bread slices on the skillet. Cook each side of the slice till they turn golden brown.
5. After all the slices are cooked, place them on a wire rack and then bake them in the oven for 10 minutes.
6. After 10 minutes, remove them from the oven and to each serving add nicely sliced peaches, and serve them with maple syrup.
Tips:
1. Please be sure and preheat the oven.
2. You can use a cookie sheet instead of a wire rack for placing the cooked bread slices.