Italy is most famous for The Leaning Tower of Pisa and the scrumptious Italian cuisine. Though its pizzas and pastas are famous the world over, it has more to offer in terms of food. One such dish is Sicilian Meatballs with fresh basil marinara.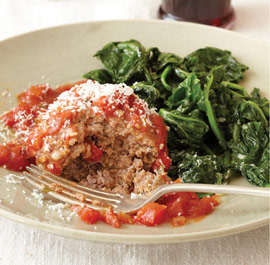 Recipe
Having Sicily as their origin, these baseball sized juicy, succulent, melt in the mouth balls are a combination of minced meat and various spices, and are known as Sicilian meatballs. The marinara sauce used in the dish originated in Naples in 16th century around the time when tomatoes were first introduced in that region. It is a tomato based sauce with garlic, olive oil, and fresh Italian herbs in it.
Complexity level: Basic
Time taken: 85 minutes
Ingredients
(For the meatballs)
1-1/2 pounds minced meat
1 onion, finely chopped
4 cloves garlic, minced
Salt
Freshly ground black pepper
1/2 cup fresh bread crumbs
1 egg
Cheese
1/4 cup milk
1/4 cup tomato ketchup
2 tbsp chopped parsley
1 tsp finely chopped fresh oregano
1 tsp finely chopped fresh thyme
(For the fresh basil marinara)
1 can crushed tomatoes
Sugar, as needed
2 tbsp chopped fresh basil
3 tbsp extra virgin olive oil
(For garnishing)
3/4 cup grated cheese for sprinkling
Process
1. Put the breadcrumbs and milk in a large bowl. Mix well the contents and leave aside for 5 minutes. Using your hands, squeeze and mash the breadcrumbs so that a smooth paste is formed. Add the egg and whisk. Follow this up by incorporating other ingredients in this paste like cheese, ketchup, half onion, half garlic, 2 teaspoons salt, 1/2 teaspoon ground pepper and fresh Italian herbs like parsley, thyme and oregano. Mix well.
2. Break the beef into small pieces and add to the blended mixture. Mix gently but thoroughly. Rigorous mixing will make the meatballs mixture tough and dry. When all the ingredients are evenly combined, make six round balls of the mixture, arrange on a large microwave ready dish, and microwave at 165°F for 40 to 45 minutes.
3. While the meatballs are baking, prepare the marinara sauce. Heat the olive oil in a saucepan over medium heat. Add the remaining half onion and some salt. Cook, for 3 minutes, stirring frequently until onions change color. Add the remaining half garlic and saute for 1 minute. Add the tomatoes, bring to a boil, and then allow it to simmer for sometime.
4. Cook for 10-15 minutes stirring occasionally, until reduced to a thick sauce. Add a pinch of sugar if the sauce seems too tangy on tasting. Add basil.
5. Layer the sauce over the meatballs and bake in the microwave for another 5 to 10 minutes to blend the flavors. Garnish with a sprinkling of cheese.
Tips
The Marinara should be prepared a day before serving to give it a richer and fuller texture and consistency, as the ingredients infuse together completely.