Afternoon tea plays a very important role to spice up the mind and the body that gets tired because of the stresses during the day. It also helps you to come out of the unnecessary tensions, refresh your mind and makes you ready to end up the day with a positive attitude. On the weekends and other holidays afternoon tea can make occasional gatherings of close friends or relatives. Many people choose afternoon tea to celebrate various occasions because it is easy to plan, organize, manage and you can make it on various budgets. This compliments both modern and traditional lifestyles and suits any seasons. Afternoon tea is normally lighter than the breakfast tea.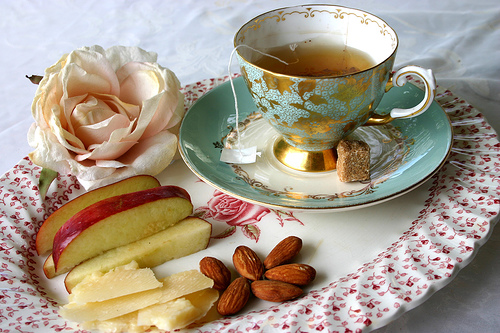 If we go to the history of this magical concept of the Afternoon Tea, it was introduced by Anna who was the 7th Duchess of Bedford in the early 19th century. This habit was developed by Anna because she hated to stay hungry till the dinner which serves at around 9pm. To avoid the hunger she used to have bread, butter, snacks and other light food of such types. Later on she started inviting her friends to join her on the Afternoon Tea. And that's how the amazing concept of the afternoon tea was believed to be introduced.
There are some simple ways by which you can arrange a perfect afternoon tea. Some of the most common points are as follows:
1. Make a beautiful ambiance: As we are aware, afternoon tea is a very good and pleasant way to refresh our minds. That's why, it is necessary to maintain an ambiance that compliments the occasion. You should choose a calm and silent space for your afternoon tea. A clean and beautiful garden or noise free balcony can be ideal for your afternoon tea.
2. Avoid having afternoon tea on dinning tables: Afternoon tea is best to serve in low table. Serving it on your dinning table might lower the overall quality. You can serve it on your side tables or corner tables to the guests sitting on your sofa.
3. Take small sips: If you want to taste each and every element of your afternoon tea, you should not be in a hurry. Make some extra time from your busy schedule and take small sips from the cup of your tea. It is not only tea party etiquette but also a pleasant way to enjoy your afternoon tea the fullest.
4. Avoid overfilling the plates: Instead of overfilling the plates you should try to arrange the snacks and other stuff in a beautiful way. Overfilling the plates doesn't only look ugly but also affects your mood.
5. Choose selective staffs: The snacks to be served are one of the most important parts of afternoon tea. Light staffs such as muffins, cakes, sandwiches, cookies, pastries and scones are best to have with afternoon tea. You can also have fresh and dry fruits with your afternoon tea.
6. Try to serve it on a beautiful cup set: You should try to use a beautiful set of cups to make your afternoon tea complete. A pretty vase filled with gorgeous fresh flowers will add more beauty on the afternoon tea arrangements.