There's nothing that spells out 'summer' like a creamy, almost molten scoop of ice cream. But every time you read the calorie chart, that sweet ice cream can leave a bitter aftertaste. Fat-free ice cream bought from stores also costs much more than a regular cone. But there exist several ways to avoid such a problem. Trying out healthy ice cream recipes at home is one of the solutions. The ingredients for these ice creams include ones that you can easily find at a grocery shop nearby. And most importantly, they are quite easily available and extremely healthy. 
Some of these healthy ice cream recipes include: 
1. Vegan chocolate chip ice cream with almond butter and swirled caramel:
 
This ice-cream is made from frozen bananas, some vanilla bean powder and some non-dairy milk. All that is required is to mix it is one high-powered blender. Next, the caramel and almond butter have to be swirled in with some chocolate chips in the mix. Then it should be chilled for half an hour to reach the perfect texture that can be scooped out. This is the perfect homemade ice cream since the base is essentially made from bananas. This ensures a reduced calorie content.
2. Basil and peach sorbet:
This is one of the best healthy ice cream recipes as it contains no cream. Basil leaves are swirled into peach sorbet to achieve the required texture. While peach is sweet, basil adds a savoury punch to the recipe. The herbaceous flavour of the basil takes nothing away but adds to the flavour of the peach. This ice cream is made from nothing apart from fruit pulp, basil, sugar and water. Hence, its calorie content is quite low. You can even ditch the sugar to opt for a lighter flavour and even lower calorie content.
3. Dairy-free avocado and mint chocolate chip ice cream:
 Avocado, coconut butter and bananas are all you need to make the base for this ice cream which is dairy-free. A tablespoon of peppermint extract can be added to make it distinctly minty. This ice cream does not even require an ice cream maker although it does require some patience. The mixture has to be frozen and stirred after every half an hour for two and a half hours. Then it creates the perfect texture. And no doubt, it is one of the best low fat sugar free ice cream recipes available.
4. Peach-flavoured healthy frozen yogurt:
Ripe, fresh peaches, Greek yogurt and honey is all that you will need to make this healthy homemade ice cream. This mixture needs to be put on a low calorie frozen yogurt recipe ice cream maker for 30 minutes. And then, it's ready! Unlike cream based ice creams, yogurt based ones are a bit sour. But the protein content makes it a very good ice cream if you are into fitness training. This yogurt uses honey and hence contains very little calories.
5. Strawberry lemonade flavoured frozen yogurt: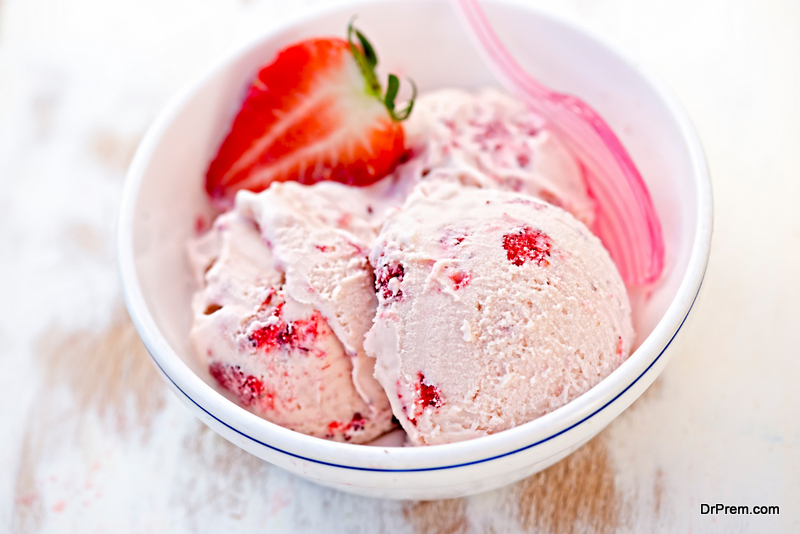 Among the classic healthy ice cream recipes, this one is a favourite. This is one of the simplest frozen yogurt recipes which just use fresh strawberries, Greek yogurt and lemon juice. This mixture is again swirled on a low calorie frozen yogurt recipe ice cream maker for half an hour. And then it can be served after garnishing with some fresh strawberries and lemon zest. If you like more sweetness in your ice cream, consider adding maple syrup. This provides a subtle sweetness which blends in and accentuates the other flavours.
6. Red velvet cheesecake flavoured ice cream:
This is the most trending among the low fat sugar free ice cream recipes. This recipe uses cottage cheese as the base. Cottage cheese has a creamy texture that is rich in proteins and hence, can serve as a healthy base. The signature colour of red velvet is imparted by using beet puree. Vanilla, butter and stevia are used for providing the flavour. This recipe is extremely healthy, with natural colouring, low on carbohydrates, sugar-free and high on protein content. Half a cup of this decadent dessert contains only 90 calories while only 3 grams of sugar are present. This also contains proteins worth of a whopping 10 grams!
7. Protein-based blueberry ice cream: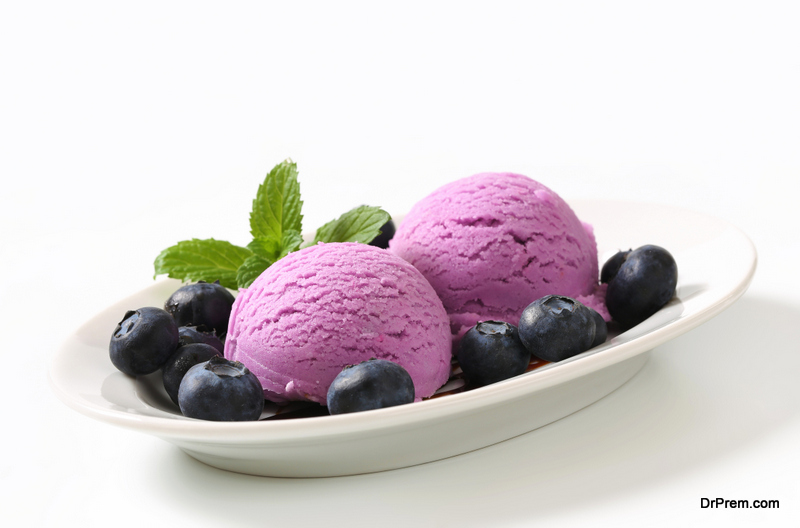 If you want another frozen ice cream that is decadent, yet rich in proteins, then this recipe is for you. For this recipe, cottage cheese is blended with frozen blueberries, vanilla, almond milk, stevia and frozen bananas. That is all you need to make this delicious dessert. This mixture should be left to cool in the freezer for it to set. Then it should be scooped out after a few hours and served. The preferred toppings include granola, molten peanut butter and toasted coconuts. And of course, put some fresh blueberries on top as well!