With the approaching New Year's eve, it becomes significant to mark this occasion with something memorable . The pivotal aspect involves making new discoveries in the culinary scope and having exquisite fun. In fact, for some it may also be like splurging in some mouth watering delights until the New Year demands them to make a calorie conscious resolution. Ringing in 2012 while sitting in a great restaurant can be fun. Here are 5 superb restaurants in America wherein you can celebrate the New Years eve over a great menu while munching on some talented culinary preparations and extra special ambiance. Make your pick.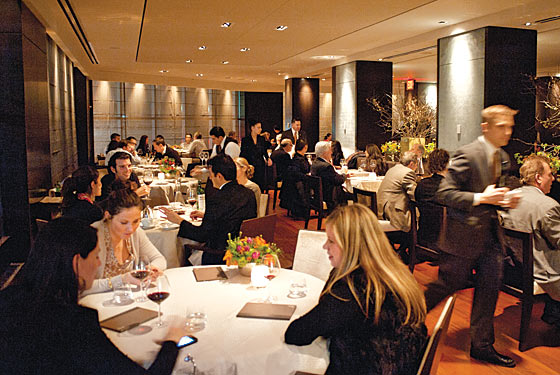 1. America Eats Tavern in Washington, D.C.
There is a lot to sample here and this particularly includes the chef's creation which stands out unique. The restaurant is actually a temporary project marking the importance of America's food heritage. The menu of New Years eve comprises of inventive yet classic culinary preparations such as the New York cheesecake, lobster Newberg and hush puppies.
2. Ai Fiori in New York City
This is a good place to mark the beginning of the new year. It features a live band accompanied with a seven course menu along with an year ending champagne toast by the end of the night.
3. Area 31 in Miami
If you are in for some tropical celebration, then your place to be is Miami's Area 31. The restaurant flashes the city's skyline and also the Biscayne Bay. The menu mainly comprises of seafood and on the New Year's eve, the restaurant serves a multiple course meal along with some dance and music on the terrace slot.
4. Wood and Vine in Los Angeles
Celebrate the coming year in retro Hollywood style at the most sexiest bar of LA. Wood and vine serves some of the most delectable dishes with truffles of cheese and scallops along with bacon and Brussels sprouts.
5. Top of the Hub in Boston
As per a reviewer the restaurant is the best spot to grab a glimpse of the city's beauty. This place stands 52 floor high and is an epic zone for viewing fireworks that can be seen around the skyline. On the New Years eve, guests can enjoy an open bar along with a six- course culinary session.