Mango season is in full swing, and wherever you look you can see delicious mangoes. There are hundreds of mango varieties with varying tastes. In summer, mangoes provide a good opportunity to serve delectable desserts, without spending hours baking. Whipped cream adds to the taste making the simple dessert a gorgeous affair. Check out a few mango and whipped cream dessert recipes we have compiled for you:
Read More: Why and how to add fruits to your dessert
4 Best mango and whipped cream dessert
1. Mango Fool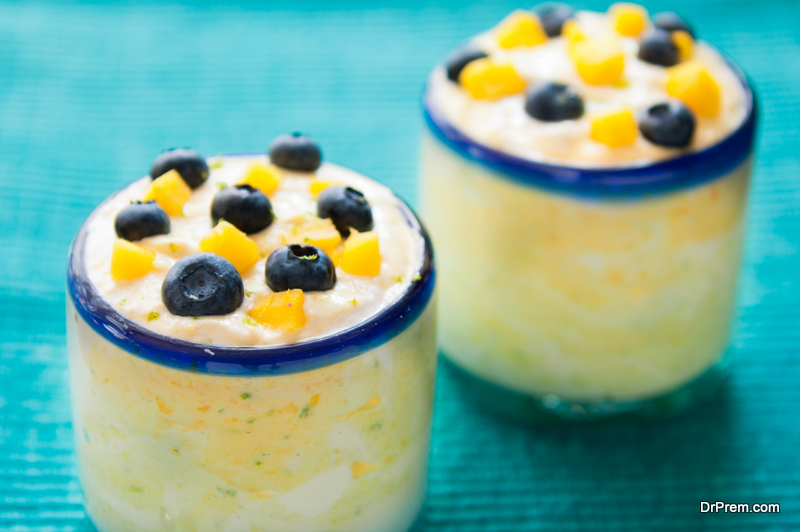 Fools are desserts which are fruits mixed with some whipped cream. Extremely easy to make, they can be made with berries, peaches, pineapples, papaya and mangoes. You can combine a few fruits together too. And instead of whipped cream, you can mix Greek yogurt. But here we are giving the recipe for Mango Fool.
Ingredients:
3-4 mangoes ripe and peeled, chopped coarsely and some sliced up for garnish
Juice and zest of 1 lime
1 cup of heavy cream
2-4 tablespoons of sugar/Sweetener
1 teaspoon vanilla or almond flavor
¼ teaspoon of nutmeg
Method:
Mango fool can be made easily to cool off during the hot summer days. Using ripe mangoes will reduce the need for sugar or sweetening. After keeping approximately half a cup of mangoes (chopped) for decoration and garnish, blend the rest with lime juice and sugar.
Then whisk the whipped cream, 1 tablespoon sugar and lime zest with an electric mixer. Add additional lime juice, sugar and nutmeg according to taste. Keep blending at medium speed till you see peaks forming.
All you have to do next is assemble. Divide half of the puree into 6 glasses. Top each glass with mango puree, mango slices and cubes and whipped cream. Make it look beautiful by alternating the mangoes and the cream. Keep chilled till you serve. This is one of the best mango and whipped cream dessert you can serve at your summer soirees. 
2. Mango Cream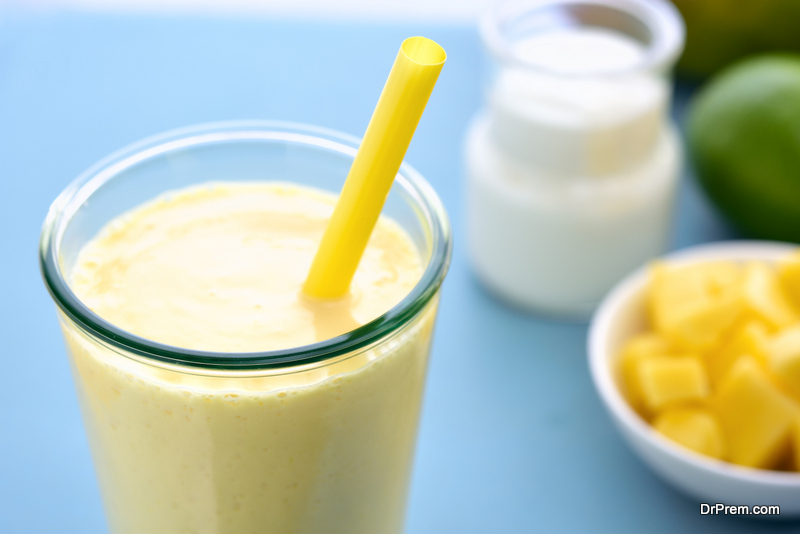 The Mango Cream is rich and creamy which needs only mangoes and cream. This dessert is a life-saver when you don't have time to make an elaborate dessert, yet want to serve a homemade dessert to your guests. Your family would love it too, as a lovely end to a summer dinner or lunch. The mango cream is a one of the best crowd pleasing desserts which can be made in a jiffy.
Ingredients:
2 Alphonso mangoes (Safeda or any other fleshy, juicy mango would also work)
2 cups of whipped cream
2 tablespoons icing sugar
Method:
So, how to make this dessert? It's very easy, and is considered to be among the best mango and whipped cream dessert. First, peel all the mangoes. Then cut them into small pieces. Beat the whipped cream with a beater till the cream is fluffy. You can add icing sugar if the whipped cream is the non-sweetened variety you are using. Then mix half mango pieces with the cream and put it in the fridge to chill.
In a serving bowl, put in the cream-mango mix and then top it with the mango pieces. Adding some vanilla ice cream will a great last touch. Serve the dessert chilled.
3. Mango mousse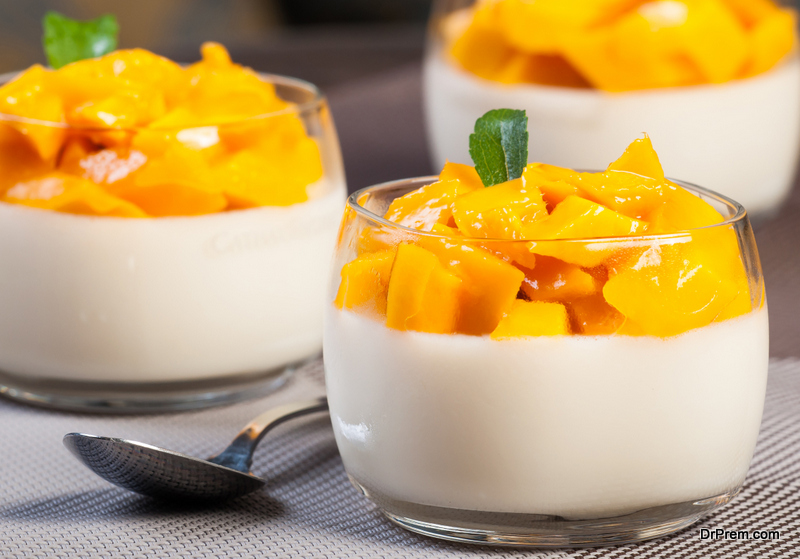 For mango lovers, this mousse is a wonderful snack. Kids love the sweetness of the mangoes and it is like a homemade ice cream for them. This mango and whipped cream dessert is slightly more sophisticated than the other recipes, but completely worth it!
Ingredients:
Pulp of ripe mangoes (2)
¼ cup sweet cream
Water 4 tablespoons
Unflavored gelatin 7 g
¾ cups heavy whipped cream
Granulated sugar 6 tablespoons
Method:
Dissolve gelatin in glass or cup and allow it to stand for about 5 minutes till it solidifies. Then microwave it for about 3 seconds to liquefy it again.
Blend the mango pulp, sweet cream, sugar and gelatin in a blender till you get a smooth consistency. Then add the whipped cream with a sugar and whip it till soft peaks are formed. Add the whipped cream mix and mango pulp mix and mix them both. Keep the mix in a serving bowl and let it chill for about an hour. Garnish with fresh mango pieces.
Read More: Top – 10 frozen dessert recipes
4. Mango cheesecake trifle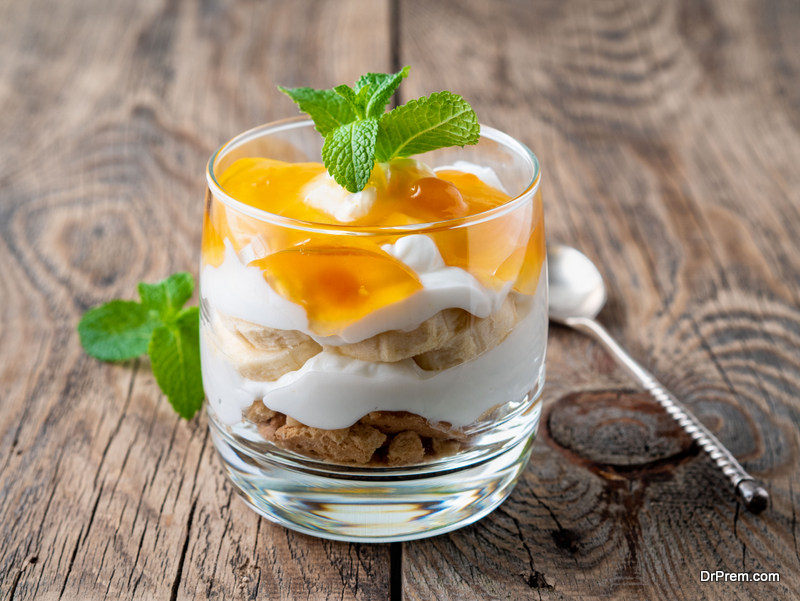 This mango and whipped cream dessert is an easy at home recipe. Chilling overnight may give the best results, but at least four hours of refrigeration is a must for this recipe to be a stunning success.
Ingredients:
For the crust:
Granulated sugar 1 tablespoon
Melted, unsalted butter 2 tablespoons
Graham cracker crumbs ¾ cup
For the cheesecake:
8 ounces room temperature cream cheese
Heavy cream 1 cup
1/3 cup pureed mango
4 tablespoons granulated sugar (white)
Mango essence 2-3 drops (optional)
Fresh mango pieces to garnish
Method:
First make the trifle by crushing the crackers into crumbs, adding melted butter and sugar till they combine well. Press this mix down into small glasses and place them in the fridge. Beat the cream cheese and granulated sugar till creamy. Add the mango puree and whisk the heavy cream till peaks form. Then mix half of the whipped cream to the cream cheese.
Read More: Vegan desserts you must try in 2019
Layer the cheesecake and whipped cream on top of the crumbs to create the most delicious and refreshing trifles ever!