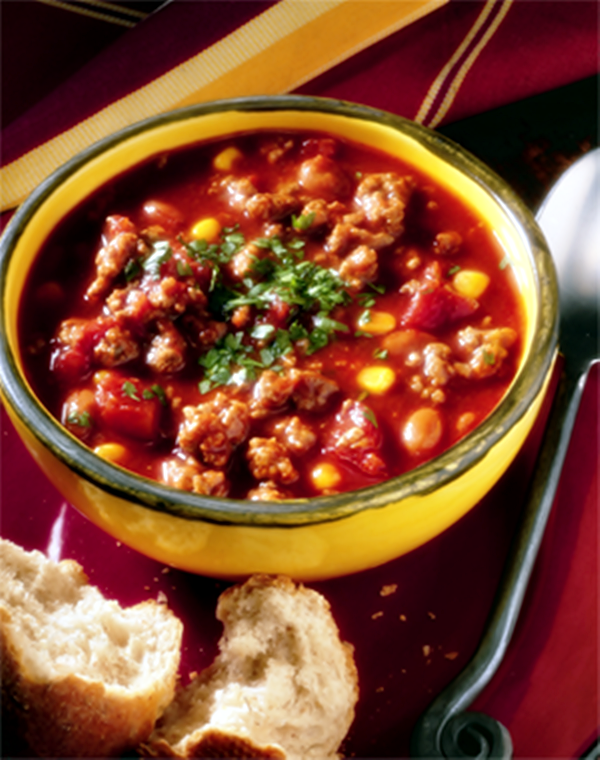 There are many variations of Chili recipes with different seasonings and different ingredients depending on geography and personal taste. Here is a list of 3 hot, tasty and spicy chili recipes.
Chili con carne
Chili con carne and is a wonderful Mexican recipe. It is a spicy stew cooked with two major ingredients of chili pepper and meat. This type of meal is ideal for winters for large parties or gatherings.
Complexity level: Moderate
Time taken: 2 hours 20 mins
Ingredients:
2 1/2 lb. lean beef chuck and ground
1 lb. lean pork, ground
4 garlic cloves, finely chopped
1 cup finely chopped onion
8 oz. Hunt's tomato sauce
1 cup water
1 can beer (12 oz.)
2 Tablespoons chili powder
6 cubes beef bouillon
2 Tablespoons grounded cumin
2 teaspoons oregano leaves
1 teaspoon paprika
2 teaspoons sugar
1/2 teaspoon grounded coriander
1 teaspoon unsweetened cocoa
1/2 teaspoon Louisiana hot sauce
1 teaspoon cornmeal
1 teaspoon flour
1 teaspoon warm water
Process:
1. In a large pan, cook the grounded meat both beef and pork until it turns brown and then drain the fat.
2. Remove the meat from the pan and set aside . Cook the rest of the grounded meat, keeping just 2 tablespoons of fat and drain the rest.
3. Add the onion and garlic to the cooked meat and keep stirring it until tender.
4. Add tomato sauce, beer, water, chili powder, beef bouillon, grounded cumin powder, coriander powder, oregano leaves, paprika, sugar, cocoa, and hot sauce along with the first half of cooked beef and pork. Mix them well.
5. After coming to a boil, cover the pan for 2 hours by keeping the heat reduced to simmer.
6. In a different bowl, mix the flour and cornmeal together by adding warm water into it.
7. Pour the mixture into the chili and cook it covered for another 20 minutes.
2. Drunken Chili Recipe
Complexity level: Moderate
Time taken: 2 hours
Ingredients:
2 Tablespoons salt pork, minced
2 pounds London broil, diced 1 inch
1 large yellow onion, minced
1 green bell pepper, sliced
1 Tablespoon minced garlic
1 Tablespoon jalapeno, seeded and minced
2-3 Tablespoons chili powder
1 Tablespoon ground cumin
2 teaspoons ground coriander
1 teaspoon red pepper flakes
1 bottle Dos Equis Amber
1/4 cup tequilla
1 can of diced tomatoes with juice, 28 ounce
1 can tomato puree, 28 ounce
2 cans dark red kidney beans, rinsed, 15 ounce
Process:
1. Cook the minced salt pork until it turns brown. Set aside the salt pork with a spoon.
2. Cook the diced meat to a pan until it turns brown. Set the pan aside by removing the meat.
3. Add onions, garlic, peppers and jalapenos in the same pot and saute until soft and tender. Add oil if necessary.
4. Mix and stir together the coriander powder , chili powder, red pepper flakes and cumin powder.
5. Add beer and tequilla to pot with vegetables and spices and reduce liquid by half.
6. Add tomato puree and the diced tomatoes to the pan, bringing to a boil. Add the cooked meat and reduce the heat to simmer with a close lid for an hour. Keep stirring occasionally.
7. Add beans after removing lid from the pot and simmer for another hour or till the meat turns completely tender.
8. Add browned salt pork.
9. Add seasonings.
3. Baked Chili Recipe
Complexity level: Moderate
Time taken: 30 to 40 mins
Ingredients:
1 pound turkey
1 chopped green bell pepper
1 chopped onion
1 can kidney beans, rinsed, 16 ounce
1 packet whole kernel corn, frozen, 10 ounce
1 can tomato puree, 16 ounce
1 can diced tomatoes, 16 ounce
1 can chopped chilies, 4 ounce
2 Tablespoons chili powder
1 teaspoon salt
1 teaspoon cumin
½ teaspoon sugar
½ teaspoon garlic powder
Corn Bread Biscuits Ingredients:
1 cup all-purpose flour
1 cup cornmeal
2 Tablespoons baking powder
⅛ teaspoon salt
1 egg
½ cup milk
½ cup sour cream
Process:
1. In an oven over medium heat, cook beef, green pepper and onion together until the meat turns brown and then drain.
2. Bring it to a boil by adding the remaining ingredients and stir occasionally. Cook on simmer with a cover on for 10 minutes.
3. Take a bowl and mix the cornmeal, flour, baking powder and salt together.
4. Beat the egg with milk and sour cream and then stir the paste into the dry ingredients just to moisten it.
5. Pour the chili to a baking dish.
6. By stacking teaspoonfuls, drop the batter over the hot chili.
7. At a temperature of 400 degrees, bake it uncovered for 20 minutes.