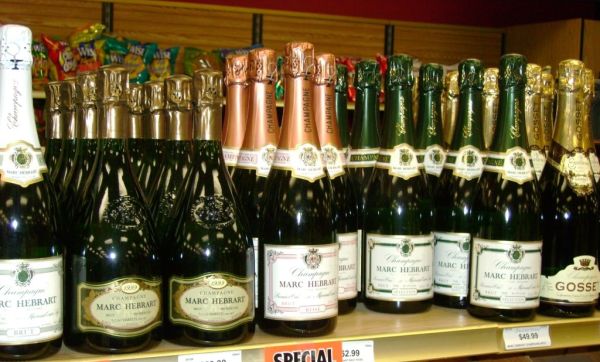 Now there's no shortage of wine sellers as both actual and virtual wine sellers are constantly launching themselves with some record profits. 312 year old berry bros & rudd and 5 year old Private Cellar are at par with each other when it comes to their wine selling records. Sellers are even using internet and phone to sell their merchandise and there's no prudent reason not to buy from them. Now buying from Waitrose and Majestic is not the only choice.The prices in these selection are worthy and keener and these wine have a personal touch that is hard to find anywhere else.
These are the tempting top 10 wines selected from top 10 independents that range from the oldest to the brand new.
1. 2003 Chateau Méaume
14% vol, France
Founded by publisher David Campbell and wine merchant Esme Johnstone, this is a fine wine, sold over the internet at much less price than the other retailers and it even comes in wooden boxes. It is an exciting,fully mature from of Bordeaux Superieur and that too at much minimal prices.
2. 2009 Tenuta del Priore

13.5% vol, Italy
Ten green bottles
Created by Hiterto an online merchant who specializes in French,Italian,Spanish producers who started his online shop on August,2010. This wine is full of ripe, relishing red fruit and silky tannins and its uniqueness of its terroir reflects in its red Abruzzo. It compliments greatly with rich pastas.
3. 2009 Crazy by Nature

13.5%vol, New Zealand , The Wine Room
Proprieter Henry Rymill's The Wine Room is located in Tankerton,near Whitstable and its brand and freshly painted and it offers some delightful ,organic/biodynamic stuff most of which comes from James Milton in Gisborne,newzealand. This wine is a wonderful blend of malbec ,syrah and viognier and has a gorgeous velvety smooth texture which looks as mouthwatering as Milton's chenin blanc and it's a great pleasure when taken with lamb.
4. 2008 Chateau La Bastide
12.5%vol, France , Hicks&Don
This blend of roussanne, bourboulenc and vermentino from Corbieres in the Languedoc an absolute relish from H&D. It has a soft peachy, creamy touch and fine fruity texture and is sure to satisfy your taste-buds if paired with chicken and tarragon sauce. They are right to boast of their three Masters of Wine on their team.
5. 2009 AHE Dry
12.5%vol, Wales ,Tanners
James Tanners,the creator, is a big fan of New Zealand and chile and stocks excellent examples. But his preference lies with the traditional wine growing areas and he is an old favorite. He looks closer to his home, Shrewsbury and stocks welsh wine. But this wine from Monmouth is rather soothing and lovely with its light,delicate,crisp and aromatic flavor topped with hints of pear,elderflower and is a delightful appetizer.
6. Stéphane Breton Champagne
12%vol, France D Byrne
This company is said to hold 4000 wines 2000 spirits,and the stocks range from 4.29 pound house wine to 1000 pound Armagnacs and this house has been awarded many a times. Their wines are legendary. This Bryne's house champagne is crisp, toasty and temperamental and its worth the price and it has been coming from the grower for 10 long years.
7. 2008 Moric Blaufrankisch
12.5%vol, Austria (£19.95; Berry Bros & Rudd)
This Austrian wine comes from austria's old vines and tiny yields and hence Blaufrankisch is austria's own grape. Roland velich of Moric, the creator has done justice with the fine, dark,spicy,concentrated wine giving it a cherry-rich red,earthy texture. Its sure to tickle your taste buds when complimented with boiled beef,dumplings and veal escalopes.
8. 2009 Mauricio Lorca
13.5%vol, Argentina (£8.75; Private Cellar)
Former directors of Corney & Barrow and john Armit Wines has formed this small Cellar. Mauricio is a delicate, flowery and aromatic torrontes from the winemaker at Bodegas Foster and has even been in the bestsellers. It'll sooth your taste buds with some salmon salad.
9. 2009 'Trassegum' Rosé
13.5%vol, France (£8.95; Real Wine Co.)
Mark Hughes from Safeway is a charming wine seller who gives personally sourced wines that too at bargained prices and his Real Wine company is run all by himself. This 'Trassegum' Rosé is a tasty rose,part oakfermented and is a blend of syrah, Grenache and mouverdre in Cosieres de nimes. It is best complimented with homemade pate and French bread.
10. 2009 Chenin Blanc
14%vol, South Africa (£6.25; Jascots)
North West London based Jascots has been in this trade for 20 years and now he evn sells to private customers. This charming chenin blanc from the Cape is made by the Malan family at Simonsig Estate. This wine has a fresh,vibrant and fruity flavor and is a favourite for summer parties.It has even won the Platter's Guide Best Quaffing White award consecutively for two years.