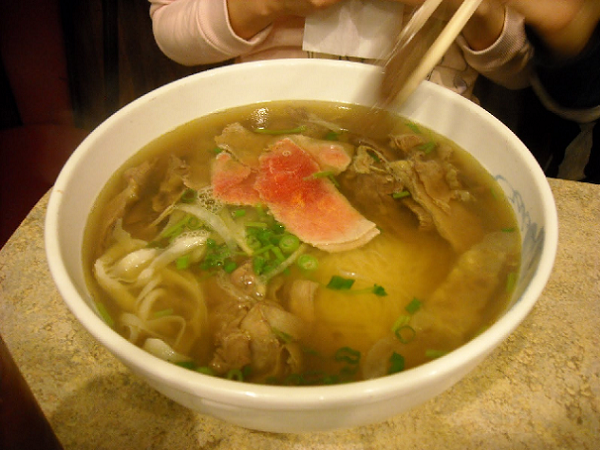 We've all seen the commercial which says 'soup is good food'! And it's true, soup is good for your health, unless it contains a load of preservatives and sodium. Soup is definitely the perfect meal if you can take the trouble to prepare the vegetables and other ingredients at home and cook it. But no one wants to do all that work, most can't even afford that much time on cooking. So, take a look at our collection of the 10 most healthy and organic ready to cook soups, which contain no or very less preservatives and most of all, they help you lose weight.
1. Chicken cooking stock by Kitchen Basics
Kitchen Basics has put together an amazingly healthy recipe for broth. This tasty broth contains 80 percent less sodium (only 150mg per serving). It's unsalted and each serving has only 20 calories. It has no fat whatsoever, contains only 1 gram of carbohydrate and has 5 grams of protein. Next best thing to water when it comes to calories, and second to none when comes to taste.
2. Campbells's V8 Golden Butternut Squash
The entire package contains less than 200 calories and only 90 calories per serving. This delicious and creamy recipe prepares in minutes and is a great booster to your weight loss regime. Each serving contains only 1.5 grams of fat and no trans fat. Provides with some necessary nutrients like Vitamin A & C as well. This yummy puree is made of squash, carrots, sweet potatoes and cream.
3. Organic garden vegetables by Muir Glen
Aroma will fill the entire kitchen as you put this rich tomato broth to boil. It is packed with the freshest organic vegetables and penne pasta to give your taste buds a delightful experience as well support your weight loss regime. Contains only 100 calories per serving and only 1 gram fat and no saturated fat.
4. Better than bouillon chicken base by Superior Touch
This granular thick paste is made from chicken marinated in natural juices, dried onions, spices and other ingredients. Contains only 15 calories in a serving and has absolutely no artificial ingredients. Further more, in this new version, the sodium content has been reduced from 680 mg to under 500 mg per serving.
5. Organic creamy tomato by Pacific Natural Foods
This sodium reduced tomato puree contains a hint of cheddar cheese, which goes really well with the tomato. Top it up with some chopped tomato and cucumber and serve chilled for the summer days or serve hot in the winter. Contains only 100 calories per serving. Contains only 2 grams of fat and 5 grams of protein. The sodium content is reasonable at under 400 mg per serving.
6. Organic low fat MInestrone by Amy's
Contains only 50 percent of the sodium when compared to Amy's regular low fat Minestrone. This is another great soup recipe with less than a 100 calories per serving (90 calories). Absolutely zero in trans fat and MSG or other preservatives. This tomato soup is flavored with organic vegetables, sunflower oil and black pepper is delicious and easy to prepare.
7. Chicken with whole grain pasta by Campbell's
Another great product by Campbell's healthy request. It contains only 100 calories per serving of 240 ml. Provides 20 percent of the daily Vitamin A and C requirement. This broth is made of chicken chunks and whole grain egg noodles. It provides 7 grams of protein at 100 calories and the sodium content is reasonable at little over 400 mg per serving. But, considering the other benefits this is totally worth it.
8. Curry lentil by The Spice Hunter
Carry this anywhere – to picnics, to office or on journeys. Just add hot water and this delicious curry lentil is ready to devour. This soup is made from pure Indian spices, lentils, vegetables and rice. At under 200 calories (190 calories), this is also a very filling meal. It's packed with 10 grams of protein and under 400 mg of sodium, this tasty recipe is sure to pamper your taste buds as well.
9. Tomato Parmesan by Progresso
Progresso has brought out the reduced sodium version of its popular Tomato Parmesan. At under 500 mg sodium per serving, it's quite healthy considering the other benefits. Contains only 100 calories per serving and 1.5 grams of fat. This tasteful chunky and rich tomato soup is sure fire way to tantalize your taste buds without adding on extra weight.
10. Southwest bean soup by Tabatchnick
It is a very filling meal at just a little over 200 calories (220 calories). Has no cholesterol and about 440 mg of sodium per serving. Furthermore, per serving provides you with 40 percent of daily vitamin C requirement and 15 percent of iron requirement. Each serving has 11 grams of protein and 35 grams of carbohydrate and only 5 grams of fat.