If you are a foodie, this time your taste buds will get a brand new treatment that you have never imagined before. Imagine how exciting will it be if you share your dining table with your favorite celeb! We are sure that the thought itself is enough to raise goose bumps all over your skin. But, hold on. We are serious. Some of the finest hotels are top favorites of many of our celluloid icons. We bring here a list of ten such famous hotels where you might get a chance to share your table with your favorite celebrities, if you are lucky enough! We hope, you will hardly mind the extra bucks flowing out of your pocket to make your dream come true. Just keep your fingers crossed and take a glance at these hotels.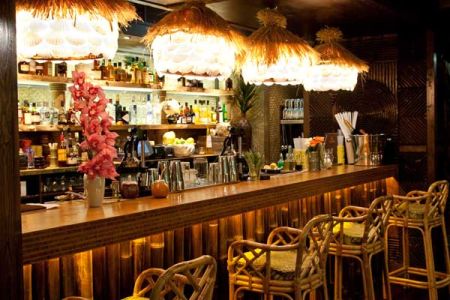 1. Spago, Beverly Hills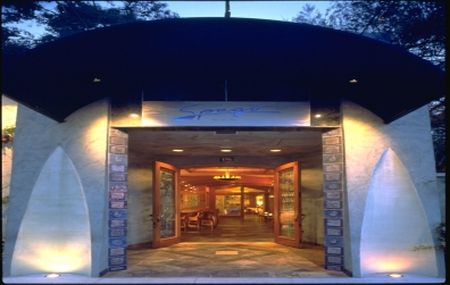 This sensational restaurant is the hot spot of Hollywood stars. Bill Clinton, our favorite former US President also showed up once to host a benefit for the 'Rick the Vote' effort. Even the singing sensation, Elton John voted for this pretty and pricey hotel to throw his post Ocsar celebration party in 1998. It seems that it has become the unofficially official venue for Oscar celebration. We remark this because in the year 2000 when 'American Beauty' bagged the award for Best Picture in that year, DreamWorks probably could not find any place more worth for celebrating the grand night. DreamWork again decided to hold a pre Oscar party at Spago, when many of the actors under its banner were in steep competition to get the crown of the Oscar Awards for the Best Actor. Tom Hanks and Russle Crowe were among those who attended the party as well. Hang on, our heart throb Tom Cruise went for his first date with Panelope Cruz in this restaurant. Now, certainly you don't want to miss any chance of dining there!
2. Chinois on Main, Santa Monica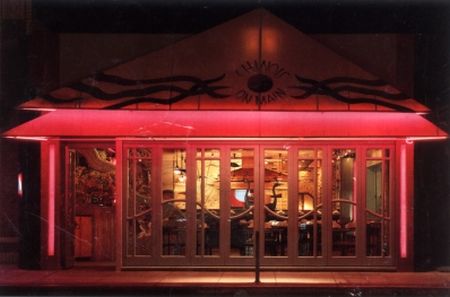 The second one in the list is Chinois on Main. It is as famous for its star guests and certainly, for its food. So, it is needless to say that celebs, who are confirmed foodie, are mostly seen here. Watch out on your right side as you enter, that is the favorite corner among the celebs. What can be more happening than to see David Letterman or Jacqueline Bissset, Mick Jagger or Tom Selleck walk past you as you satisfy your taste buds with French, Asian and Californian delicacies cooked in L.A style?
3. The Ivy, Los Angeles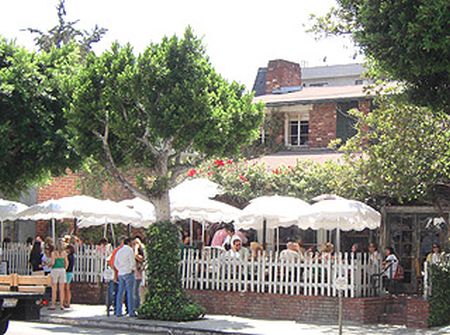 There is literally a perennial race among the fortunate guests like us and the paparazzi to get a glimpse of the Hollywood stars and moguls, who are frequent at The Ivy. We do not know what is in the air of Ivy, but there is definitely something for sure. This is probably why Jennifer Lopez and Ben Affleck turned up in the plush eatery in 2003, post their postponement of marriage. The Ivy is a chosen studio for the Hollywood film fraternity too. You might remember the meeting scene of Danny De Vito and John Travolta in the 1995 hit, 'Get Shortly'. The venue was none other than The Ivy. The backdrop of a scene from Kevin Costner and Whitney Houston starrer 'The Bodyguard' was also The Ivy, of course.
4. Koi, West Hollywood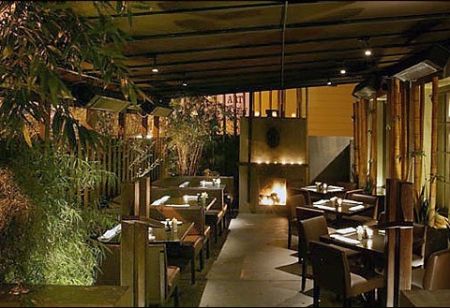 Koi reached the line of celebrity frequented hotels when Sharon Osbourne and ICM agent, Renee Tab literally broke into a bad fight. We do not know if the incident brought out the beastly side of Sharon and Tab to the public or not, but we definitely know for sure that all media light went on Koi from then on. Turmoil in the tranquil Koi atmosphere was again created when Lindsay Lohan made a mess as she was denied alcohol for her being underage. Leaving aside this nasty star wars, the Asian ambiance and authentic sushi are prime attractions among regular stars like Cameron Diaz, Eddie Murphy, Leonardo DiCaprio, Meg Ryan, John Trovolta and many more.
5. Crustacean, Beverly Hills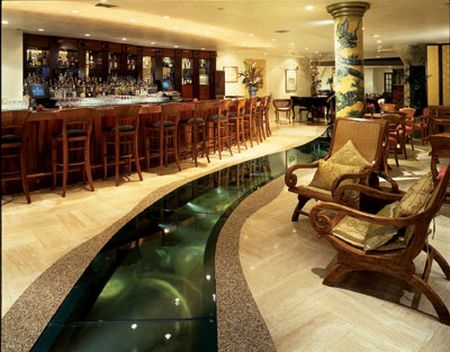 This luxurious Asian slice in Beverly Hills remains star studded all round the year. As you step inside this pricey hotel you will definitely be awestruck. You enter along with a stream full of black and gold koi fishes swarming and a glazed surface on top to walk on. The aquarium, marbled flooring, handcrafted furniture and Asian murals are the other visual benefits you will be offered. Now, if you wish to know who are seen there often, we can only say that the list is endless. It includes Will Smith, Leonardo Di Caprio, Catherine Zeta Jones, Sharone Stone, Julia Roberts, Jusie Foster and a lot more.
6. Mr. Chow, Beverly Hills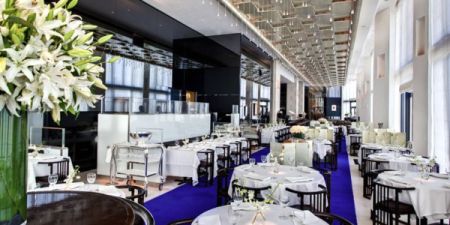 We are confused if there is any other hotel that can beat the celebrity turn ups as witnessed in Mr. Chow since its inauguration in 1968. Since decades, Mr. Chow retained its charm among the celebrities like Mick Jagger, Jachie O and Marlene Dietrich of the yester years to Jenifer Lopez, Nicolas Cage, George Clooney, Madonna, Mariah Carey, Demi More and a lot more of our times. It is undoubtedly, the privacy and the mouth watering delicacy that tempt them to Mr. Chow.
7. Kate Mantilini, Beverly Hills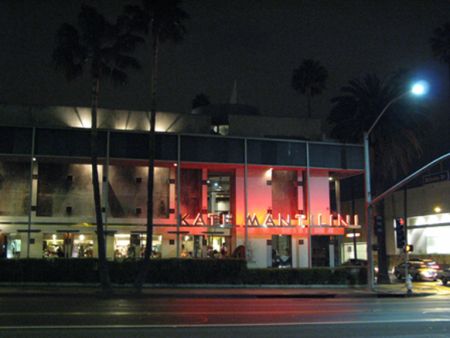 The American fare served in this Beverly Hills hotel is a hit among the Hollywood celebrities and industry moguls. You can buy simple food like meat loaf, mashed potatoes, burgers and other breakfast and lunch delicacies with a price that can burn holes in your pocket. But, you cannot deny the chance to share your table with Hollywood heart throbs like Brad Pitt, Jodi Foster, Cameron Diaz, Antonio Banderas and Tom Cruise too. So, you can say that money hardly matters when dreams get wings.
8. The Hotel Bel Air, CA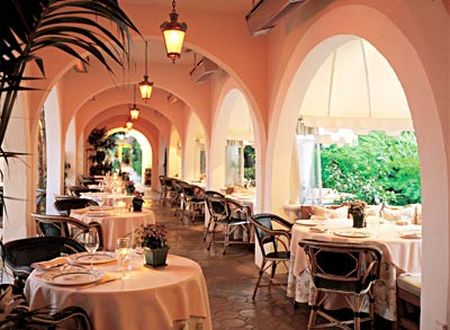 This is one of the finest hotels in California. It is the favorite of the world's elites due to its romantic atmosphere and tempting French and Californian cuisine. You will love to know that Liz Taylor had one of her many honeymoons done here! Buck up as you will definitely meet stars here like the Kennedys, Rockfellars, Nancy Regan, Oprah Winfrey, Tom Cruise and a lot more. But as it is said, nothing comes cheap. So, mind your pocket before coming here.
9. Matteo's, Westwood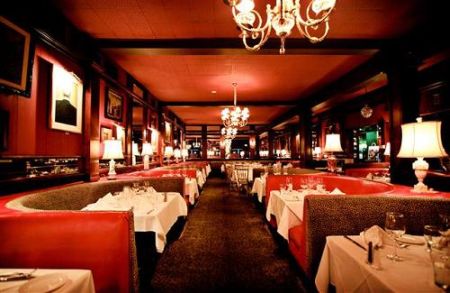 From the blue eyed clan of the yester years to those of our times, Matteo's has been a perennially favorite junket of the celebs. The journey started with Frank Sinatra, who came here to taste Hoboken often. Although the owner rose from the baseline, but pricey affairs here and the dear menu card will never let you get the slightest hint of it. Anyway, let's not get into all these. If you want to know who comes here, then the top names in the list will be that of Mickey Cohen, Bill Clinton, Tony Danza, Rodney Dangerfield, Stephanie Zimbalist, Suzanne Pleshette and many others.
10. Matsuhisa, Beverly Hills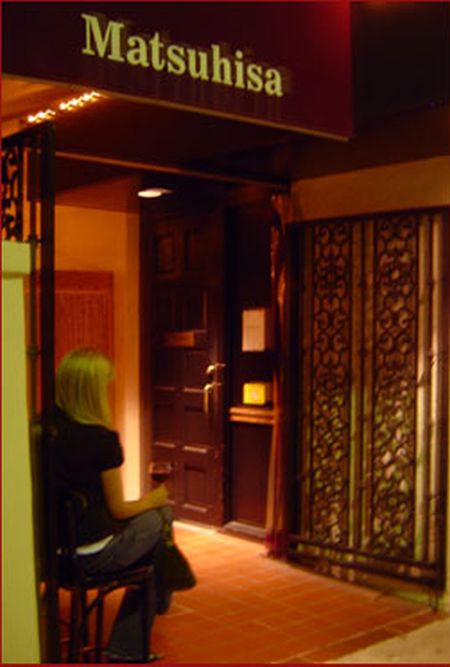 You will be amazed to know that the chef of this hotel is himself is a celebrity. If you could remember, the movie 'Casino', starring Robert De Niro, you will remember Nobu Matsuhisa, the chef was himself spotted in the movie. Thus, 'Casino' movie posters appear as much significant 'filmy' graffiti on the walls of Matsuhisa. The top rated food here, especially the grilled sea bass in sake lees and sushi, are the major attractions of regular celeb guests like Clint Eastwood, Mary-Kate Olsen, Danny DeVito, etc.