Salads, possessing all vital nutrients and being a good source of power, are very good for health. You can prepare salads can be prepared with anything; sea food, canned vegetables, fruits, fresh vegetables and eggs. They can make fulfilling meals on their own or can be great side dish too. If you want, you can serve the with spread or as starters as well. Since they are so easy and fast to make; making a salad free's you of the irritating kitchen heat. Mentioned below are ten revitalizing salad recipes that wouldn't let you rest unless you are done trying them all.
1. Arugula Salad with Membrillo Dressing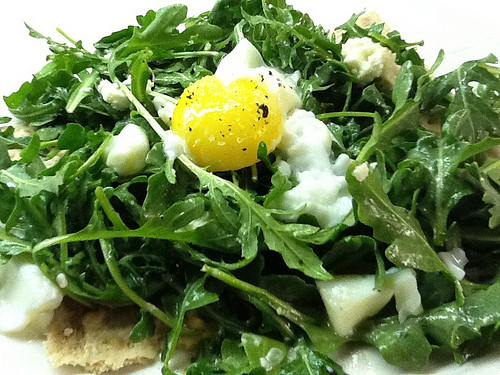 Ingredients:
3 cups of washed and blotted dry fresh baby arugula leaves
1/4 cup small chunks of Manchego cheese broken from a wedge with a knife tip
1/4 cup Marcona almonds
Optional items:
2 tbs chopped oil-cured green olives
2 tbs chopped red onions or
2 shallot cloves, peeled and smashed, lightly grilled in a skillet with one tsp olive oil
Membrillo Dressing:
2 tbs membrillo, softened to room temperature
2-3 tbs red wine vinegar
1 teaspoon olive oil
1/8 teaspoon salt
A few cranks of fresh black pepper
Method:
Take arugula in a serving bowl, then top with cheese and almonds, and any of the optional food items that you like.
Whisk all the dressing ingredients together in a small bowl and pour on salad right before serving.
2. Spinach and Clementine Salad with Vanilla Sugar Almonds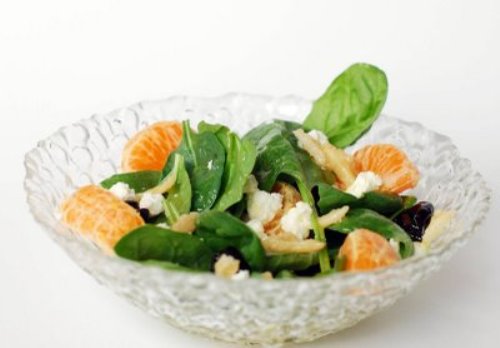 Ingredients:
Plate full baby spinach
1 Clementine
1/3 cup dried cherries
1 Tbs vanilla sugar almonds
1/4 cup sugar
2 tsp butter
2 tsp vanilla
1/2 cup almonds


Dressing:
1 clementine, juiced
2 tsp water
1 Tbs raspberry vinegar
2 tsp olive oil
1 tsp sugar
Method:
Melt sugar, butter, and vanilla in a saucepan over medium-high heat. and mix almonds in it.
Spread the almonds on a plate so that the sugar can harden and store in an airtight container.
Peel clementine and cut into round slices.
Arrange spinach on a plate.
Put clementine slices, almonds and cherries on the top.
Whisk all the dressing ingredients together and drizzle it over the salad.
3. Watercress, Strawberry and Cashew Salad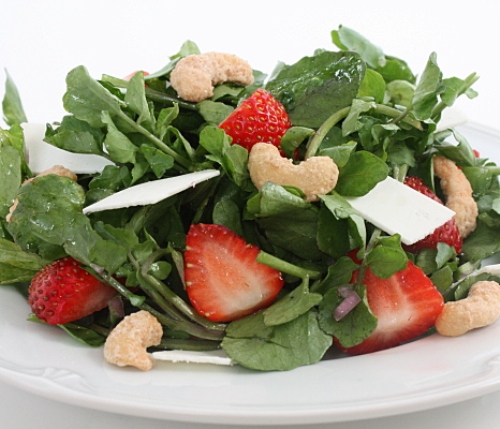 Ingredients:
2 bunches of watercress, trimmed
1 cup of strawberries, halved or quartered
1/4 cup sweet and salty cashews
1/4 cup ricotta salata, shaved
1 small shallot, minced
1 tb lemon juice
1 heaping teaspoon honey
1 tb extra virgin olive oil
Salt and pepper to taste
Method:
Whisk together the shallot, olive oil, lemon juice, honey, salt and pepper.
Mix this to the watercress and toss.
Sprinkle with strawberries, cashews and ricotta salata.
4. Blackened Portobello-Mushroom Salad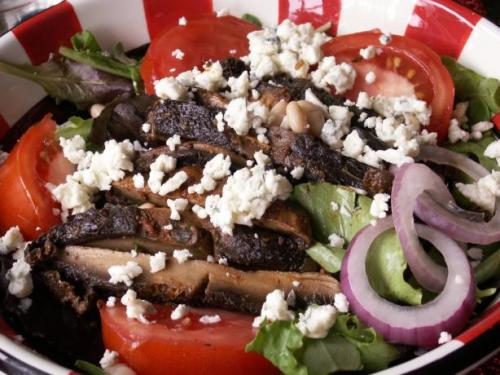 Ingredients:
1/4 cup red wine vinegar
1/4 cup tomato juice
1/4 cup balsamic vinegar
1 tbsp olive oil
Cooking spray
2 tsp Dijon mustard
1/4 tsp pepper, coarsely ground
4 ounce portobello mushroom caps (5 inches)
2 tsp stone-ground mustard
1 tbsp Cajun seasoning; steak
2 tsp olive oil
16 cups gourmet salad greens
1 large tomato, cut into 8 wedges
1/2 cup red onion, sliced & separated into rings
15 ounce cannellini, rinsed and drained
1 ounce blue cheese, crumbled
Method:
Seal the first seven ingredients and mushrooms in a large zip-top plastic bag and marinate this for 10 minutes.
Remove mushrooms from the bag and save the marinade.
Sprinkle Cajun seasoning over the mushrooms.
Heat 2 teaspoons of oil in a non-stick skillet coated with cooking spray over medium-heat until hot.
Cook the mushrooms for 2 minutes on each side until they turn dark brown.
Cut the mushrooms into thin slices, diagonally, after they cool.
Then organize salad greens on a platter.
Add mushroom slices, tomato wedges, and onion rings on top of it.
Sprinkle beans and blue cheese and drizzle the saved marinade on top.
5. Cucumber Salad with Agave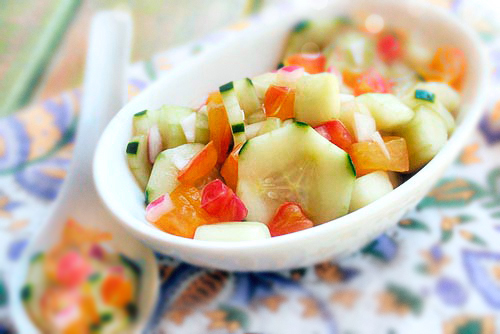 Ingredients:
1 cucumber (large), peeled and cut into chunks
2-3 cucumbers (small), peeled, leaving stripes of skin, sliced to coins
1/3 to 1/2 red onion (medium), finely diced
1 ripe heirloom tomato (large), seeded and diced
Dressing:

1/4 cup champagne or white wine vinegar
1 tbsp balsamic vinegar
1 tbsp good tasting olive oil
2 tsp organic agave nectar, raw
A pinch of sea salt
Fresh pepper, ground, to taste
Method:
Mix the sliced cucumbers with the diced onion and tomato in a non-reactive bowl.
Whisk the dressing ingredients in a glass measuring cup until frothy and pour all over the salad.
Gently toss the salad and then cover and chill for at least an hour before serving.
6. Carrot Salad with Fennel Seeds from Tunisia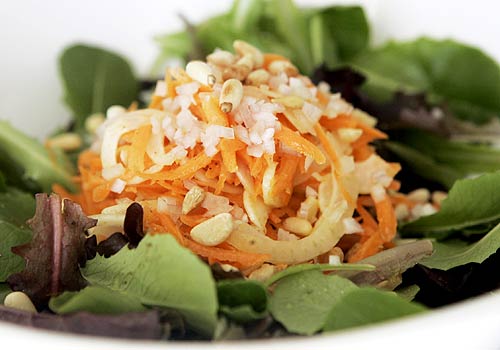 Ingredients:
1 pound carrots, peeled
1/4 cup distilled vinegar or lemon juice
2 cups water
2 Tbsp harissa
1 tsp salt
1 Tbsp whole seeds of fennel or 2 tsp ground
1 Tbsp olive oil
Method:
Peel the carrots and cut into 1/2-inch thick slices.
Mix all the ingredients and boil it on very low heat for around 30 minutes in a pot. Keep on boiling until the carrots are tender; the liquid is reduced, and the oil comes to the top.
Serve at room temperature.
7. Wheat-Berry Golden-Raisins with Whiskey Salad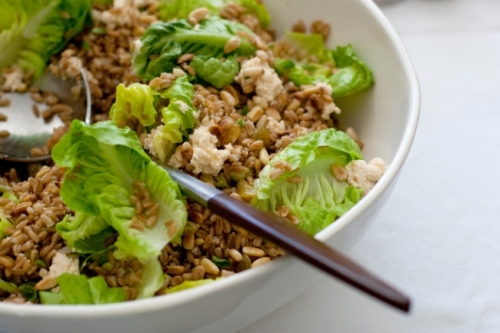 Ingredients:
1 pound wheat berries
3/4 cup golden raisins
1/2 cup whiskey
1 tbsp natural cane sugar or brown sugar
5 ounces goat cheese
1 1/2 tsp adobo sauce from a can of chipotle peppers
1/3 cup olive oil
1 tbsp lemon juice
zest of one lemon
fine grain sea salt
1 cup pine-nuts, toasted
3 handfuls (big) of arugula / lettuce / spinach
scant 1 tablespoon fresh oregano leaves
Method:
In a large saucepan over medium-high heat; add the pound of wheat berries to 8-1/2 cups of water and 1 tablespoon of salt.
Bring to a boil. Lower the heat and cover for about an hour; until plump and chewy. Drain and set aside.
Soak the raisins in whiskey and sugar overnight; or for a couple of hours. After the raisins are soaked, drain them and keep the whiskey (leftover) for the dressing.
Mix the goat cheese and the adobo sauce by mashing together. Keep on mixing until they are integrated well and then set aside.
Whisk together the olive oil, lemon juice and zest, 3 tablespoons of the leftover whiskey, and a couple of pinches of salt and set aside.
Gently toss the wheat berries, pine-nuts, raisins, lettuce and a few more pinches of salt.
Sprinkle with goat cheese and oregano, toss and serve.
8. Steak Salad with Tarragon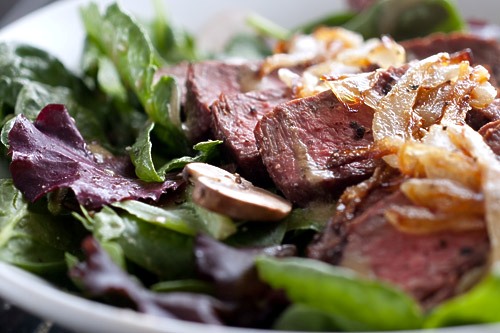 Ingredients:
1/2 lb. steak, cut into thin strips
6 cups Bibb / Boston lettuce
1/2 red onion, thinly sliced
1/4 cup blue cheese, crumbled
1/2 cup red wine and oil salad dressing
1 Tbsp. fresh tarragon leaves, minced
1/4 tsp. Pepper
2 avocados, peeled and sliced
Method:
Organize lettuce, red onion and steak strips on a platter and crumble blue cheese over.
Whisk bottled dressing, tarragon and black pepper well in a mixing bowl.
Add avocado on top of the salad and drizzle the dressing over and serve.
9. Lobster Mango Salad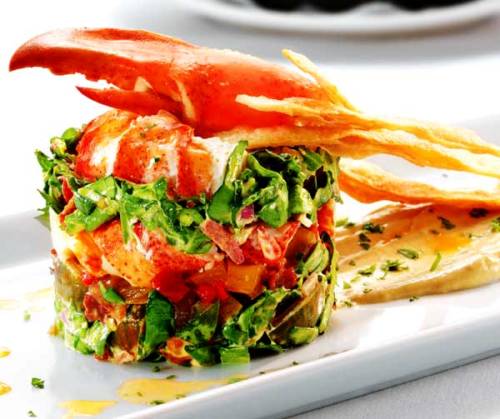 Ingredients:
2 lobster claws
2 big ripe mangoes
1 cup cream
1 tbsp honey
1 tbsp lemon juice
Few chopped sweet basil leaves
Method:
Boil the claws of the lobsters in hot water for 10-15 minutes or until cooked.
Remove the shell and cut the claws into small pieces.
Peel, slice and remove the seeds from the mangoes.
Cut the mangoes into small cubes.
Add the mangoes and lobsters to a bowl.
Mix in the cream, lemon juice, honey, and chopped sweet basil well.
Cover and chill in the refrigerator for at least 30 minutes before serving.
10. Spinach and Avocado Salad with Sesame Wasabi Dressing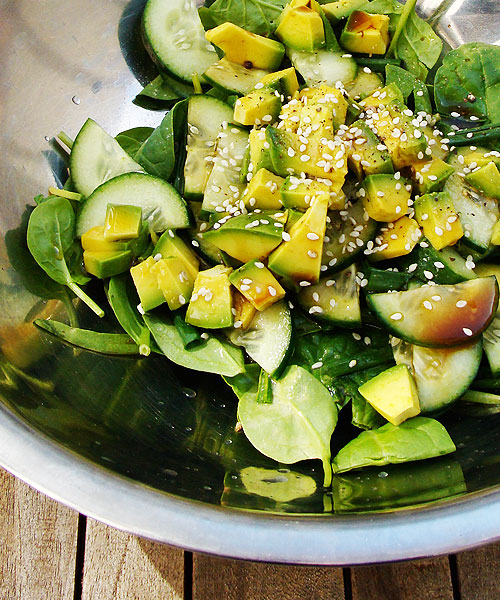 Ingredients for salad:
4 big handfuls baby spinach leaves
1 avocado(large), diced
1 lebanese cucumber, cut into half moon shaped fine slices
1 tbsp seeds of sesam
Dressing:
1/2 juiced lime
1/2 tsp wasabi stem, freshly grated
2 tbsp soy sauce
2 tsp sesame oil
1 tbsp peanut oil
1 tsp rice wine vinegar
ground white pepper, to taste
Method:
Keeping aside the sesame seeds, mix the rest of the salad ingredients in a bowl.
Whisk together all the dressing ingredients in another bowl.
Drizzle the dressing over the salad and toss.
Sprinkle sesame seeds over the salad before serving.
Recipes for lovely dressing that your salad always wanted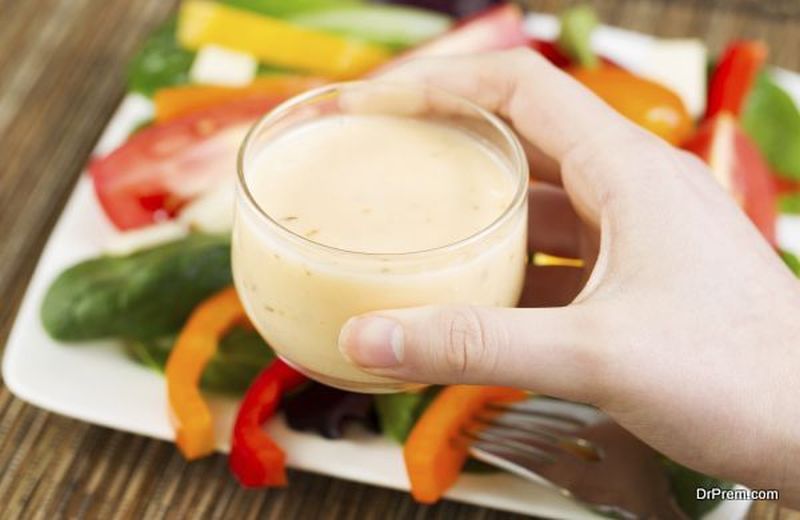 Making salad part of meal and eating it every day is one of the best and healthy habits one can adopt. Salads are easy and quick to make and contains nutrients that helps in maintaining the health of a person. It contains fiber that helps in better digestion while preventing one from constipation. Besides that, it maintains the cholesterol level that prevents us from many diseases. Apart from providing fiber to the body, it supplies nutrients that are present in fruits and veggies. 
Mostly people use green vegetables like spinach, cabbage, broccoli, and mustard greens in preparing salad. But many people do not like simple and boring taste of these vegetables. Salad dressing can add spice and taste to these boring vegetables. Almost all salad dressings are quick and easy to prepare and makes the unappetizing salad mouth watering.
Recipe of most of the salad dressing takes minutes to prepare. Moreover, it completely change the décor and taste of salad. Here are few delicious recipes for salad dressing that will make everyone eat salad regularly.
Caesar salad dressing recipe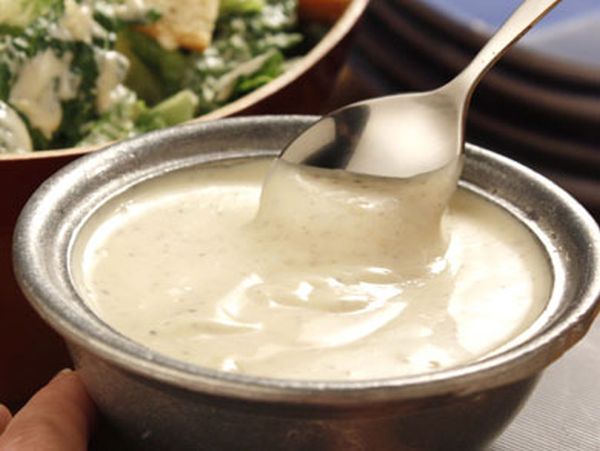 This delicious salad dressing recipe takes few minutes to get ready. Caesar salad dressing recipe is easy and need few ingredients. Recipe start by mashing garlic and salt until it becomes a thick paste. After the garlic and salt paste is ready, add lemon, mayonnaise, mustard, and pepper to it. Mix it well and then drizzle few drops of oil. Adding oil helps in holding all things together. After mixing it well, keep it in refrigerator for three to four days. After four days, one can enjoy this salad dressing.
Spicy salad dressing recipe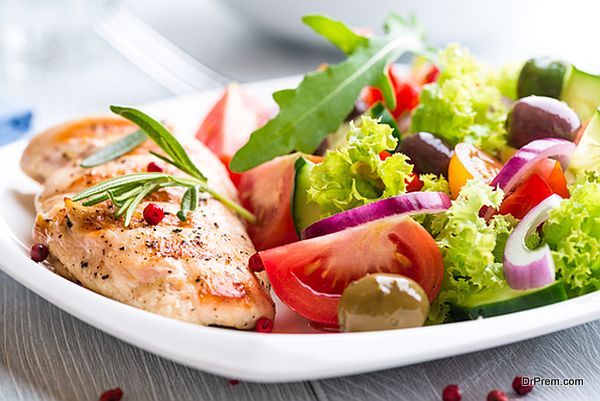 Take a bowl and add tomato puree, oil, lemon, mustard, chilli powder, and jaggery. Mix it, put it in a jar, and shake it well until it becomes a thick paste. Now pour this paste into an airtight container and refrigerate it for two to three days. Refrigerating will help set the dressing and it is ready to eat thereafter.
Lemon and olive oil salad dressing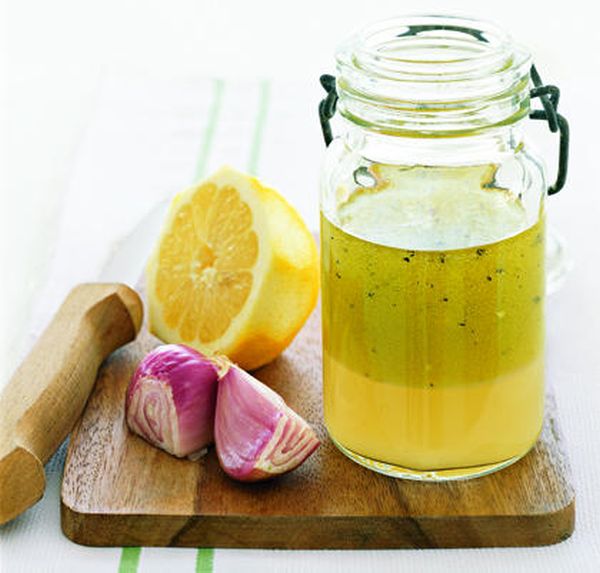 Put minced garlic in a bowl, sprinkle some salt, and mix it well. After mixing it properly, pour lemon juice and olive oil into the mixture. Store this mixture in an airtight container and shake it well before use. This blend of lemon and garlic makes a tasty dressing for the salad.
Summary
Salads are full of nutrients and play a major role in making the meal complete. Salad dressing makes it tastier and one really enjoys eating salad when topped with tasty dressing. Adding variety of flavors makes salad tempting as it changes the plain taste of salad.