Come Xmas and we all make a beeline to the pastry shops to choose the best chocolates and cakes for our friends and relatives. Chocolates are a passion for all of us and it is during these festive seasons that we try to indulge in them without watching our waistline.
1. Sleekster Classic Christmas Selection
This beautiful product bowls you over not only with its taste, but also with its packaging and design as well. Caramels, pralines, truffles, cinnamon, gingerbread and many more just melt away in your mouth and create exhilarating sensations that are just out of this world!
2. Ultimate Milk Chocolate Advent Calendar
One of the most sought after chocolate packages with cute and delicious chocolaty Christmas figures, they are made of 40 percent milk. The figures are so intricately carved that they look amazingly beautiful on any mantle piece. The package comes with 24 chocolates.
3. Alternative Mince Pies
Chocolates never fail to entice us, be it in any size or shape. How about milk chocolate cups which have star toppings that announce the festive season with great gusto? Take a look at this beautiful chocolate cups which are filled with layers and layers of salted caramel and praline that will take you to heights of gooey pleasures. A pack comes with six starry chocolates.
4. Chocolate golf ball
A great Christmas gift for your father or anyone who is a golf enthusiast, the golf ball chocolate comes shaped like a golf ball with a green grassy border, all delicately packed in a cup. The topping for the golf ball is done with white chocolate and the icing is done with American butter cream 'grass' A single pack comes with a dozen of these beautiful golf balls.
5. Chocolate cigar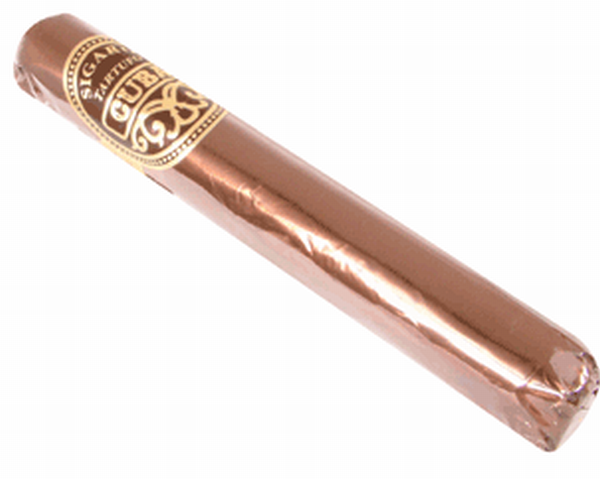 Another wonderful gift for a man or someone who loves cigars. This is probably a way to keep him away from the clutches of nicotine for a few hours. The cigarette chocolate is free from alcohol and has 56 percent cocoa which is coated over a truffle center. The cocoa comes from New Guinea and the cigars are so finely carved to resemble the original cigar. Best suited for vegetarians.
6. Dark chocolate spoons
Spoons are irreplaceable things that we need on an everyday basis. Chocolate spoons would be great Christmas gifts for women who love to cook and serve. Made from superior quality dark chocolates, they come in 9 cm length spoons and covered with 72 percent of dark, rich chocolate. As these chocolates are free from alcohol, gluten wheat, dairy, soya lecithin, etc., they suit vegans and vegetarians perfectly. Use them for dessert decorations to create beautiful desserts worth admiration.
7. Chocolate cocktail
The ultimate drink you have been waiting for! The rich chocolate drink is a treat to your taste buds and awakens your senses with its warm and dark passion. Treat your obsessions with as many drinks as you want during the Christmas season.
8. Organic Milk Chocolate Sea Salt Wafers
These brilliant wafers are a class apart from the rest. Blended with the richness of chocolate is the Halen Mon Anglesey sea salt which gives it a flowery or a fruity edge. The sea salt gives it a peculiar flavour that reminds us of having ice cream on the beach with the natural salty flavor fanned in by the cool breeze. Organic Milk Chocolate Sea Salt Wafers are made of 37 percent cocoa solids and come for £12.50 a pack.
9. Fiori e Cioccolata – flower fondant creams
The beautiful oval packaging tied with violet ribbons is enough to attract you to this chocolate. Add to it the rose and violet creams that are reminiscent of geranium and lavender and you get a pretty picture worth tasting any day. Fiori e Cioccolata – flower fondant creams come arranged in an oval box and costs £10.50 per box.
10. Chocoholic Hamper
A chocolate hamper with all the chocolate temptations arranged in beautiful order, this hamper is the perfect gift for a chocoholic who cannot resist the dark temptations anyway. Each Chocoholic Hamper contains classic milk chocolates, dessert collection, continental dark and white collection, chocolate smothered toffee box, praline melts, continental Viennese bag, toffee chocs pouch, moments box, vanilla fudge pouch, soft caramels, etc.