Food and celebrities hardly ever mix, considering the fact that celebrities who tend to indulge in food a little too much tend to lose their svelte figurines and also their glory along with it.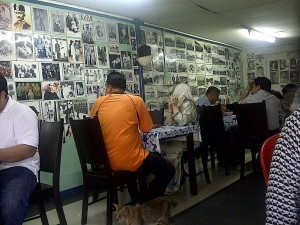 However, at a popular eatery in Johor Baru, you can actually get to get the both of them under the same plane. How??
Well, when you go to eat at the eatery named Warung Saga, the thing that you go for is food. However, at this restaurant, the dining experience is not just a treat for the taste buds but for the optical faculties as well.
The eatery is decorated with portraits and photographs of celebrated people and famous personalities all over the world.
Posters of members of Johor royalty from past and present, as well as political dignitaries, bygone eras and landmarks line the walls. Apart from this, there are also portraits and posters of local and international movie stars.
Owner Ismail Mohd Safri, 66, who opened the restaurant in 1986, was as much a photography and movie buff as he was passionate about food.
"I bought some of the movie posters from the Rex and Lido cinemas. When you really love something, you do not care about the price," Ismail said.
As for the photographs of the royal family as well as the Menteri Besars of Johor, Ismail said that he procured them from people and friends who were also photographers or photography enthusiasts just as he is.
The widower, who suffered a stroke in 2004 that left the right side of his body paralysed, said his 85-year-old mother, Mahani Koulan, is still active in the kitchen today.
"When we first started the business, my mother and my late wife were the main cooks. The dishes are prepared according to my mother's authentic Johor recipes," he said.
"The workers have taken over as the main cooks. They are the ones who churn out the rendang ayam, mee siam, tauhu goreng, mee rebus, lontong and Laksa Johor, among other dishes, while my mother just makes the kuih."
All the people who come to eat here are regulars. They come, above all as many of them said not just for the food which is delicious of course, but also for the treat to the eyes as well all the good old memories that come flooding back before their eyes. The eatery is truly a place where celebrities and food do mingle for once.