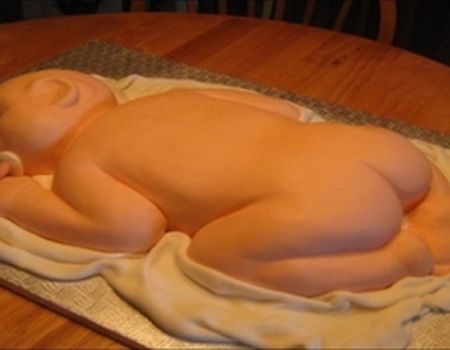 It is the first birthday of your little princess . She is your darling and she deserves to be treated royally. All young girls like bright colors, teddies, barbie dolls, cartoons, flowers, etc., but each child is different and each child has a unique taste. So, we are here to give you a variety of cake types so as to make her b'day the most cherishable day.
Cute Baby Cakes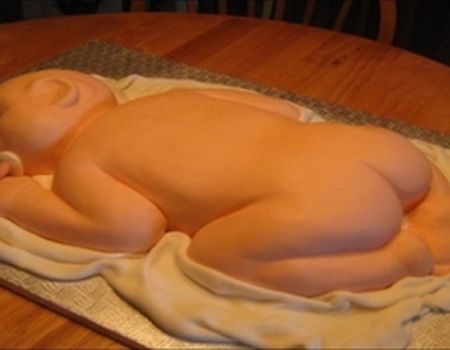 Cute Baby cake is a unique idea of making your daughter's first birthday cake. A b'day cake is the centre of attention of every Birthday Party and a Baby cake can make it all the more exciting. You can make a resemblance of small baby girl or your own girl's pic. Even babies are fond of other babies, she would be really thrilled with such a beautiful cake. You can decorate the girl's dress in the cake with bright and colorful icing and can choose cream color icing for the body. Follow your heart, let your imagination run wild and finally make a beautiful baby birthday cake for your baby.
Teddy Cakes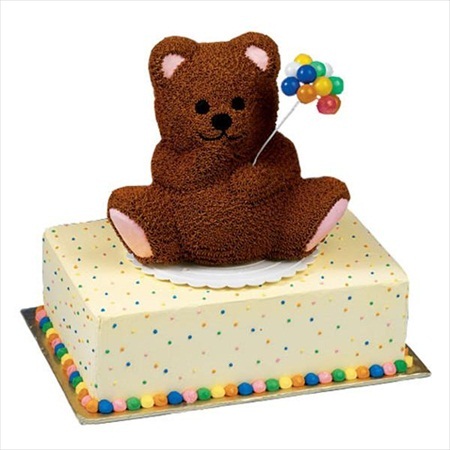 All your small little angel wants are sweet dresses, chocolates, and toys. Teddies are the girls' most loved toys. She loves to hug and play around with teddies. So why not surprise her with a teddy birthday cake? Your imagination can go wild, you can try different types of teddies like a tired cake with a teddy bear sitting on it or it can be a diaper cake with cute little teddies or a cute little teddy sleeping on a mattress. You can even use the replica of the your angel's favorite teddy. Teddies are always loved by girls and she would be really thrilled to have such a cute teddy birthday cake.
Animal Cake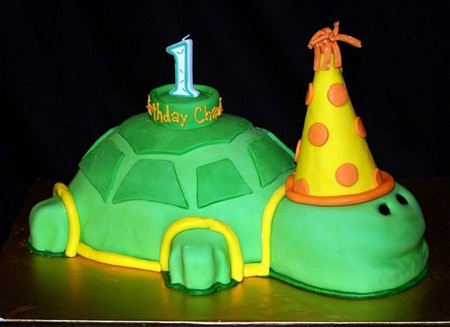 It's always a party when we have cute little animals around. A little girl's mood is very unpredictable and she may even like animals at times. She may love a particular animal and would be really glad to have a similar cake. Cute little animals make thrilling cakes. It can be bright and colorful and with a sober touch, it can be a zoo of animals, or it can be a single animal or bird. It can be anything from a partying dinosaur, a sweet little penguin, a jumping monkey or a whole bunch of animals. So go wild with all the wild animals and have a memorable birthday party.
Cartoon Cake
Cartoons are liked by most of the little ones. If you play the Cartoon network channel, then for sure your little baby would not let you watch anything except cartoons. And each of them have their own favorite cartoon characters. Whether it is the sea mermaid or the clever Jerry or the cute Kitty or may be Winney the Pooh. Your little baby would definitely be crazy about one of them and let's surprise her with a birthday cake of the cartoon character she loves the most.
Fairy Cakes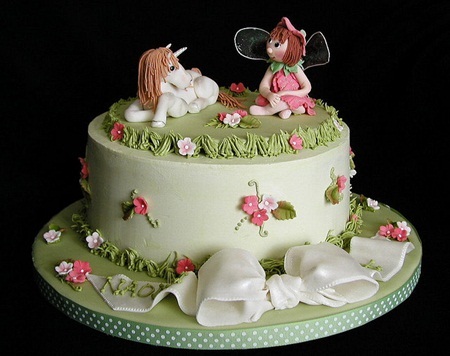 Your little one is a sweet little angel. She is a fairy for you and her birthday is the best and most special day to make others know how much she means to you. Present her a fairy birthday cake and she would be mesmerized with the fairy's beauty and don't be surprised if she is not ready to cut the cake! That's obvious with a beautiful fairy cake. Whether it be the Cindrella or Alladin's Jasmine or the princess from a fairy tale, the fairy with the unicorn or the toadstool fairy, a fairy cake is the best cake for your little baby's birthday party. The cake will also delight other children present in the b'day party. Make the fairy cake with her favorite color and gift her the best cake of her life.
Butterfly Cakes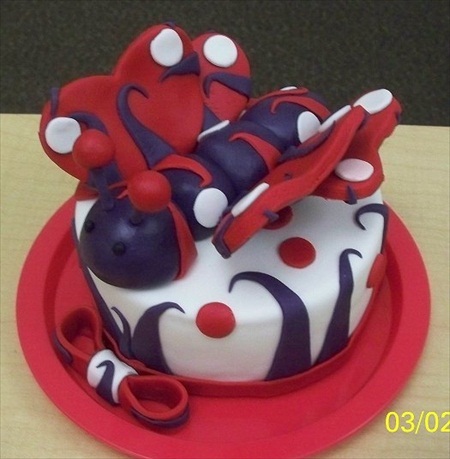 The butterfly is bright and colorful and it attracts every child. Every flower has butterflies around it, it is the young caterpillar that turns into a beautiful butterfly, just like your sweet little baby who is blooming day by day. Bake a cute little butterfly for her b'day, fill it with lots of colors or decorate it with lots of flowers or just a simple butterfly. A butterfly cake is very easy to make and the shape can be easily designed at home and can be decorated beautifully with colorful icing topped with gems and chocolates.
Castle Cake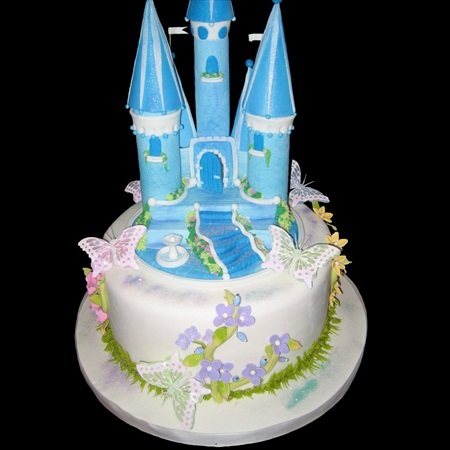 She has seen the pictures of the castle in her cartoons, she has heard about it in tales. She is jealous of the princess that lives in the castle and is asking you if she would ever be able to stay in a castle, so why not present her a castle birthday cake which will make her dreams come true! Make her feel special and more over she will love you for the beautiful cake you have gifted her. Make her a cake like the castle she has seen or the way they are in a children's story book, colorful and beautiful and with full of life.
Barbie Doll cakes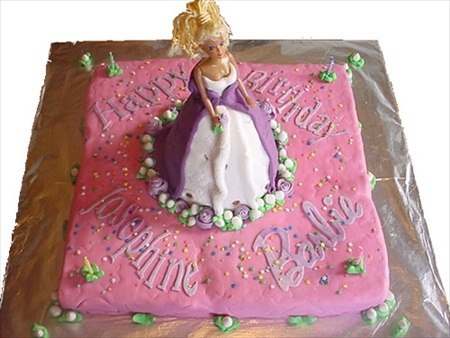 Every little girl is crazy about barbie dolls. So why not present her a barbie doll cake on her first birthday? You might be wondering that making a barbie cake is not that easy, but it is not that difficult if you do a little bit of extra work. You can easily make the barbie frock with an inverted bowl and can insert the barbie doll in the center or you can even use barbie doll mould pans for making the cake. Then do the icing and finally decorate it with beautiful accessories like earnings, clips in the hair or a bow. Trust me that will be a huge hit among everyone and your child will love it.
Tortoise Cake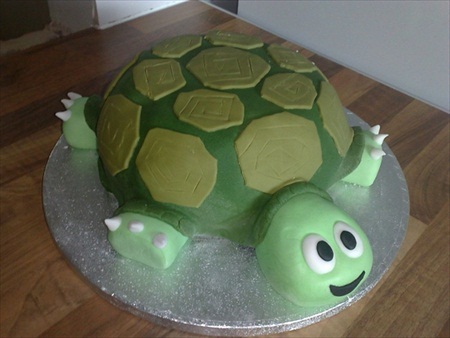 Your little champ always wonders about a tortoise. A tortoise always surprises her and she knows her first story about the tortoise and hare so why not make a tortoise cake for her? A tortoise is basically of green colour but you can use some bright and contrasting colors to give it an appealing appearance. The basic shape of the tortoise is easy to cut. You can even use glossy icing to make it more beautiful and it will definitely be a hit.
Lady Bug Cakes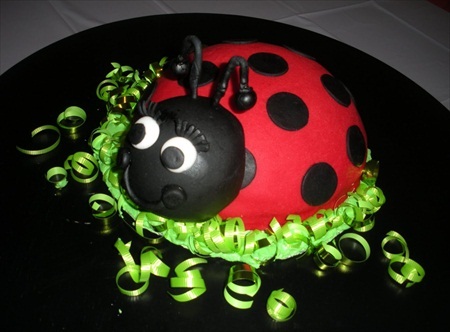 Lady bugs are very bright in color and they look very attractive. You can make a lady bug by using a large bowl as mould for the body and a small bowl as mould for the head. For making the eyes you can use bright and glittery black color icing. To achieve the perfect black color for the head, first, coat it with chocolate and then apply black icing. You can also make grass or flowers to give a more realistic look to the cake.
Always make a cute cake for the baby and make the thing which she likes the most. It is the cake that would be cherished most through photographs and she will remember it always. So make it as beautiful as you can and trust me, your angel will love you for it!