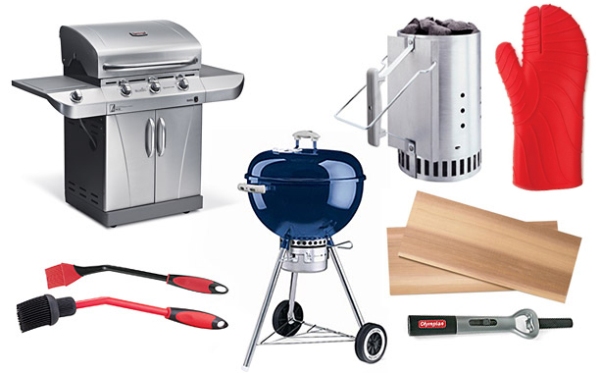 Cooking can be a real fun if you have the right equipments and tools in your kitchen. So, you should be careful while buying grilling equipments. First, you should decide on whether you want to use gas or charcoal for cooking. The price of these two options does not vary much. Here are some tips that you should always keep in mind while purchasing a grill:
1. Look for a lid
It is a good option to always look for a grill with a lid because it is required to generate a heating effect on either side of the grill. You should also give preference to this as it helps the air to circulate, and provide an even cooking experience.
2. Go for a bigger size
You should always consider a grill that is comparatively large in size. Many times, you may have to cook big food items, for example large racks of ribs and whole turkeys on your grill.
3. Avoid your grill to over accessorize
There are many options in the accessories available for you to choose from. For example, there are accessories such as side burners and rotisseries. You should see that whether these additional features are of any use for you or not. Many times these accessories act as a hindrance in cooking larger pieces of meat.
Grilling Gear Checklist
1. Tongs
Tongs help you in doing 90 percent of your work. Look for the following features in the tongs:
a. Look for those which are made up of stainless steel.
b. You can go for those with an oval shape which makes it easier to grip food.
c. You should preferably look for tongs that are about 12 inches long so that you get maximum protection from the fire.
d. For a convenient storage, look for the one with a locking mechanism in it.
2. Spatula
You should look for a spatula that allows you to lift food away from the surface without tearing it. A multipurpose option could be the silicone spatula as it cleans up easily, and can also be used with sauce pans. A good way to pick the right spatula is to look for the one which is wider at the front in comparison to its base.
3. Brushes
Brushes are mainly used for saucing, and mopping food. Look for a brush with the following features:
a. You should search brushes with a long handle to help you get into all the nooks and crannies of the food.
b. Look for brushes which are heat resistant and are dishwasher safe.
c. For barbecue, you should look for a brush with more bristles.
4. Instant thermometer
An instant read thermometer is needed to test the internal temperature of your food. You should look for the one that can be conveniently recalibrated and has a large and easy to read face.
5. A chimney starter
It allows you to efficiently heat charcoal before adding it to the grill. You should preferably look for a chimney starter which is large in size, sturdy, and have a heat resistant handle.
6. A fireplace lighter
You should use a fireplace lighter in place of an igniter. But always make sure that the fuel line is clearly visible so that you know when it is to be replaced.
7. Gloves
It is essential for a safe cooking. Look for the gloves which are thick, heat resistant and are easy to wash. Always keep in mind that your gloves should fit you well.
8. Grill-cleaning brush
It is important to have cleaning brushes to remove the residue left after cooking. You should look for the brush with brass bristles as it is safe to be used on cooking grates. Find a brush that comes with a replaceable brush head.