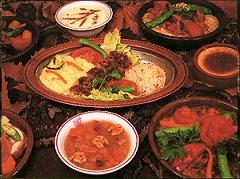 Turkish cuisine is simple, variegated and it follows a certain kind of culinary discipline that makes it one of the richest culinary heritages. The richness also is because of the influences of the imperial kitchen on the Turkish cuisine. The Turkish cuisine also has traces of Persian and Greek mementoes. However, Turkish cuisine has an authenticity of its own. The main ingredient of any Turkish dish stands out as it is not smeared in lots of spices or tossed in heavy and strong sauce, which means that there are a very pairings to go with the Turkish delicacies. The main ingredients of Turkish cuisine are eggplant, green pepper, onion, lentil, bean, tomato, garlic, and cucumber. The Turkish array of fruits comprises grape, apricot, cherry, melon, fig, lemon, pistachio, pine nut, almond, hazelnut, watermelon, and walnut are among the most abundantly used fruits and nuts. Preferred spices and herbs are dill, mint, parsley, cinnamon, garlic, and the lemony sumac.
The main meal of the day starts with a Turkish breakfast. Turkish breakfast adheres to the principle of eating breakfast like a king. Yea the first meal of the day is really elaborate consisiting of beyaz peynir (white cheese), honey or jam, black olives, boiled eggs with wedges of Turkish bread. A king-size breakfast includes fresh fruit, vegetables, yogurt, accompanied by honey and jam, pastries called pogaca and various kinds of cheese borek (layered pastry leaves cooked in the oven). Turkish black tea, brewed until very strong and bitter, is then diluted with water, and drunk from small tulip-shaped glasses is served at breakfast and throughout the day.
Lunch in the Turkish cuisine contains the main course of Pilaf and lamb carvings. To begin with soups, the famous soup is red lentil soup. Pilaf is one of the oldest preparations of rice and it is paired with either rice or vegetables depending upon the local cuisine. The famous meats that occupy the main meal are Doner kebab; layered lamb, ground beef and spices roasted on a vertical spit and served thinly-sliced over rice or in a roll with tomatoes, hot peppers and French fries, shis kebab, chicken cooked on skewer over a coal fire and pastrima ( a sun dried cumin-fenugreek coated preserved beef delicacy).
A Turkish dinner begins with Meze, which is an assortment of small dishes taken with wine, usually in Turkish cuisine it is an assortment of seafood like pickled fish, smoked fish, and dried fish. Main course consist of white cheese, meatballs, dolma – green pepper, grape leaves and eggplants, stuffed with rice and meat, borek or phyllo dough stuffed with cheese, meat or vegetables and hummus or dips prepared with sesame, chickpeas, garlic, olive oil, lemon juice and seafood.
Finally, an array of desserts which is rich and I wonder whether they have it at one go. Rice and starch puddings (muhallebi, sutlac), helva (halvah), kadayýf (kataifi), revani (made of semolina and starch) are among other varieties. Kaymak (clotted cream) is often served with sweet desserts to cut through the sweetness. Tea or thick Turkish coffee (with or without sugar) is usually served after dinner or more rarely together with desserts. Lokum (or Turkish Delight, in english) is another variant of Turkish well-known desserts.
I am stuffed and I do not think I would be wanting for more for my Sunday breakfast, lunch and dinner…no I am not planning to prepare a royal meal leaving my Sunday worship. But I will go for the easiest pilaf with lamb of course.
Turkish Cuisine