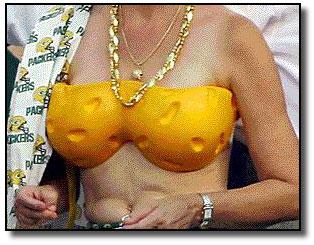 It is sad to hear that Mia Quistorf was fired from her job after she wore a cheese bra on a game Day at Lambeauf Field Green Bay Wisconsin . What had the job to do with public apearances? Well that is a different story.
What foodmall can do is to Thank Paul for expressing concerns about the sales of the Cheese bra. Paul, Packertime has a great offer for those who wanna buy this cheesy bra, coming after the noodle bra.
So for all those who want the cheese bra to melt the onlookers can go for a Green Bay Packers Wisconsin Cheese Hat and Cheesehead Women's Bra Lady's Game Combo at just $43.95 or try to be trendier with Green Bay Packers Wisconsin Cheese Hat, Cheesehead w/Brat Lei Necklace, and Women's Bra Ultimate Lady's Game at $59.95 . Go, grab that piece, and be very cautious about this edible display.