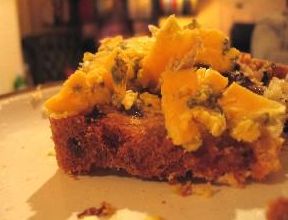 An article in Scotsman made me go crazy. The 14th incarnation of the Buddha of Compassion, his Holiness Dalai Lama, loves eating Dundee cake. Yea when I say loves eating, listen to what this traditional Scottish delicacy is loaded with – raisins, almonds, sultanas, orange peel, sugar and alcohol.
Yummm, I have started admiring the his Holiness choices…consuming a sumptuous, melting and tempting delicacy. The Edinburgh Inter-Faith Association will be treating Dalai Lama with this cake in his next visit to Edinburgh. However, Michael Clapham, a nutrition lecturer at Queen Margaret University College feels that the Dundee cake would not be the right option for Dalai Lama at 70. However, his Holiness Dalai Lama can be given a piece every alternate day taking into consideration of his health
Anyways this rich cake with all the dry fruit and candy, is whisked with whisky or rum and served at Christmas…sorry docs I am gonna indulge in it.