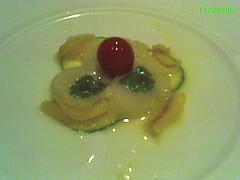 You guys can afford to have a modest serving of the chef's best sushi at $80, $100 and $120. Though it was expensive for Tony, yet he did it by the way of honoring a sushi chef…he was sure that spending $80 for a sushi meal will be worth it.
His first dish was what he asked for, Monkfish liver, looks wonderful with topping of caviar on monkfish liver pate floating it in a sweet mustard sauce. Matsuhisa, the owner of the restaurant, follows no rules.He can place slice scallops over a bed of cucumber and hot sauce, next in the $80 package was tuna and Spanish mackerel tucked into the greens and looking hot over a grated daikon sauce. The most creative art of sushi is fried oyster in crispy fried taro placed on lettuce leaves. This is the first image of fried oysters, which reminds of French fries rather than the golden fried balls of oysters. The Chilean sea bass cooked in soy sauce is wrapped in a mysterious leaf, appears mysterious to me and looks to more like Indian pancakes wrapped in banana leaves. The Mirugai nigiri and anago were simply seared and crunchy, so no sushi art in them.
Tony might come back for a $100 chef's favorite, but I would definitely visit Matsuhisa for the great sushi art. Sushi art in Japan ha many versions. While Matsuhisa's feature looks sensible to me Sushi art on a female torso was simply incredible.
Thanks Tony: Sushi Art