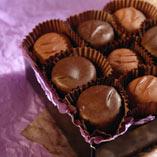 After chocolate masks, chocolate creams and chocolate fairness gels, chocolate companies are focusing on the edible aspects of chocolates. The ChocoMed company's healthy chocolates have proven to be a break through not only in the food industry but also in the health community. If you want to stay young, stress-free, avoid pre-natal depression, have strong bones and want to get sweet dreams go for the chocolates packaged under the name ChocoMed Pure Chocolate label. ChocoMed is up with the health promoting scope of cocoa. You do not have to swallow bitter medicines, just bite into a piece of this yummy health bar, which is tasty chocolate and nutraceuticals.
Confectionary giant Mars, maker of CocoaVia, and Barry Callebaut, the company behind Acticoa are also increasing the levels of polyphenol in their chocolates, but the range of health solutions via chocolates is comparatively wider with the ChocoMed company.
Cocoa benefits in ChocoMed chocolate products will result in a great deal of convergence between the food and pharmacy industry. In the first place, flavanol-rich cocoa was associated with "aspirin-like" effect which aided in a reduction in platelet aggregation or tendency towards clotting, in terms of cardiovascular health; two recently completed clinical trials found that flavanol-rich cocoa could increase blood flow to key areas of the brain, providing a possible cure to the elderly people suffering from dementia and strokes; and the consumption of flavanol-rich cocoa could improve blood vessel function by boosting synthesis of nitric oxide.
I think an analysis of cocoa benefits in a tempting chocolate post has already cured the dieters from a "dieting-depression".
Go and grab your health at: Nutraingredients