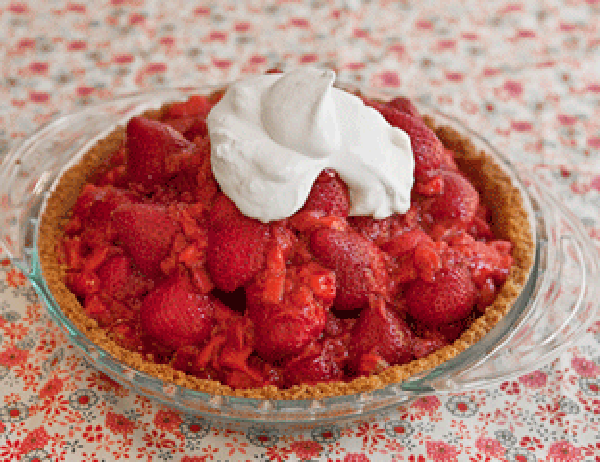 Introduction:
Strawberry pie is extremely delicious and is a dessert, made out of strawberries. About 70% of the pie is full of whole strawberries. It is a sweet baked dish and made by crushing some strawberries and pouring the mixture over whole strawberries arranged in any pattern. Strawberries are rich in antioxidants and they help prevent cancer and heart diseases. Strawberry pie is hence, healthy as well. Here is the recipe for preparing fresh delicious strawberry pie.
Complexity level: Moderately easy
Time taken: 30-40 minutes
Ingredients:
For making a 9- inch pie, these are the ingredients:
Ingredients for preparing the crust
1 1/3 cups graham cracker crumbs
3 tbsp melted butter
2 tbsp sugar
Cooking spray
Ingredients for preparing the filling
8 cups strawberries (2 cups of sliced strawberries and 6 cups of whole ones)
2 tbsp balsamic vinegar
¼ cup sugar
2 tbsp water
2 tbsp corn starch
1 tbsp fresh lemon juice
Ingredients for preparing the topping
1 ½ cups heavy cream
1 ½ tsp sugar
1 ½ tsp vanilla extract
Process:
Method for making the crust:
1. The first and foremost thing you need to do to make the crust is to preheat the oven to a degree of 350.
2. Take a bowl, add sugar, melted butter and graham cracker crumbs, and mix thoroughly.
3. Take a 9 inch pie plate and coat it with cooking spray. Pour the mixture into the tray and press it down to the bottom and the sides of the tray.
4. Bake it for 15 minutes and leave it to cool down.
Method for preparing the filling:
1. Take a medium sized non-stick pan and add the sliced strawberries and vinegar; mix them well.
2. Heat and cook the mixture over medium-high heat for 3 minutes. Keep stirring intermittently.
3. Add sugar and mix well.
4. Mix corn starch and water in a bowl and add it to the cooked strawberry.
5. Boil the mixture for 1 minute; keep stirring.
6. Remove the pan from the heat and immediately add the lemon juice. Keep the mixture aside to cool down.
7. Now it is time to arrange the strawberries. Take the crust you prepared earlier and arrange the whole strawberries onto it in the patter that you like.
8. Next, take the cooled filling and pour it over the arranged strawberries, cover each and everyone.
9. Cover the pie loosely and chill it for another 4 minutes to add to the taste.
Method for making the topping:
1. Take all the ingredients needed for topping.
2. Place them all into a bowl and whisk well.
3. Whisk until soft peaks are formed.
4. Garnish your pie with the topping.