Any celebration or party is incomplete without delicious appetizers, dishes, divine desserts.  When you are celebrating special occasions like a wedding anniversary; it becomes grander with the greatest of the feast.  The party dinner menu should definitely include some special dishes, which the children can also enjoy to the fullest.  Below mentioned are some of the wedding anniversary dinner party menu ideas, which the fussy eaters can also relish.
Four cheese scalloped potatoes are one of the best wedding anniversary dinner party menu ideas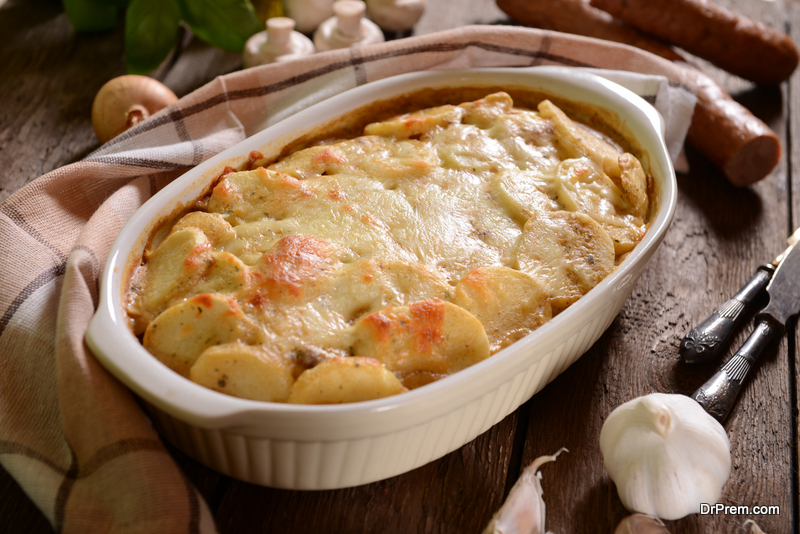 The extremely delicious sliced potatoes, topped with parmesan, serve as a great idea of snacks for children. You need to cut the potatoes in thin slices and layer them with mozzarella and heavy cream. This is a dish that most kids love to have.
Flavorsome creamy spring peas with pancetta
This dish again serves as a healthy option for snacks for children. The combination of smoky pancetta and sweet peas is quite classy and filling. You have to cook both the things; and then, add the ingredients like chicken broth, cream, lemon juice, salt, pepper and all-purpose flour. This is a recipe that not only adults will love; however, even kids will enjoy it's divine taste.
Delicious honey glazed carrots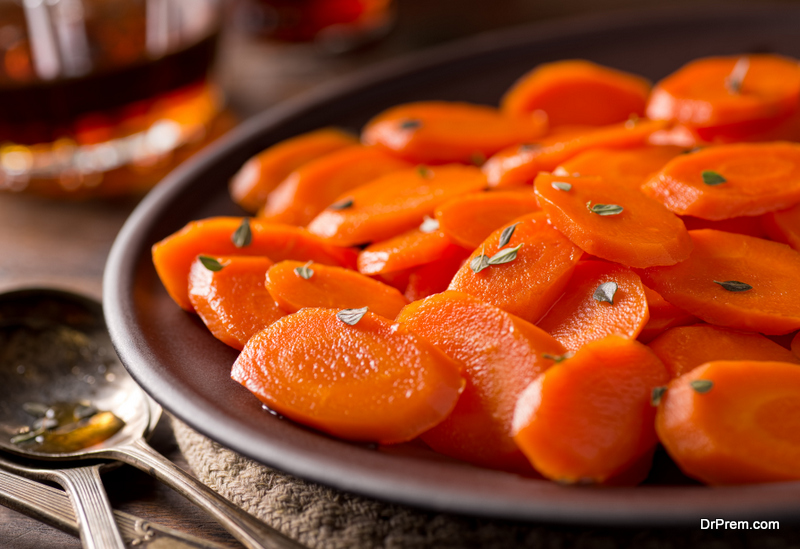 Another option among the tasty food recipes is the honey-glazed carrots. You can prepare this dish instantly and serve it in just 15 mins; furthermore, you can also be sure that everybody will love this dish. Besides being a perfect side dish for the wedding anniversary party; it is also a healthy option for children.
Dinner for wedding anniversary on two sheet pans
When you cook in two sheet trays, you can make sufficient dinner for close to four people. This technique also helps to reduce the preparations time. Various appetizing dishes like sweet glazed carrots, roasted ham, asparagus, and potato gratin can be prepared in a considerably smaller time on the two sheet pans.
The mouth-watering classic glazed ham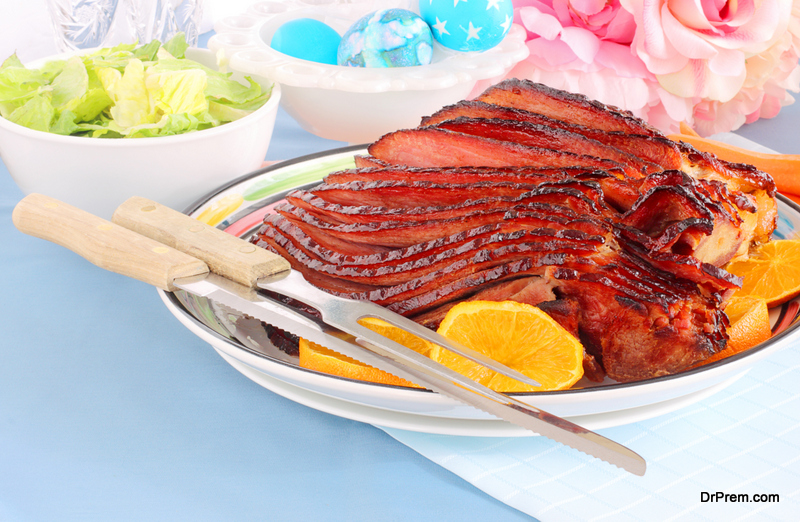 Another one among the tasty food recipes is the classic glazed ham. You can easily prepare it according to the taste of family. Being an easy one, this recipe can be prepared with a few ingredients.
The healthy cheesy scalloped zucchini
What can be better than an option, which is healthy and tasty at the same time?  Healthy zucchini along with the ingredients like; butter, garlic, salt, pepper, fresh thyme, fresh parsley, and freshly grated parmesan. This is always a great idea for snacks.
The pleasing English pea salad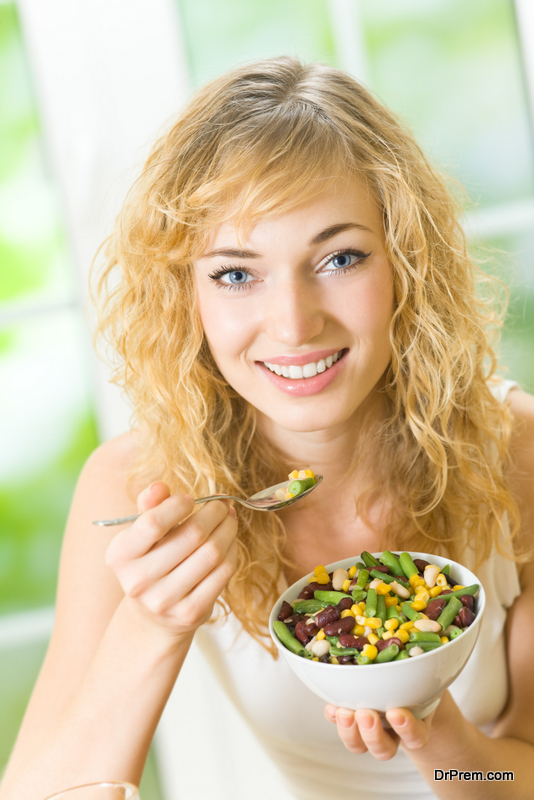 Another great healthy and filling option for the wedding anniversary party is the slight modification of the regular pea salad. Adding eggs, mayo, and cheddar cheese to the pea salad turns it into a divine side dish, which everyone enjoys to the fullest.
Making the party grander through the Duke's lemon drop sheet cake
Any wedding anniversary party is incomplete without a delicious cake. The combination of cream cheese, cake, and lemon surely makes a delicious and unique combination, which is relished and cherished by everyone. The cake is ideal to be served for a bigger gathering. The creamy tangy taste of this amazing cake makes the people in party adore the whole dinner menu to the fullest.
The tasty and tangy potato salad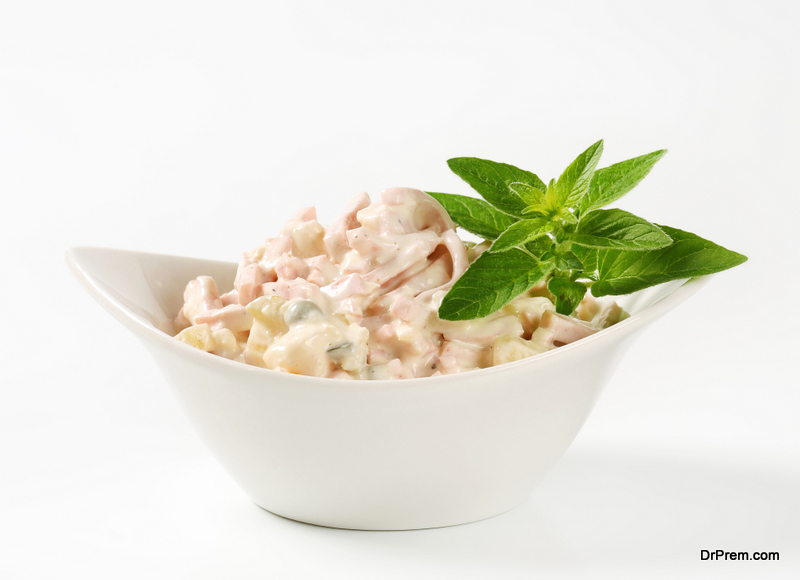 Another great option regarding the wedding anniversary dinner party menu ideas is the lighter and healthier potato salad. The ingredients needed for this dish, which is again one of the tasty food recipes, are new potatoes, kosher salt, olive oil, and black pepper. Along with these, Dijon mustard, red wine vinegar, watercress, mustard seeds, fresh chives, fresh flat leaf parsley and half-sour pickles are also used for the dish. This dish also serves as one of the great snacks for children. It is a perfect combination of taste and health.
Plan your perfect dinner party
Do you get frightened whenever you think of inviting friends and relatives on dinner party? Do you think it's too tough to host a perfect dinner party? Well, don't think yourself alone. Many of us love to throw a party but back off considering the tremendous planning required to host an enjoyable dinner party. But it is not that tough too if you carry a check list and plan accordingly. Here, we have a simple to-do list, which would help you plan your perfect dinner party. Do remember, time management is the most important part of your party plan. Too much busy host, when guests are at home, wont make a good party.
1. To give a party you need to first fix a date and theme of the party. Of course you can throw a party just to enjoy the company of your near and dear ones without any excuse. But, it is best to plan a theme party. You can plan a surprise birthday party, or any festival you think is worth of celebrating.
2. Now, sit down and prepare a guest list and inform everybody 1 to 2 weeks before the party date. It is important to give guests enough time to plan ahead and respond accordingly. You will also get a fair estimate of how many of guests can actually make it to the party. And this would help you to plan better on other issues.
3. Once guest list is complete, it is time to plan for the food. Food is always a major turn on point of any dinner party. Good food sets the mood. With perfect or moderate cooking skill, you might love making dishes for your guests but remember that no there is no harm in take-out or deli option. At least this would free you from a major headache during the party and you don't have to worry about cooking and all.
4. Take a note of supplies you would require to host your party – chairs, tables, cutlery sets, service pieces, serving area and of course your kitchen. With menu already in your hand, it would be easy to take stock of your kitchen. If you find shortage on any front, which is very common, arrange them ahead.
5. Think about the decoration. It is important but never ever overstuff your place to decorate it. Cleanliness and simplicity are crucial facts behind any good decoration. Just a few candlesticks on tables would be fine as a basic decoration. However, you can opt for flowers and other things too. For big formal parties, professional help would be handy.
6. Now that you guest list is complete, menu, decoration theme and to-arrange list, it is time to count down for the final day. Hope you have one and a half week in your hand and have sent out invitations to guests. Now, you have to follow every check list and work accordingly.
7. Let's start with food at least a week ahead and start buying napkin and other stationeries. If you plan to cook yourself, keep that restricted to few special dishes or one signature dish only. And never opt for any dish that you have not cooked before. It could make you more nervous. Play safe and try to prepare a dish that you are sure of.
8. You should have something on the table as welcome food to go along with drinks on the table. Cheese dip and crudit's can serve the purpose if you have nothing elaborate in your mind. And buy them or prepare them days before the party date and refrigerate.
9. Theme of your party should decide what drink you should serve. Do not overstuff with drinks. That might ultimately spoil the party mood. Never forget champagne, if you are celebrating something.
10. Visit grocery shop at least 4-5 days before the party date. This would give you sufficient breather to shop properly. We make mistakes often in hurry and spend excessively too.
11. Don't get adventurous with food items if you are inviting many guests. Food allergies are major reason.
12. Start with cleaning at least 2- 3 days ahead. Remember to keep at least your toilet, dining and kitchen very clean. Even without any elaborate decoration or menu, a clean home never can get you lots of compliment.
13. Try to decorate the dining area at least 1- 2 days ahead and if possible, keep the area away from kids.
Do remember, no check list is final and you can always tweak it as per your comfort level and need. But, if you follow the basic planning, you would end up with enough time and peace of mind to play a perfect host or hostess on dinner party.