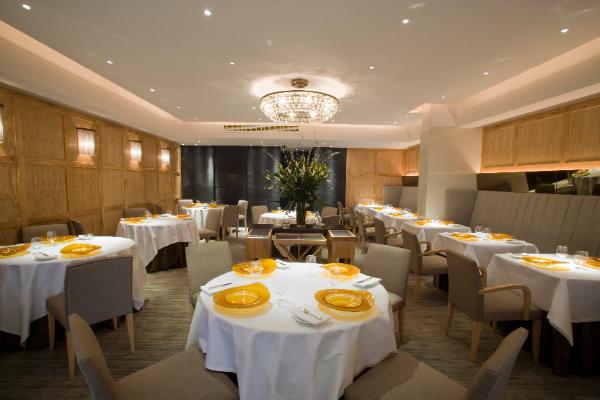 This world famous restaurant was started by French Chef Claude Bosi and his wife Claire. However, this London restaurant does not have French overtones and rather has a menu inspired by British culinary fare. The menu of this restaurant is supervised by head chef Marcus Mc Guinness, who has come from Paris to serve here.
Do expect a surprise treat of 4, 6, or 8 courses on Friday and Saturday. The interiors of this place are a notch behind contemporary times and you'll find gray chairs, wood paneled rooms and the domination of a large chandelier. On your entrance, you are served champagne and light snacks.
Where is it?
The Bosi's started the Hibiscus Restaurant in the town of Ludlow. It was opened in the UK in 2001 and tasted success almost immediately. The first feather on its cap was when it was awarded the first Michelin Star in 2001 and after three years, the second Michelin Star. It is now relocated on the busy streets of London's Mayfair and adorned with Michelin stars.
What makes it the best?
What makes this restaurant world class is the excellent service it provides. The staff members are thorough professionals and their service is faultless. Though you could say that they are friendly, they wouldn't be categorized as obtrusive. Visit this restaurant to have the ultimate dining experience and savor the rich culinary flavors especially prepared to tickle your taste buds.
Bosi and his team are dedicated in delivering the best culinary fare to your table. Every plate is prepared and crafted with absolute perfection and with the application of flawless techniques. The kitchen is the experiment ground. It is where all culinary experiments are performed and tried so that you get to taste the innovative dishes. The menu is refreshingly creative and you'll find several unusual combinations to choose from. The distinct flavor of every ingredient is utilized and Bosi has made sure that the dish is not a jumble of flavors rather a dish with flavors.
Top-notch dining
This award winning restaurant serves food that will leave you utterly impressed. The chef's touch to every dish makes it an utter delight to have a meal here. You won't find a conventional menu here. What you can find here is a taste of the unusual and the extraordinary. Some mind boggling combinations that will leave you clueless as to what you should order. Have you ever heard a combination consisting of chilled oysters served with Camembert cream and strawberry cream? Or, walnut-crusted mutton accompanied with coffee and almond milk? You wouldn't have, would you?
There is something for everyone in the various dishes of the menu. You have a lunch course with or without the wine. Then, there are special courses that are available on Friday and Saturday. If you are looking for a vegetarian specialty, then check out the ravioli of hen's egg yolk and smoked potato or toasted rice risotto. Then, there is the two course tasting menu, which is every foodie's delight. Do not miss it if you simply love to try out different cuisines. A special a la carte menu is also available that is titled 'Taste of Autumn' and is a mouth watering menu. You can have it either in a two course meal or a three course meal.
The desserts are perhaps the most loved dishes of this restaurant. The frangipane stone that is made up in peach and balanced by a delicate combination of almond milk, tart, and cherry is absolutely well-made dessert. The wine list was designed by Isabelle Legeron from France who is passionate about wines. The collection caters to global tastes and offers a wide selection of wines that would perfectly complement the intricate courses. The bold choices of dishes and unusual combinations are a crowd-puller and you will not be disappointed by its culinary fare.
Other attractions
The ambience in this place strikes the perfect balance between being overtly formal to complete relaxation. If you need a private dining room, Hibiscus can provide a room for 7-18 persons if they need to be seated and 30 persons if they are standing. Depending on the type of your get together whether it is a business meeting or a private party, the place can be set according to the tone. Complete discretion along with the best food is provided. Reservations can be easily made and should be done well in advance.