The Chinese introduced rice to Spain possibly in the 15th or 16th Century. Later, most of Spanish recipes begun combining rice with wine, olive oil and spices to give it a wonderful aroma and delicious flavor. The Spanish colonization of Cuba introduced these culinary creations to Cuba later in the 16th century. Arroz con pollo means 'rice with chicken' in Spanish unique to various countries. Arroz con pollo or chicken and rice is a standard main course in homes across Spain and Latin America. It is popular because there are many different versions, so this recipe is a basic version to start with. Arroz con pollo is enjoyed by many Latin cultures. The Cuban version is highly spiced. It's a favorite Cuban Sunday lunch dish.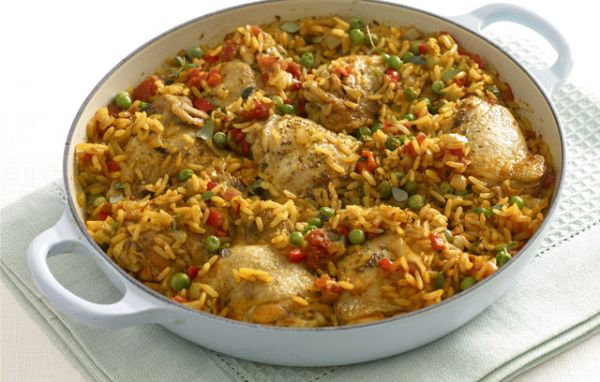 Complexity level: Easy
Time taken: 1 hour
Ingredients
Chicken
3 table spoon olive oil
1 broiler-fryer chicken, about 2 1/2-3 pounds, cut into serving pieces, or 2 1/2 to 3 pounds of chicken thighs or breasts, bone-in, with skin on, rinsed and patted dry
1/2 cup of flour for dredging
Salt
Freshly ground black pepper
Paprika
Rice
2 tablespoons olive oil (can use up to 1/4 cup)
1 medium yellow onion, chopped
1 garlic clove, minced
2 cups of medium or long-grain white rice
3 cups chicken stock
1 heaping tablespoon tomato paste or 1 cup of diced fresh or cooked tomatoes, strained
Pinch of oregano
1 teaspoon salt
Process
1. Heat three tablespoon olive oil in a large skillet on medium high heat. Put the flour in a wide bowl, mix in a generous sprinkling of salt, pepper and paprika. Dredge the chicken pieces lightly in the flour mixture and put in the pan to brown. Cook a few minutes on each side, just enough so that the chicken has browned. Use a slotted spoon to remove from pan and set aside.
2. Add the rice to the pan to brown. Add a little more olive oil if necessary. Stir first to coat the rice with the olive oil in the pan. Don't stir too much or you will prevent it from browning. Let it be brown and then stir. Then add onion and garlic. Cook the onion, garlic and rice mixture, stirring frequently, until the onions have softened, about 4 minutes.
3. Add tomatoes, tomato paste, broth and the remaining 1-3/4 teaspoons salt and 1/4 teaspoon of the pepper and bring to a simmer. Stir in the rice and add the chicken in an even layer. Simmer, partially covered, over moderately low heat until the chicken and rice are just done, 20 to 25 minutes. For dinner, serve the whole chicken pieces with the rice. For party, you may remove the chicken, skin, de-bone and break it into bite-size chunks.