Lemon coconut cupcakes
Just hearing the name of this dish is like a wave of new hope. Lemon with its tangy refreshing citrus scent and coconut with the mild white flakes blend together in this dish. Unbelievably easy to make and surprisingly it doesn't call for complex ingredients. It is a new twist to an array of sweet desserts. Just make sure that you combine the lemon and coconut in such a way that they complement each other and still stand out.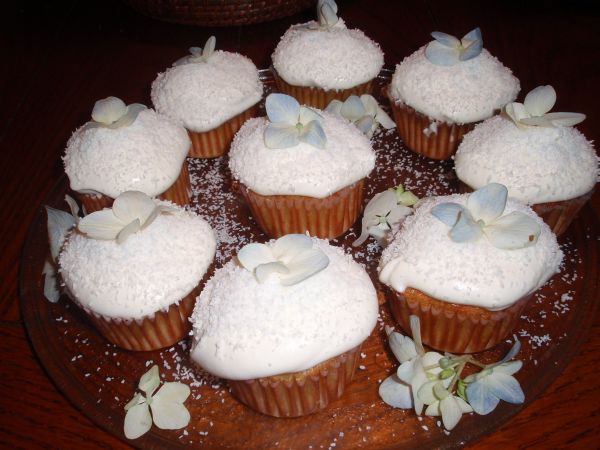 The origin of cupcakes has two theories. One, that the cakes are originally made in cups and two, the ingredients are measured out by the cup. Though both the theories have an authentication, it is ultimately its popularity that matters. Here is how to make a sweet little lemon cupcake.
Complexity level: Easy
Time taken: About 20-25 min
Ingredients
218 gm of cake flour

220 gm of sugar

Two tsp. of baking powder

A pinch of kosher salt

One tbsp. of lemon zest

One cup of heavy cream

Two tbsp. of canola oil

One tsp. of vanilla essence

Two eggs
For coconut frosting
Butter

1/2 teaspoon salt

1/2 teaspoon vanilla

3-4 tablespoons cream of coconut

1-1/2 cup confectioner's sugar
Process
Preheat the oven to 350 degree Celsius and line with required amount of muffin tins with paper.

In a large bowl, mix the flour, baking powder, sugar and kosher salt. Add the lemon zest to it and blend it all together.

Now add the heavy cream, canola oil and vanilla to the bowl and mix it till it completely blends.

Again add lemon juice and mix it till it blends uniformly.

Add eggs and mix it well with the mixture in the bowl. Mix till it acquires an even consistency.

Now use a spoon to fill the muffin tins with the batter. Bake for 15 minutes. Make sure the cupcakes are completely cooked. Now leave the cupcakes to rest.
For the frosting
Blend butter and salt in a mixer till it becomes frothy and smooth. Now add the coconut cream and vanilla essence to it and mix just until it blends. Last, add the confectioners' sugar to a dash of sweetness. Now take the cupcakes and frost them with the coconut frosting. Be creative and you can plate it up like a snowman.
Tips
For the lemon zest, make sure you don't scrape off those little bitter white bits on the lemon.

Be very careful with mixing the batter. If you mix it too much, it will make the cake hard.

The cream and lemon juice gives the taste of buttermilk, which is a compliment to the recipe.

For the frosting, if it's too dry, double the ingredients, especially the cream.

Follow the recipe measurements. If you add an extra ounce somewhere, your cupcakes will end up dry and hard.