Cranberry stuffed pork tenderloin
Pork loins are versatile as they are well suited to marinades and can be presented beautifully. Though the recipes need a little planning, but stuffed pork loin has become a staple appetizer for warm festive meals throughout the world. Here is a homely rendition of the Italian stuffed pork loin, famous for it's taste. Dried cranberries lend a sweet overtone to this low fat roast which easily fits in the oven and serves a family.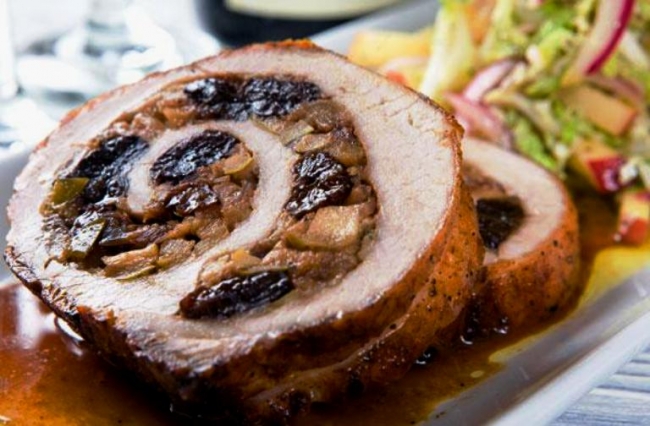 Complexity level: Easy
Time taken: 1 hour 10 minutes
Ingredients
2-3 pounds pork loin (boneless)
1 clove of garlic cut into half
1 packaged seasoned stuffing mix
1 cup dried cranberries
3 tablespoons of melted butter
1 cup chicken broth
Salt and pepper to taste
Process
Heat oven to 400 degrees.
Take a sharp knife. Butterfly the pork by making a cut through the middle of the loin lengthwise, leaving half inch uncut. Flap it open so that it is twice the original size. Repeat this till the pork loin lay flat and thin.
Sprinkle salt and pepper on the pork.
Take a bowl, pour chicken broth, add the stuffing mix, melted butter, cranberries and mix well.
Scoop the mixture and spread it on the flat pork loin, evenly with a spoon.
Roll the pork and tie it with some kitchen twine.
Place it on a baking dish and roast for 10 minutes.
Lower the oven temperature to 350 degrees and continue roasting for another 45 minutes or till the pork turns white throughout.
Wait for about 5 to 10 minutes before slicing the pork into 2-inch slices.
Tips
To make the butterflying of the pork easier, you can freeze it 30 minutes prior to cutting.
Put your own spin by pairing it with vegetables.