The dish:
A time tested saying goes like "The best way to reach a person`s heart is through the stomach." "The Drunken Pumpkin chili", will definitely help you in reaching the heart of your loved ones.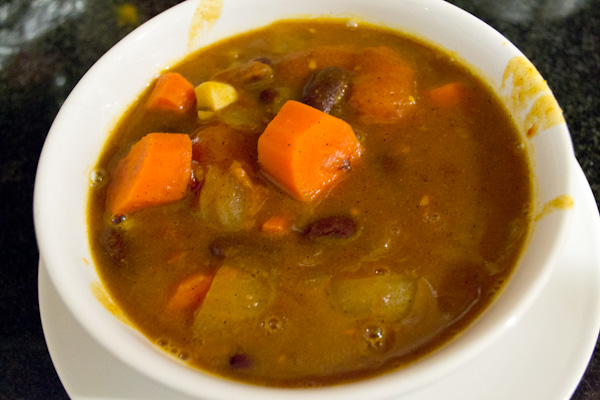 Introduction:
Drunken Pumpkin chili is, as the name indicates a purely vegetarian dish. Moreover, this is a seasonal dish too. The dish can be prepared using other seasonings too suiting to your appetite or preference of vegetables.
Complexity level:
The dish is a relatively easy one to prepare. As some food columnist and chefs put it, if you can open a can on your own you can cook this dish. The most important aspect of this is that you can experiment on this dish using different vegetables for seasoning, cook it for different time period, but the dish will still taste nice. This dish is also loved by meat lovers.
Time taken:
Generally the dish is very less time consuming to cook, as it is also a very simple one to cook. Usually it takes a shade over 30 minutes to cook, excluding preparation time, but you have the liberty to overcook it a little, and experiment too.
Ingredients:
The ingredients for this recipe are simple, and you can try out other things too for a change of taste as well.
For a serving of six, the following ingredients will be needed in the following amount at least.
1. One 2 lb pie pumpkin or sugar pumpkin
2. 2.5 tablespoon olive oil
3. 2 large onion, diced
4. 1 large carrot, cut into matchsticks
5. 2 tablespoons paprika
6. 1.5 tablespoon chili powder
7. 1 tablespoon ground cumin
8. One 15 oz can kidney beans, drained
9. One 15 oz can pinto beans, drained
10. Half a 15 oz can sweet corn, drained
11. One 12 oz can of beer (pale or medium lager and not the bitter ones)
12. 2 cups meatless crumbles like Yves grounds round or Morningstar crumbles.
13. 2 tablespoon tomato paste or Puree
14. Two 14 oz cans of diced tomato
15. 1 cup shredded pepper jack cheese
Process:
The pumpkin is cut into half using a sharp knife. From the halves the membrane and seeds are scooped off, using a spoon. Then the pumpkin halves are placed on a cookie sheet lined with parchment paper, and the sides are cut down. Bake the pumpkin in an oven pre-heated at 375 F till the pumpkin is soft enough for the skin to be peeled away, or for 15 minutes.
Remove the pumpkin after it is done, and peel the skin when it cools down enough to be handled. Discard the peeled off skin and also the stem from the end of the pumpkin. Then cut the pumpkin into medium sized cubes. Keep the cubes in a container making sure that the soft pumpkin cubes does not get mashed.
Heat oil in a large pot, and add the diced onions to it. Cook till the onions are soft, use medium heat to do the same. Once the onions are soft, add paprika, carrots and stir well. Then add cumin and chili powder. Stir well and mix properly.
Add pinto beans, kidney beans, tomatoes and sweet corn. Then add tomatoes, tomato paste or puree and the beer. Also, add the pumpkin cubes and salt for taste. Stir well and bring the mix to a boil. While the chili is boiling, simmer the heat and wait till the pumpkins are soft. Add a cup or two of water if the chili gets much thick.
Add the meatless crumbles when the pumpkin is soft and cook till the crumbles are heated enough, particularly if the crumbles were frozen.
Adjust salt, and sugar maybe added to give it a sweet and hot taste. Also, lime juice may be added for a tangy taste as well.
Serve the drunken chili hot after sprinkling with cheese shreds. Serve this with tortilla chips or brown rice.
Tips:
Don't use bitter beer as the whole dish will have a resultant bitter taste. Use beer that tastes good. Also, serve that very beer when serving.