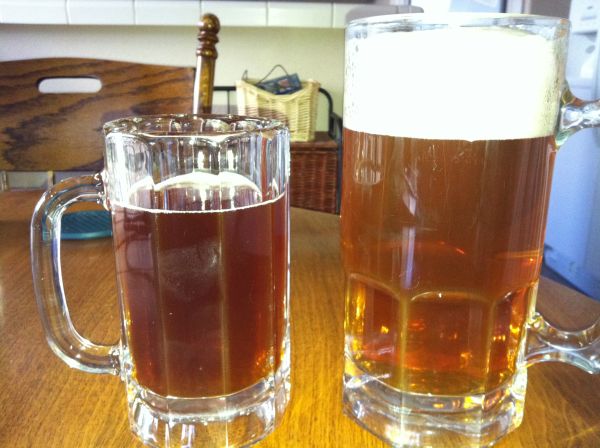 Ginger beer originated in the mid 18th century England and started getting more popular in the early 20th century. Today ginger beer is not considered beer in the typical sense but is served as a soft drink. It is primarily a ginger drink which is sweetened using sugar or artificial sweeteners. Ginger beer and ginger ale have been popular as soft drinks in many parts of the world. Ginger beer became really popular because of the benefits that were associated with ginger. This drink is also considered really refreshing and an excellent way to kill the summer heat.
Complexity level:
Easy.
The recipe for ginger beer is really easy to make and serve. All the ingredients required to prepare this drink are very basic kitchen staples and you don't need to go out shopping to get the ingredients to prepare the ginger beer.
Time taken:
The process takes around 24 hours to complete. It may sound like a lot of time but the ginger is left to be fermented during this time and after that, less than 20 minutes are required to prepare ginger beer. Most ginger beer recipes require the ginger to be fermented for around 5 days before the process can start.
Ingredients:
6 cups water
1 pound fresh ginger, peeled and chopped (about 2 1/2 cups)
Sugar (use according to preference)
Crushed ice
1 Lime, cut into wedges
Procedure:
Boil 6 cups water in a large saucepan.
Chop the ginger and transfer it to a large ceramic bowl.
Add the boiling water to it and stir it to blend. Cover it loosely with a foil and let the ginger mixture cool down at room temperature for 24 hours.
Strain the ginger liquid into a large pitcher and remove and discard all the solids in the strainer. Add sugar to the ginger liquid and keep stirring it till the sugar completely dissolves. Don't proceed to the next step until the sugar dissolves.
Now, fill glasses with crushed ice and pour ginger beer over it. It is now ready to be served.
Add the lime wedges to it so that they can be squeezed over the ginger beer.
Benefits:
This drink is very refreshing. Ice soda or club soda can be added to it to make it more refreshing. It helps people with digestive problems and nausea. Ginger helps kill ovarian cancerous cells. Ginger is known to have more than twelve types of anti-oxidants and thus it helps in treatment of many types of disorders. Ginger beer also helps fight against cough and cold. During summers it is one of the best methods to beat the heat in a delicious way.