The rainbow pinwheel cookies are served especially in festive season, when people love to have bright colors and sweets. Cookies are said to have originated back in the medieval period in Europe. The Germans and the Dutch later added different designs and shapes to it. In the late 18th century, there have been experiments with food and from there emerged several dishes and desserts which are popular to this day. And it was around that time when the Rainbow Pinwheel cookies were made. The process is just like any other cookie, only edible colors or shades are added and rolled in the dough and made into small balls. That is the basic concept of rainbow pinwheel cookies. With Christmas around the corner, these cookies are a festive delight specially for children. It doesn't take much time and is easy to make and serve.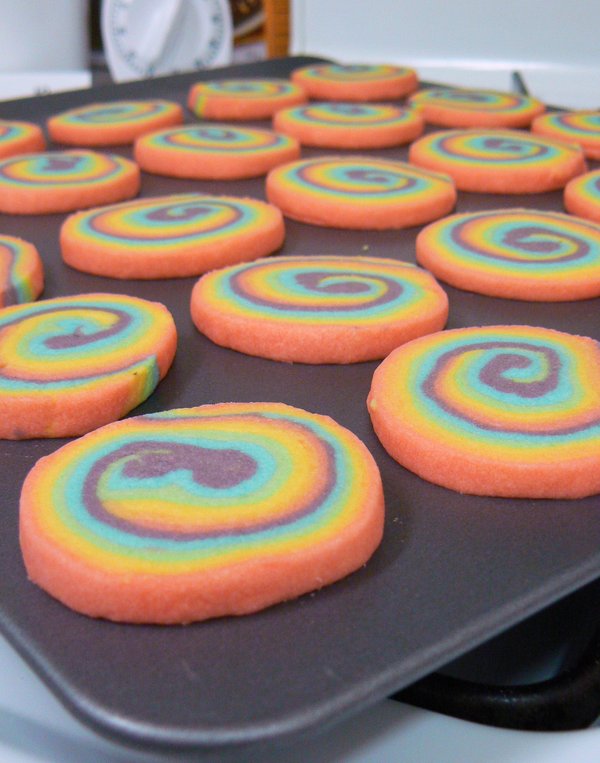 Complexity level: Easy
Time taken: 1 hr 15 minutes to 30 minutes
Ingredients:
3/4 cup of butter
3 ounces of cream cheese
1 cup of sugar
1 egg
1 teaspoon of vanilla extract
3/4 cups of purpose flour
1 teaspoon of baking powder
1/4 teaspoon salt assorted colors of paste food coloring
Process:

1. To start with, take the cream cheese in a bowl and add butter to it.
2. Add sugar to it along with the vanilla extract. Beat the mixture till it forms a smooth paste.
3. After this take flour and add it to the paste. Also, add baking powder and salt assorted colors of food coloring paste.
4. Now keep stirring this till it forms a soft fluffy dough.
5. Divide the dough into 4-5 pieces and add different food colors to each piece.
6. Take the pieces that you have divided and wrap them with plastic and store them inside the refrigerator for nearly two hours. After two hours take the pieces out.
7. Prior to this, heat your oven to 170-175 degrees Celsius. Take the dough and apply different colors to it.
8. Then form each cookie by adding differently colored pieces of each colored dough. Do this for each and every piece that you make till every part is a big round ball of different colors.
9. For the colors you may use pink, blue, green and red or any other combination you want.
10. Now take each of these balls and roll them straight.
11. After this take each roll and coil them round in the shape of cookies.
12. Now heat these coiled colored cookies in the oven for about 8-10 minutes or till you think it has been baked like any other process of baking cookies.
13. After the cookies are baked, take them out and keep them aside or store them in a container which is airtight. After it becomes cool, serve them.
Tips:

1. It is better to store the rainbow pinwheel cookies in an airtight container than to keep them aside.
2. You may also add sprinkles to the cookies after coiling them prior to baking inside the oven.
3. Though it has been said to make 4 pieces of the dough and use four colors, it is really up to you and you can add more colors and make a bigger dough using more amount of each ingredient and make more colorful rainbow cookies.
4. You may use a stick like a lollypop stick attaching it to the cookies before baking.