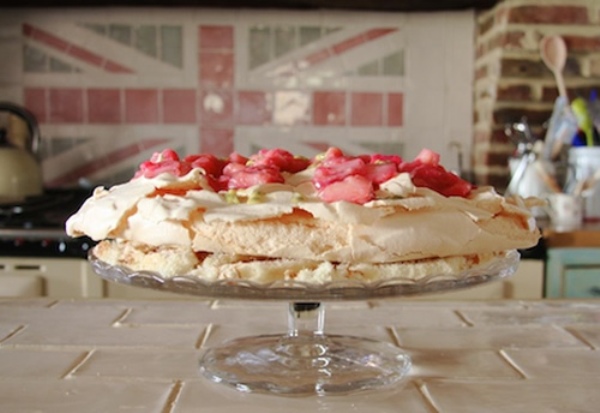 Pavlova is a traditional meringue based desert made in Australia and New Zealand. This amazing dish was created in the honor of Anna Pavlova, a world famous ballerina in the 1920's. The meringue mountain of this desert when baked, forms a crispy crust on the outside and a light, soft inside which slowly melts in your mouth. This quick and easy to create desert is an important dish in Australia and New Zealand and is often served during the holiday meals.
Name of the dish: Pink Fruit Pavlova
Complexity level: Easy
Time taken: 1 hour and forty five minutes
Ingredients
4 egg whites
1 cup castor sugar
1/2 teaspoon salt
1/2 teaspoon cream of tartar
2 tablespoon corn starch
1 teaspoon vinegar
1 teaspoon vanilla essence
400 grams rhubarb
4 passion fruits
2 tablespoons castor sugar
Process
For the meringue
1. Grease proof a large baking tray or a springform pan using a baking sheet. Preheat the oven to 150 degree C.
2. In a bowl, beat 4 egg whites along with salt and cream of tartar using a whipper. Beat them till soft peaks are formed.
3. Add the castor sugar slowly, one spoon at a time and continue whipping the mixture until stiff peaks are formed. You can add a few drops of pink food coloring at this point if desired.
4. Beat in the corn starch, vinegar and vanilla.
5. Use a rubber spatula and mound this mixture in the middle of the grease proof pan. Make the sides a little higher than the center in order to mound the topping in the middle of the meringue once baked.
6. Place the meringue into the oven and bring down the temperature to 130 degree C. Bake the meringue for an hour and fifteen minutes. Remove once the top starts turning brown.
For the pink fruit topping
1. Clean and cut the rhubarb into pieces 2 inches in length.
2. Place them in a large sauce pan, sprinkle with 2 tablespoons of castor sugar and turn on the heat.
3. Cook the rhubarb in its own juices for 8 to 10 minutes till it becomes soft. Turn down the heat and cool the rhubarb mixture.
4. Halve the passion fruits and remove the inside mushy part into a separate bowl.
Place the cooled pavlova on a dish. Spoon the rhubarb mix and the passion fruit on top of the meringue till you cover ever inch of it. Slice them up before serving. Enjoy.
Tips
1. Always remember to add that dash of vinegar while whipping for it stabilizes the egg whites.
2. Use only clean and dry utensils for whipping the egg whites.
3. Make sure to remove the yolks completely.
4. Never forget the baking sheet under your meringue.