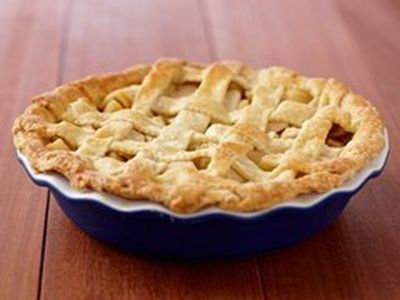 Pie is a delectable and savory dish made usually of a pastry dough casing and covers a number of ingredients that varies from one recipe to the other. Very often apple, pumpkin, cream and even meat is used as the base ingredients for the filling. A good crust makes a good pie and for a good crust you will need a mat, a rolling pin and a good baking dish. However, if you want to make it look pretty, carry it around and also have a piece of it you will have to equip yourself with some more precision tools.
1. Pastry Dough Blender
Behind every good crust is a good dough. So, if you are making a pie from scratch, then this is a tool just for you. A comfy grip and elegant design makes it easy to work with butter, flour and water.
2. Ceramic Pie Weights
When blind baking the pie crust pie weights are very necessary to keep the crust in place. So, if you think it's not worth investing, well you can even used it for baking your tart shells and also for other recipes that require an unbaked filling.
3. Pie Crust Cutters
The pie crust cutter comes in different shapes and sizes that are just apt for the season. You can either cut the dough and place it on top of your pie or just use them to make vents. They come with spring buttons that makes using them much easier.
4. Lattice Pie Cutter
Now you can make the lattice pie even more easily. All you need is to place the lattice pie cutter on the top of your rolled-out dough and place it on the top of your pie.
5. Ceramic Pie Bird
The Pie birds give an old world traditional look to your pie. An excellent way of making a vent they also keep the juices where it should be – locked inside the pie.
6. Stainless Steel Pie Server
To serve the perfect piece of perfect pie you will definitely need it. The serrated edge and the comfortable grip makes it easy to segregate each piece.
7. Collapsible Pie Cutter with Storage Box
Cutting the perfect slice of pie is very crucial and needs expertise. For a beginner or even for the pro this tool makes the job less messy and saves clean up time as well. It cuts 8 perfect pieces and can be stowed in the same box.
8. Double Pie Basket
The double pie basket has a true traditional look and makes carrying your pie much easier and elegant. The beautiful hand woven basket comes with a footed tier, which allows place to hold two pies.
So this holiday season no matter what pie you are baking for your family, make sure you have these indispensable tools handy. You will surely be appreciated.