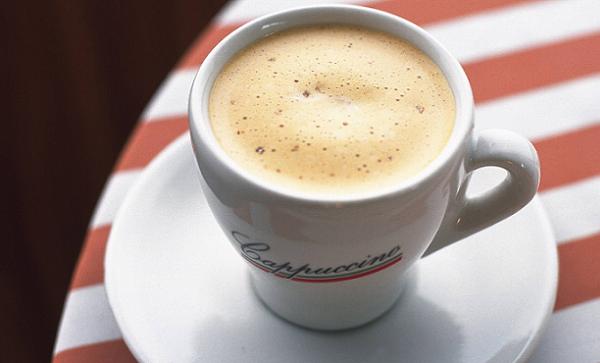 Cappucino
Cappucino originates from Italy and is made with hot milk, espresso, and steamed milk foam. It is basically a coffee which is topped with micro foamed milk. It was first made in Italy during the early 1900's and gained popularity in the late 1990's. What makes cappucino so special to coffee enthusiasts and non-enthusiasts is it's rich, creamy taste which bridges the gap between regular coffee drinkers and non-drinkers.
For many people, coffee is a necessity in the early morning and in the evenings. While coffee addicts may prefer black coffee or plain old coffee with milk, sugar and coffee beans; some prefer their coffee to be rich, creamy and tasty. It's more of a rewarding experience to them than just a wake up drink!
You can find various types of coffee in coffee shops, they have a lot of fancy coffee machines to prepare different types of coffee. But you need not go to a coffee shop for your desired cup of Cappucino, as it does not require any fancy coffee machines and takes a maximum of 5 minutes.
Complexity Level : Easy
Time taken : 5 minutes.
Ingredients
1. Nescafe Cappucino Classico
2. Vanilla milk or regular milk with some vanilla sugar or vanilla syrup
3. Sugar – optional
4. Cream – optional
Process
1. Choose your coffee cup. If you use a regular 250 ml cup then pour about 150 ml of vanilla milk and add 5 spoons of Nescafe Cappuccino Classico with it.
Or pour about 150 ml of regular milk and mix a teaspoon full of vanilla sugar or two teaspoons of vanilla syrup to get the similar taste. Then mix the Cappucino Classico.
If you use large coffee mugs, alter the quantities of the ingredients accordingly. About 60% should be milk. Increase 1 spoon of coffee for every 30 ml.
2. Boil some water. Measure about half your cup or mug.
3. The next part is all about mixing. You can mix them in two ways. The right way to do it is by using a milk frother. If you do not have one, you can use a spoon. Consider buying a battery operated milk frother, they are small, hand-held inexpensive pieces of equipment and are quite useful in the kitchen.
Place the frother into the cup with milk and coffee while it is turned off. Turn the frother on and mix it thoroughly for 30 seconds. Then slowly start adding the water that you've boiled, while constantly stirring with the frother.
4. When your cup is full of rich, creamy lather – your perfect cup of cappucino coffee is ready to be enjoyed.
5. If you like your coffee to be extra sweet add some sugar while pouring the hot water. Pour some frothered cream on top of the cappucino lather, if you like it extra creamy.
Tips
If you do not have a milk frother, do not worry. The coffee can be prepared by stirring with spoon as well, and it'll be just as good. It'll just require some extra stirring, that's all. So if you're using a spoon, stir the milk and coffee for about 2-3 minutes before adding the hot water. Stir constantly while adding the hot water very slowly.