This dish is an Arabic dish wherein the recipe has been provided by the Arabic Food Recipes kitchen of South Africa. This dish is a very famous delicacy prepared at Morocco and has been used for many important occasions. The recipe serves 4 people at least.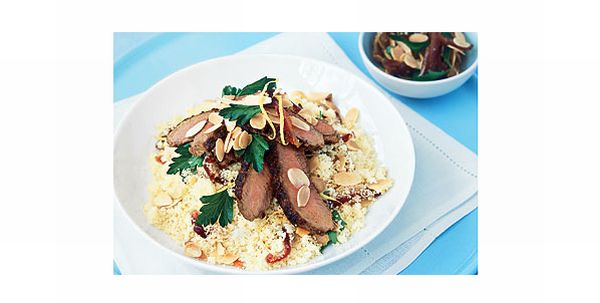 Complexity level: Moderate
Time taken: For preparation, the time needed is 15 minutes and for cooking, time needed is 18-20 minutes. So total time taken by your dish is 40-45 minutes.
Ingredients:
Extra virgin olive oil: 21/2 table spoons
Garlic, 2 cloves (finely chopped)
Lamb backstraps, 2 of 250 grams
Paprika, coriander, turmeric and cumin, each one tablespoon grounded
300 grams of couscous
Toasted almonds,70 grams
Parsley,1/2 a cup that is packed firmly
Dates, 4 that is cut in to strips
One lemon
Process:
a. Mix the finely chopped garlic and 2 teaspoons of oil in a bowl. Then, brush this mixture on to the lamb. Season it with salt and pepper and the grounded spice as per your taste.
b. Pre heat a char grill pan till around medium heat and then cook the lamb on it till it is cooked to your liking (around 4-5 minutes) on both the sides. Then keep the lamb on a plate and cover it with foil paper, loosely. Let it rest for around 10 minutes. Your preparation is done!
c. In the meanwhile, put the couscous in a bowl that is heat proof. Add to it the remaining oil and salt and around 300 ml of water. Stir it and cook it for 10 minutes.
d. In a bowl, mix the lemon rind, dates, almonds and parsely and add it to the couscous mixture along with the lemon juice. Season it with pepper to your taste and stir to combine it.
e. Divide the couscous equally in shallow bowl and cut the lamb in 4 parts and place it on the couscous. Top it with roasted almond and serve.
Tips: You can also use fish or chicken instead of the lamb