[box_dark]Amritsar Gets a Taste of Irresistible Lahore Food Street[/box_dark]
Diwali is going to be a very special occasion for the state of Punjab, especially an appetizing one filled with the mouth-watering aromas of the renowned Lahore food street. Sukhbir Badal, the deputy chief minister of Punjab, who is currently on a visit to Pakistan, gave instructions to his visiting officials on Thursday to replicate the model of the street in the holy town of Amritsar.
Badal broke the news over phone to the Times of India from Lahore, claiming that the street served as a model on how to make sure that authentic traditions were kept alive. He added that both the countries need to warm up to the attractions present in each other. According to him, the streets of Amritsar would be benefitted from being revived in such a manner. Badal made no qualms about making his attraction known for the food street in Lahore. The announcement was made at the time of his impromptu visit to the famous food street.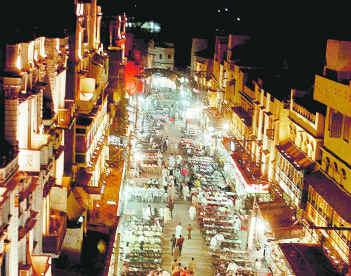 [box_dark]Structure of the Food Street[/box_dark]
Enclosed by architecture that dates back to several centuries and is a remarkable blend of Persian and Kashmiri styles, the food street in Lahore happens to be one of the most popular destinations for tourists in Pakistan. The site manages to draw visitors till very late in the night.
Traffic is permitted through the street during the daytime but as the sun begins to set, motorized vehicles are no longer offered entry into the food street. The street is a thriving combination of dhabas serving ethnic fare, modern day coffee joints along with shops serving fast food.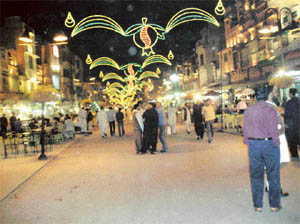 [box_dark]Gastronomic Experience: Source of Inspiration[/box_dark]
Sukhbir had decided to take an evening off from his hectic schedule following two back-to-back meetings and sessions on trade connected to power and the export of items such as textiles and tractors. His five-day tour in Pakistan began on the 4th of November in an attempt to improve trade links between the neighbouring countries of Pakistan and India.
Visiting delegates state that several of his cabinet colleagues, including Bikram Majithia, his brother-in-law, dug into piping hot vegetable biriyani, haryali vegetable and paneer saag. They indulged in gol gappa along with poori-chana.
Rajat Agarwal, the deputy commissioner of the state of Amritsar, who happens to be a part of the delegation comprising of 45 members, verified that the government would conceptualize a food street along the same lines for Amritsar by the close of the year.