South India, ASIA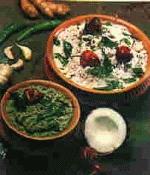 The most typical thing about the South Indian cuisine is the usage of coconut in every dish. It is used to make chutneys, pancakes, gravies or used as a garnish. The weirdest usage of coconut is found in Kerala cuisine. In Kerala, coconut oil is used in all the dishes, thereby imparting a pungent flavor to the dishes. Coconut is also used as a stuffing in many desserts and sweets of the Indian cuisine.
Coconut is grated and minced with green chilies, pulses and ginger to make chutneys and coconut chutney is usually paired with idli (lentil dumplings) and dosas (pancakes). In gravies, coconut milk is extracted by soaking freshly grated coconut in warm water and then it is poured into the gravy, which enhances its richness and absorbs the heat of overpowering spices.
Apart from South Indian cuisine it is used in East Indian delicacies like coconut rice and fish curries, Goan cuisine like the Chettinad cuisine of TamilNadu (South India) uses coconut in seafood and meat delicacies.
I have tasted 'n' number of delicacies made with coconut but the idea of putting coconut and coconut oil in almost every dish somehow seems weird to me. The South Indian cuisine is so obsessed with coconut usage that it has started pairing it with a couple of beverages.
Coconut in South-Indian Cuisine