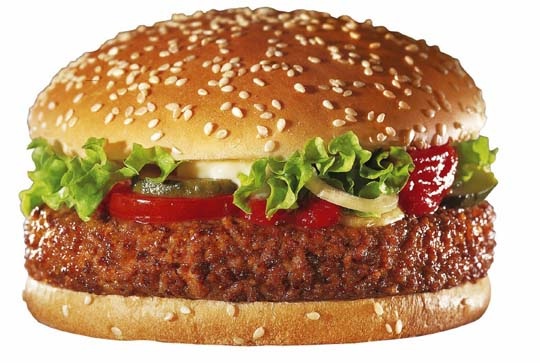 Hamburgers are definitely the most loved fast foods of the world. The list of fast food seems incomplete without it. This has prompted many fast food joints to jump into the hamburger ring to woo foodies from all over the world.
But with passing time, the ingredients and variations of hamburgers have changed all together and taken its critics by surprise. Now the freshest ingredients go in to make your perfect hamburger, which is then seasoned according to your taste. A hamburger fiesta has been decided to be held in the honor of all die-hard hamburger lovers, who swear by its taste. In this fiesta, you will find ten different hamburger recipes, with different condiments, spices, meat and ingredients. The only thing that won't change is the dollop of ketchup and cheese slice which accompanies it.
1. Bacon Double cheese stuffed burgers
Bacon and double cheese stuffing ensures the top position for this burger on this list. This burger melts in your mouth and is sure to tantalize your tastebuds. A must try at home, it is easy to prepare and tastes simply awesome.
2. Onion Burgers
A different flavored burger that has got an intense taste and is one of the most popular burgers. The addition of onion provides its distinctive aroma and flavor to the patty that enhances the taste of the burger.
3. To Die for Burgers
Garlic and onion flavored patties topped with avocados and spicy red peppers, these burgers resemble their name. Beef, red onions, onions, garlic and red peppers are grounded and deep fried to form patties which is then served on onion rolls.
4. A great little Hamburger recipe
The classic combination of barbecue sauce with bacon is what this burger tends to unveil. This burger is easy to make and disappears in minute's play. Minced bacon along with fiery barbecue sauce topped with onions are grounded to form a patty, which is then deep fried.
5. Aloha Burgers
A yummy burger from the land of Hawaii, this burger is topped with pineapple slices. A different yet delicious burger, this burger is meant for all burger lovers who would love to try out something different. Teriyaki sauce, pineapple juice, swiss cheese, onions, lettuce leaves all provide this burger a distinct taste.
6. Jalapeno Burgers
An extra hot spicy beef burger with peppy seasonings and cheese slice, the jalapeno burgers taste out of the world and is a hot favorite among fast food lovers.
7. Pizza Burger
A joint venture of two of the most favorite fast foods from two different sides of the world. A cheesy burger that is topped with pizza sauce and pizza cheese, but yet it tastes similar to a burger. A bit of Italian touch to this American fast food will surely make tongues waggle.
8. Superbowl Burger
A unique burger with the inclusion of wooden chips or wooden pellets, and jalapeno peppers give this burger an extra edge over the others.
9. Grilled Herb Burgers
A burger that is grilled to perfection using selected herbs and seasonings. The Grilled Herb Burgers are a must for your palate in case you are a burger freak. This burger is sure to leave you asking for more.
10. Cajun Burgers
The Cajun burger is a delicious burger flavored with cajun pepper and served with a mildly flavored barbecue sauce. A cajun flare to this burger adds a twist of taste and will surely sizzle your mouth.