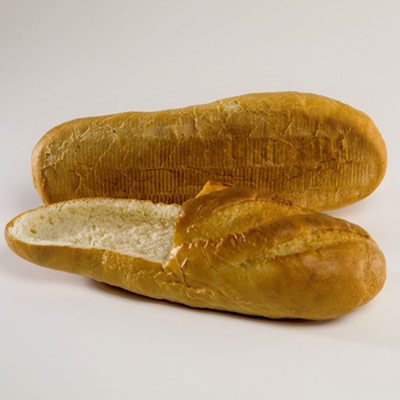 Food fashion is becoming very popular these days. Gourmand people who also have a desire to look trendy and fashionable are the ones who would preferably love the idea. It is unbelievable that accessories, clothes and even shoes can be made using food items. Read on further and know all about the strangest food and fashion things:
1. Nike Air Max 90 Burger Sneaker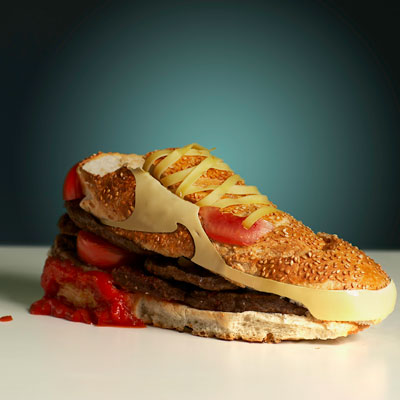 Air Jordan is not the one behind this creation. Instead it is Olle Hemmendorff, a Swedish designer. He used beef patties, pickles, sesame baguette, cheese and tomatoes to create these classic Nike Air Max sneakers. He chose hamburger because it is durable, strong and tastes good and showcased it in an exhibition.
2. Spaghetti Dress with Meatball Necklace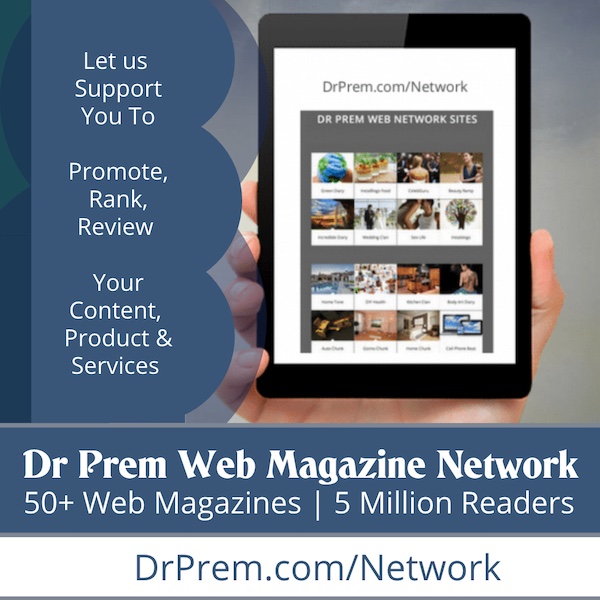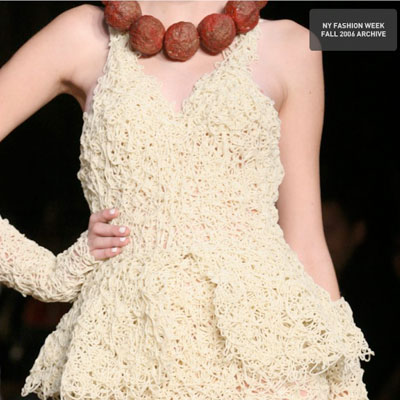 Jeremy Scott, an American fashion designer, named the dress as "Food fight" and the dress was disclosed in the year 2006 at the time he showcased his entire collection. Scott played really well with some great themes and placed a necklace made up of meatball along with a beautiful spaghetti dress. This proved to be a great artwork in the field of fashion.
3. Lettuce Leaf Gown by PETA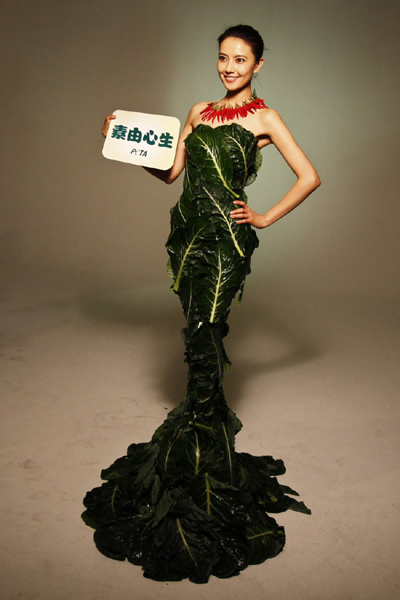 PETA is responsible for this bizarre dress creation. Lettuce leaf gown was created to promote and enhance the use of meatball meals. It was Cloris Leachman who wore a long and beautiful gown. This gown was made by using red cabbage and of course green and leafy lettuce and hence the dress is named so.
4. Creamy Puff Wedding Dress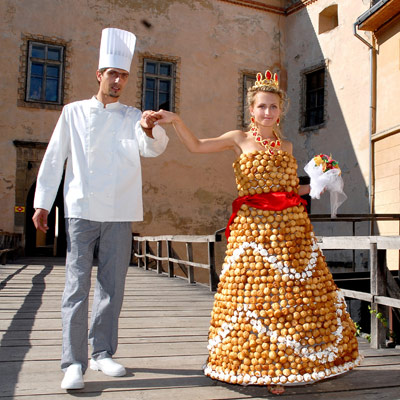 It is really ok to hear that you can have the croquembouche but it is really weird to know that you can wear it too. The person behind this food fashion is a Ukrainian chef who is an expert in making delicious and mouth watering pastries, Valentyn Shtefano. It took more than 2 months and 1500 cream puffs to create this amazing wedding dress. Shtefano's wife donned this wedding dress which was fully made from yummy cream puffs. The other amazing fact about the dress is that it was not heavy at all since it was completely made out of cream. The wedding dress just weighed 20 pounds.
5. German Chocolate Bubble Dress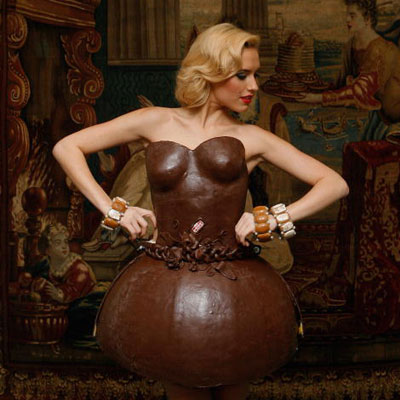 The dress was of course created in Germany. It was made by a bakery group named Lambertz. It feels amazing if we die and land on a land full of chocolates! Isn't it? Well, this beautiful and fashionable chocolate dress was made out of cent percent solid chocolate. The edible bubble chocolate dress was donned by Alena Gerber who is a German model. She wore this bizarre dress in Munich during the annual show in January 2010.
6. Elegant Artichoke Heart Gown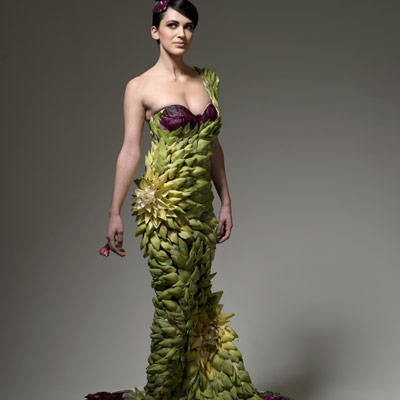 The gown was created during the project called "Runway". It was the photographer Ted Sabarese and the fashion designers Wesley Nault and Daniel Feld who sewed the entire dress together. The three of them stitched each artichoke leaf and covered the body of the model that stood continuously for a duration of six hours.
7. Beef Jerky Chanel Bag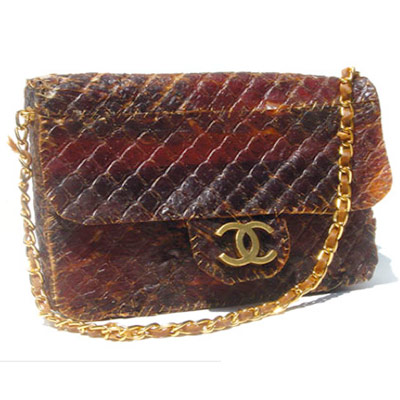 Nancy Wu, an artist and a designer invented this Chanel bag which was made from cent percent beef jerky. The meat was air dried and then sewed in an ultimate classic fashion. This beef bag is definitely as durable as any other bag made from Italian leather. In case it was coco, the bag must have failed in the durability tests.
8. Bedtime bread slippers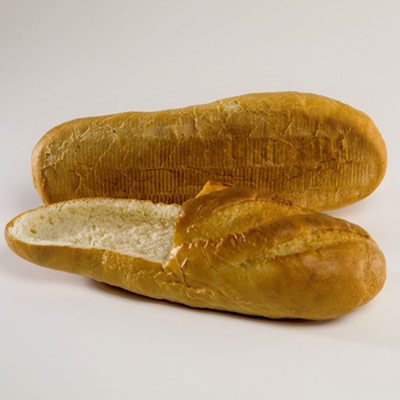 This great artwork and masterpiece was created by the European designers R&E Praspaliauskas. The bread slippers were sold eventually at the DADADA Studio. These slippers are of course edible. You can also wear them and keep the toes really toasty. Not much dough is employed to produce these slippers. If hunger pangs strike your stomach in the midnight, you have an option to grab these tasty bread slippers.
9. Slimming Salad Dress by Chris March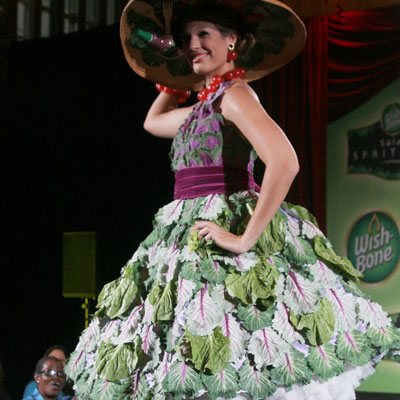 Chris March was a finalist in Project Runway, Season 4, who created this salad dress. He purchased lettuce for worth $50 only and cleverly designed this salad dress. It was Chris March who could design this outrageous costume. Wish Bone was also the one who asked to promote the salad dress lined with spray bottle salad dressings.
10. Carbo-holic's Dream Dress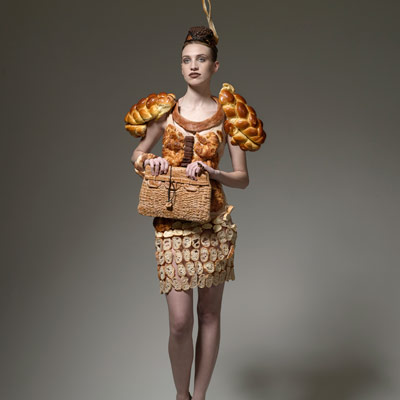 It was the photographer Ted Sabarese along with Ami Goodheart, a designer from SOTU collections who made this dress. The dress is made out of bread and has been a sequential part of the series of dresses called 'Hunger Pains'. The theme was that the models wore the dresses that showcased their food cravings.