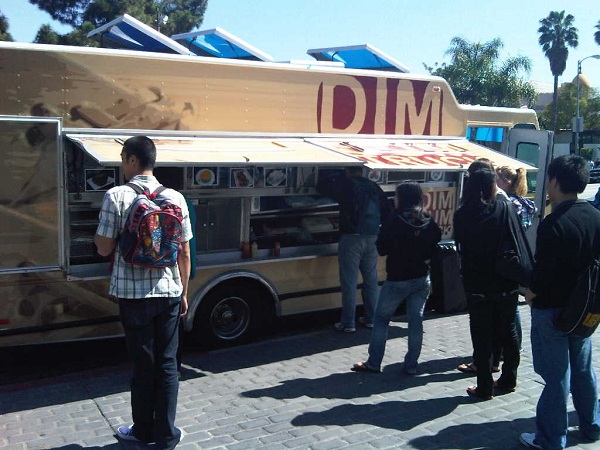 A restaurant on wheels is a brand new concept sweeping the world. Changing focus from the monotonous and old fashioned sit and dine restaurants, a restaurant-on-wheel is a revolution in disguise. It has been the age old custom to sit and dine with soft music playing in the background and gorgeous interiors drawing you to the table.
But with the changing times, it is important that you change your perception toward food. Have a look and get addicted.
1. Big Gay Ice Cream Truck
The Big Gay Ice Cream Truck is an ice-cream parlor on wheels. It has earned huge accolades all over and has lived up to the expectations of people. A variety of cups and cones await you. Also, selected toppings are available at the customer's fingertips. So, in case you are throwing a party or are planning an ice-cream treat, go out without any pocket pinching fear to this restaurant on wheels.
2. The Taco Truck
The Taco Truck is a taqueria on wheels. This restaurant has opened its doors to customers due to their good feedback and plenty of kudos. The truck provides round the clock service at selected locations. Customers find themselves drawn to the trucks with the delicious aroma of the tacos entangling them. It also provides catering services and is just a phone call away from you.
3. The Grilled Cheese Truck
The Grilled Cheese Truck is a scheduled restaurant on wheels service. It has earned rave responses from the Americans with tweets and Facebook comments pouring in favor of the cheese truck from all over the world. This restaurant specializes in spreading out cheesy delights on the palates of customers. Cheesy sandwich fillings and cheesy deserts ( this is a unique one) are on a roll.
4. Curbside Cupcakes
Cakes are an all-time hit with young and old alike. And when it is cupcakes, there is only one place where you can find the best cupcakes at your service- the Curbside Cupcakes. It is not just an innovative restaurant on wheels, the menu of this restaurant is also very different. The menu is kaizen and changes daily. The cupcakes are so delightfully decorated that a look is enough to lure you.
5. Great Balls on Tires
The Great Balls on Tires are a call to your endless hankering for meatballs. No matter what amount of meatballs, one consumes, the lust for meatballs never dies down. So the hot meatballs are at your service, but there's not just food. A lot more is happening out here. Fun and games are on your side and plenty of action to watch out for at this truck.
6. Nong's Khao Man Gai
The Nong's Khao Man Gai is a food truck on wheels for people who haven't had a taste of Thailand cuisine. A taste of a totally different side of the world is simply unimaginable, but thanks to the Nong's Khao Man Gai, it is now possible for the people to try out Thai food. This restaurant is run by Nong and Khai Man Gai is the Thai for chicken and rice, which incidentally is this restaurant;s specialty.
7. Lake Street Creamery
Lake Street Creamery is a mobile soda fountain. The Lake Street Creamery is a new concept of sort where individuals are treated to this special soda treat. A variety of sweet delights is also on serve and floats with the choice of toppings are on great demand. A motley of flavors are on the menu and you can get going with a single scoop serve or a double scoop serve depending on your budget.
8. Skillet
A modern American's cause of affinity, Skillet has redefined the cooking standards of the burgeois American society. It has not just carved out a niche for itself in serving food, but is the first among any restaurant on wheels to open its own brand of products and have a cookery book by its name. The next time, you intend to have a party, no worries, check out your neighborhood, a Skillet truck might be standing for you and waiting to serve you with a smile.
9. Green Truck
A torch bearer of the go green revolution. Green Truck is a healthy and hygienic option for people who are looking forward to having high quality food products. The Green Truck is one of the few restaurant-on-wheels that uses organic products that are free from harmful fertilizers and pesticides. For them, your health is the primary concern. They sell burgers, grilled cheese wraps, desserts and drinks.
10. Mud Coffee
A much needed break from the crowded coffee bars and the long queues, where you have to register your name and wait for turn. The wait has ended because a coffee bar on wheel, Mud Coffee serves you the best coffee you've ever tasted. So enjoy your cuppa on the go with fun and music brimming alike.