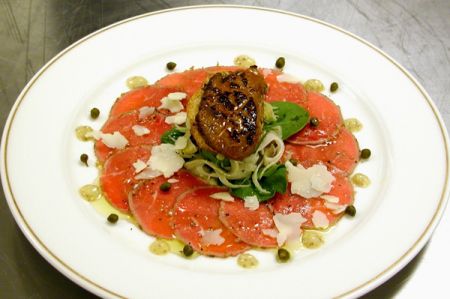 If you are looking for a variety of authentic international cuisine from the comfort of your own home, then your search has come to an end with exotic must-try recipes. With the help of exotic must-try recipes, you can try a wide range of exotic dishes and I assure you, your family will love you for it too. From country cooking to fabulous desserts, from simple, challenging to meals with an international flair, exotic must-try recipes will make a chef out of you. With or without the black hat.
1. Seafood Tagine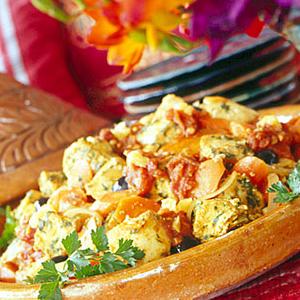 Ingredients:
1/4 cup chopped fresh flat-leaf parsley
2 tablespoons chopped fresh cilantro
1/2 cup extra-virgin olive oil
1 teaspoon ground ginger
2 teaspoons sweet Hungarian paprika
8 saffron threads, crushed
2 teaspoons fresh lemon juice
4 (6-ounce) snapper fillets
4 large tomatoes, peeled, seeded, and chopped
2 garlic cloves, minced
1 teaspoon ground cumin
1/2 teaspoon salt
1/4 teaspoon freshly ground pepper
1/4 cup extra-virgin olive oil
2 large carrots, diagonally sliced
1 large onion, thinly sliced
1 tablespoon preserved lemon
12 kalamata or brine-cured black olives, rinsed and pitted
For garnishing: fresh flat-leaf parsley
Preparation: Mix all the first seven ingredients in a large bowl and set aside for 5 minutes. Cut the snapper fillets into desired shape. Now take a baking skillet and arrange the fillets on the skillet forming a base and spread out the mixed parsley mixture evenly over the fillet. Cover the fillet-parsley mixture and chill for 2 hours, turning once.
Place a saucepan over medium heat and add finely chopped tomato, crushed garlic and cumin and bring to a boil; reduce heat and simmer and cook it for 8 minutes (uncovered) or until the mixture comes to a slightly thick consistency, stirring occasionally. Once the mixture is soupy, remove from heat and add salt and pepper. This mixture could be stored for a day, chilled and reheated before using, if desired.
Heat a quarter cup of olive oil in a Dutch Oven over medium heat and add onions and carrots, mix well. To this add the tomato soupy mixture and cover and cook until the carrots are tender. Now remove from heat. Then, place the baked fillet-parsley mixture on top of the tomato soupy mixture. Spread preserved lemon evenly on the mixture. Sprinkle with olives. Cover and cook over medium heat for 10 minutes or until fish flakes with a fork. Garnish, if desired. Now delicious Seafood Tagine is ready to serve.
2. Orange-Sesame Noodles with Grilled Shrimp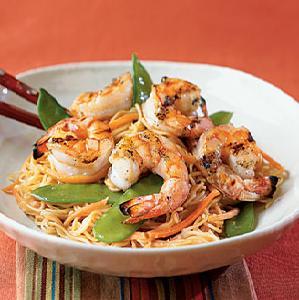 Ingredients:
50 ml fresh juice of orange
3 tablespoons soy sauce
3 tablespoons butter of peanut
2 tablespoons sesame oil toasted
2 teaspoons ginger freshly grated
2 teaspoons grated orange zest
1/4 teaspoon ground cayenne pepper
10 ounce soba noodles or spaghetti
1 cup snow peas
1 carrot, cut into matchsticks
1 1/2 pounds large shrimp, peeled and deveined
1 tablespoon toasted sesame oil
Preparation: In a large bowl, mix the first seven ingredients so that it becomes a nice mixture and set it aside for a few minutes.
Boil the noodles with little oil and a pinch of salt and once the noodles are cooked, add snow peas and carrot and let them cook for 30 seconds. Then drain the water and toss with the orange juice mixture. Set aside.
Mix the shrimp with the sesame oil and grill over medium-hot coals for 3 to 5 minutes. Finally, arrange the pasta on the serving plates and top with shrimp. Garnish, as desired.
3. Miso-glazed Black Cod in Coconut Broth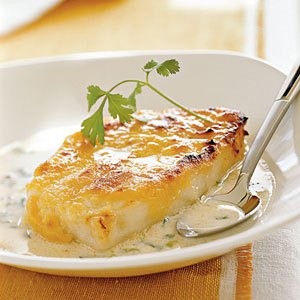 Ingredients:
1/2 cup yellow or white miso (soybean paste)
2 tablespoons mirin (sweet rice wine)
1 tablespoon sugar
1 tablespoon fresh lime juice
6 (6-ounce) black cod or sablefish fillets, skinned
Coconut broth
Garnish: fresh parsley sprigs
Preparation: Mix miso, mirin, sugar, and fresh lemon juice in a large baking dish. To this, add the fish, spooning glaze over all sides. Cover the fish mixture and refrigerate for 2 to 4 hours.
Now place the fillets on a foil-lined baking sheet and broil them for about 6 to 8 inches from heat for about 8 to 10 minutes or until the fillets are golden brown and the center of fish is opaque.
Once the fillets are done, spoon some warm coconut broth into a shallow bowl and place the fillet in the center. Garnish, if desired. Serve immediately.
4. Spicy Thai Lobster Soup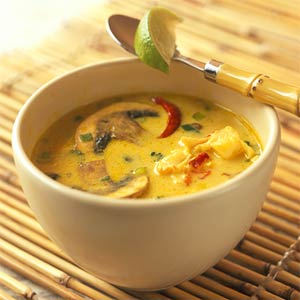 Ingredients:
2 lobster tails, cooked (3/4 pound peeled and deveined shrimp may be substituted for lobster)
1 tablespoon vegetable oil
1 to 1 1/2 tablespoons Asian blend
4 cups fish or chicken broth
1 tablespoon grated lime rind
1/3 cup uncooked long-grain rice
1 cup unsweetened coconut milk
6 large mushrooms, sliced
2 green onions, chopped
1 Thai or bird chile, halved
1 tablespoon chopped fresh cilantro
2 tablespoons fresh lime juice
Garnishes: fresh cilantro, lime wedge
Preparation: Remove the lobster meat from the shell and slice and set aside. In a large saucepan, pour oil and once hot stir in the Asian blend and sauté for one minute. To this, add the chicken or fish broth and bring to a boil. Now add the rice and stir well. Cover, reduce heat and simmer for 15 to 20 minutes.
Now add the coconut milk and the mushrooms, stir occasionally for 5 minutes. Add the lobster, green onion, chile and cilantro and cook for 3 to 5 minutes. Remove from heat and add the lime juice. Garnish with cilantro, as desired.