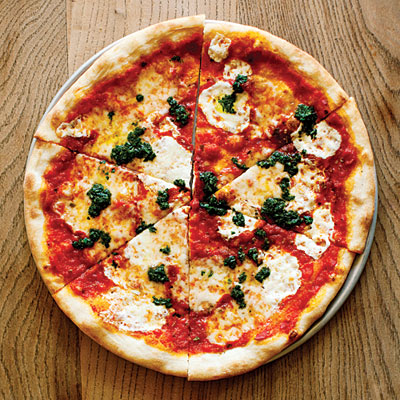 Pizza is a national dish of Italy. Though, Pizza and Pasta originated in Italy but now they have become famous and been excepted and converted into different tastes world-wide. From, the days of Old Italian tradition to today's modern generation; the cooking has changed drastically. Today we can even find readymade paste, sauce, breads and packets for it.
Pizza is generally a flatbread which is cooked by placing it on hot iron and then seasoning it with various herbs and vegetables. Traditionally, the basic Italian pizza is known as "margherita pizza" which was named after queen Margherita. The thing that make it so famous world-wide is the way in which it is cooked; simple and convenient. Margherita pizza is not only tasty but it is also a type of pizza which has minimum ingredients and can be baked easily too.
Name of the dish: Italian pizza
Complexity level: Medium
Time taken: 2 hours and 6 minutes, if you are making dough at home. And, if your bread is ready made, then it shall take you 5-10 minutes.
Ingredients:
For dough: (serves 4 people)
Flour: 3 cup
Salt: according to taste
Warm water: 1 and ½ cup
Yeast: 1 and ½ tsp
For Margherita: (serves 4 people)
Tomato sauce or Tomatoes (finely chopped): 3
Basil leaves (finely crushed): 10-15
Mozzarella (crushed): 1 cup
Olive oil: 3 tsp
For Marinara:
Garlic cloves (crushed or finely chopped): 3 tsp
Tomatoes (finely chopped): 3
Olive oil: 3 tsp
Mozzarella (crushed): 1 cup
6. Process
A. Kneading dough:
Mix flour, salt and yeast in a large bowl. Pour in warm water and knead it till the dough becomes smooth and soft . Keep it aside for at east 2 hours, so the dough can rise.
B. To make Margherita:
Flatten the dough in a round shape. Then in a pre-heated oven bake it for 2 minutes, so that the dough doesn't remain raw. Apply tomato sauce or put chopped tomatoes and spread it. Top it with few basil leaves, olive oil and mozzarella. Bake it in oven on high temperature for 5 minutes. In the similar way, bake other pizzas too. You can make 4-5 pizzas based on above ingredients quantity.
C. To make Marinara:
Make round shape out of dough and bake it high temperature for one minute. Spread chopped tomatoes and sprinkle garlic generously all over. Cover it with crushed mozzarella and put few drops of oil . Bake it for 5 minutes and serve
Tips:
1. To add more tangy taste to your pizza, you can experiment with different type's sauces available in market. Or else, a little bit or fresh oregano and chili flakes will make you pizza, famous among your friends and relatives.
2. Vegetables like onions, mushrooms and bell peppers adds to taste and color of your pizza. While cutting pizza, ensure that you have waited till 1-2 minutes; because cutting it as soon as it is baked will let not let cheese set properly.
3. Sprinkle few drops of olive oil or freshly crushed herbs on before serving as it will enhance it looks and also make you feel yummm!