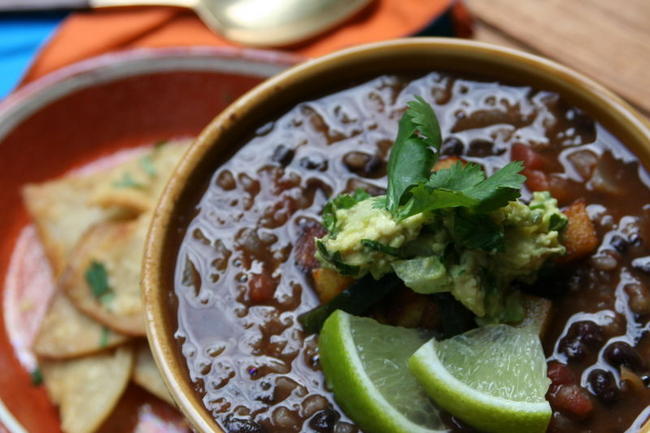 The dish traces its roots to a country known for its rich heritage, exotic language and delicious food, France. The recipe offers an interesting combination with its sizzling, smoky taste that effortlessly mimics meat, along with hot Chipotle Chiles, which are in contrast to a rather ordinary bean soup.
Black beans abound in protein and fiber. They are a hundred percent authentic, unadulterated by any artificial ingredients. They also serve as excellent anti-oxidants, for they are rich in Vitamin E and C. Also, the dish is low-fat and ideal for people on a diet.
Combining the rich aroma of French cuisine and the healthy nutrition of green veggies, the chef presents 'Chipotle Black Bean and Rice Stew'.
Complexity Level
Easy
When you think of French food, you think of exotic complexities, but this dish is very easy to make. It does not take much time and all the ingredients needed for it may be found at home.
Time Taken
For four servings, this dish will require about 35-40 minutes.
Ingredients
1 bay leaf
1 cup minced Vidalia onion
1 red bell pepper, chopped
1 Capsicum, chopped
2 chopped celery ribs
2 Chipotle bouillon cubes
1 cup white corn kernels
2 tbsp olive oil
3 garlic cloves, chopped
2 cans black beans
1 carton vegetable stock
1 can diced tomatoes
1 tsp ground coriander
1 1/2 tsp cumin
1 bottle tomato sauce
1 cup rice
2 tsp kosher salt
For garnish :
1 cup Greek yogurt
1/2 cup seeded plum tomatoes (chopped)
1/4 cup cilantro (chopped)
A few drops of lime juice
Process
1. Heat olive oil in a large skillet over medium heat. Saute the onions and bell peppers until golden brown. Saute bay leaf, cumin and garlic for another minute.
2. Transfer to a Dutch oven. Crush the Chipotle cubes into the pot and add corn followed by the two cans of beans. Pour water and broth. Add tomatoes. Simmer, until it begins to boil.
For the Beans
Turn off the stove and put the beans in the oven and cook at 275 F until beans become soft.
2 cups of the bean mixture is transferred into a mixer and made to puree. Puree is poured into Dutch oven and lime juice and salt are added.
3. Add the beans to the pot and bring to boil on high heat.
4. Add rice and bring to boil again. Then lower heat and simmer till the rice is tender.
5. Garnish each serving with a scoop of yoghurt and a sprinkle of chopped tomatoes and cilantro.
Tips
1. Rice can be served separately as it tastes well with the soup.
2. The mixture should be cooled completely before being put into the blender. Puree to a good consistency.
3. For a less spicy soup, use half of a Chipotle pepper (chopped).
4. Serve with bread or tortilla chips. Break corn bread into the soup and give a twist to the taste.