Lasagna, the traditional Italian dish, seems to have garnered immense popularity in the United States in recent times. Garfield's favourite snack, lasagna contains ingredients like garlic and tomato paste that boast of excellent health benefits while calcium present in the cheeses results in strong bones. However, the conventional form of lasagna is stacked with carbs from the cheese, to the pasta, to the meat. You need to come up with your own reduced-fat version by substituting low-calorie ingredients if you wish to lose weight with lasagna.
[box_dark]Keep It Healthy: Customize Your Lasagna[/box_dark]
Various lasagna recipes are used in North America and Europe, the most popular among them being the Italian lasagna. You are free to add your own ingredients to the recipe, including lobster, broccoli, chicken, corn, spinach, meat, sausages and even pumpkin. You may use common garden herbs such as basil, rosemary, oregano, parsley and garlic, not only to enhance the taste but also the health benefits. Weight watchers might want to switch high fat components of the dish like red meat and cheese with suitable low fat alternatives like lean meat and tofu.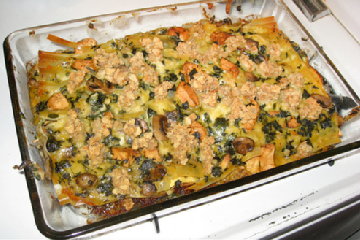 [box_dark]Mind Your Ingredients[/box_dark]
Organic ingredients are increasingly used in lasagna. You can dig into your favourite pasta both to satiate your taste buds and consume a nutritionally balanced, low-fat meal.
Cheese is one of the major ingredients in most lasagnas. You have two options to lessen the amount of calories per serving when it comes to the cheese in the lasagna dish. Your first choice is to use less cheese. You might want to try using cheese every alternate layer or right on top of the lasagna instead of placing the cheese slices between every layer. Your second option is to use a low calorie version of cheese, like Monterrey jack or low-cal cheddar.
Pasta contains calories…a lot of calories! You can reduce the calories in your lasagna by replacing several noodle layers with more vegetables and sauce. Choose ground beef products that are lean. You may even substitute ground beef with ground chicken or turkey. If you want to limit meat calories, replace meat with veggies like tomato chunks, zucchini, olives, mushrooms.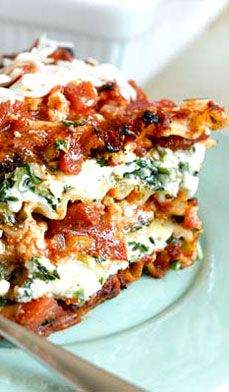 Lasagna is perfectly suited for today's hectic lifestyle since it is easy to make in bulk, then freeze some and refrigerate the rest for the busy week. Voila! An instant healthy gourmet meal for dinner. You can purchase pre-cooked lasagna from the frozen foods section in your local grocery store.
You can make low calorie lasagna for six by using ingredients like cheese, egg, noodles, crumbs, and mozzarella. You need to cook the noodles in sauce. Sprinkle the bread crumbs and then top with mozzarella. You should bake the dish at 350° for 45 mins.