A crostata is basically a baked dessert tart and a form of pie; a dish that comes from Italy. Traditionally, jams of cherries, berries, peaches and apricots are used as a filling for the crostata. Crostata di Mele con Frangipane literally means an apple pie with frangipane. Frangipane is nothing but a batter which is made from almond flour and it forms a cake-like texture when baked. Let's learn how to make this delicious Italian recipe!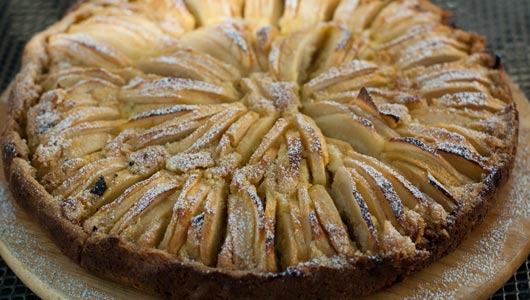 Contrary to the common belief, an apple pie is not an American invention; it has been cooked in Italy for centuries. It is a classic Italian home-made dish. While the recipe may differ slightly from person to person, there is a common thread that binds all of them. Unlike our apple crisps, cobblers and pies that are seasoned by nutmeg, cardamom and cinnamon, an authentic Crostata di Mele never uses any spices.
Complexity level: Moderate
Time taken:
Time required for actual preparation is 25 minutes and the total time needed is about 3 hours.
Ingredients:
For the rich shortcrust
1. Plain flour: 500g (1 lb)
2. Butter: 300g (10 oz)
3. Sugar: 200g (7 oz)
4. Egg yolks: 4
5. Zest of 1 untreated lemon
For the frangipane layer
1. Butter: 100 g (at room temperature)
2. Icing Sugar: 100 g
3. Finely ground peeled almonds: 100 g
4. Flour: 30 g
5. Eggs: 2
To top
1. Apples: 4
Peel, core and slice the apples and also squeeze some lemon juice on it so that the apple slices don't oxidize.
Process:
For the shortcrust dough:
1. Line a tart dish which is oven-proof with baking paper
2. Cut the butter into small pieces and mix it well along with the flour and sugar, preferably on a surface made out of wood. Now rub the butter onto the sugar and flour till it is totally worked in. Do it gently such that the butter does not melt.
3. Make this mixture like a mound and dig a 'well' in the middle. Now add the egg yolks along with the lemon zest. Be careful not to grate the bitter pith of the lemon zest.
4. With the help of a fork, work the mixture together. Do the same with your hands, till you get a smooth and soft pastry dough.
5. Next, you will have to wrap this dough in clingfilm. Now put it in the refrigerator for minimum 30 minutes. If the weather is warm, do it for 2 hours.
For the frangipane layer:
Mix all the ingredients well, begin with the icing and butter, followed by the ingredients that are left.
To assemble
.1 Roll out the pastry dough on the grease-proof paper (parchment) with proper caution. Put it on the tart dish. Attempt to achieve a thickness of at least 1 cm (half inch). You can use the extra, left-over pastry to make cookies!
2. Spoon the mixture of frangipane upon the pastry.
3. Decorate with the apples on top.
4. Pre-heat an oven to 180°C/350°F for about 35 minutes and then cook. Or, you could just cook till the pastry gets a golden-brown color.
Tips:
1 The Crostata di Mele will taste great only with fresh lemon juice and lemon zest and without excess sugar.
2. It goes well with a cup of Espresso.