Dips are used to add flavor and texture to an otherwise simple food. Dips are usually thicker than sauces and thinner than spreads. Spreads can be easily thinned to make a dip. Dips can be served with potato chips, meat, cheese, raw veggies, crackers, pita breads, dumplings, etc. The basic difference between a dip and a sauce is, unlike sauce, food pieces are dipped into it, hence the name dip. Thick dips based on sour cream, milk, yogurt, mayonnaise, soft cheese, or beans accompanied with appetizers or other easily held food are very popular in America.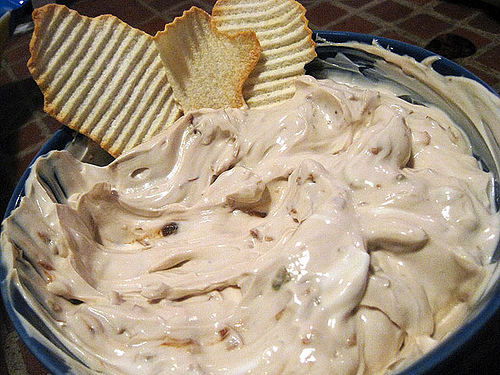 The onion dip is originally a French recipe. However, it is very popular all over America. An unknown Californian chef first prepared the dip using the packaged soup mix, it is therefore also known as the California Dip. This delicious dipping sauce can add that special touch to your Sunday brunch or can give your appetizer the right flavor.
This recipe is high on fat, but occasionally you can obviously take a break from your diet chart. Moreover, on the brighter side this is low on carbohydrates. You can also make this using the packaged soup mix from the market. However, to get the good old taste of home here is the recipe to add some more taste to your appetizers.
Complexity level: Moderate
Time taken: Four to five hours
Ingredients: (Serves 8)
1. Olive oil (2 tablespoons)
2. Butter (2 tablespoons)
3. Chopped onions (3)
4. Minced garlic cloves (4)
5. 8 ounce sized cream cheese cut into cubes (1 package)
6. Grated baby Swiss cheese (2 cups)
7. Sour cream (1/4 cup)
8. Dried thyme leaves (1/2 teaspoon)
Process: Take a crock-pot and heat it. When it is adequately heated, add olive oil and butter. Let the butter melt completely. Add the onions and stir well. Turn the heat to low and let it cook for some time stirring occasionally until the onions are brown and caramelized.
Now pour all other ingredients and stir well to mix. Cover the pot and let it cook for 2 to 3 hours so that the cheese melts and the dip blends well. You need to stir it only once in its cooking time.
Now your onion dip is ready to serve. Serve it with crackers, bread sticks, meat, or any other appetizer, or for a health conscious option team it up with veggies. You can keep the crock-pot warm on low heat or "keep warm" setting for up to 2 hours.