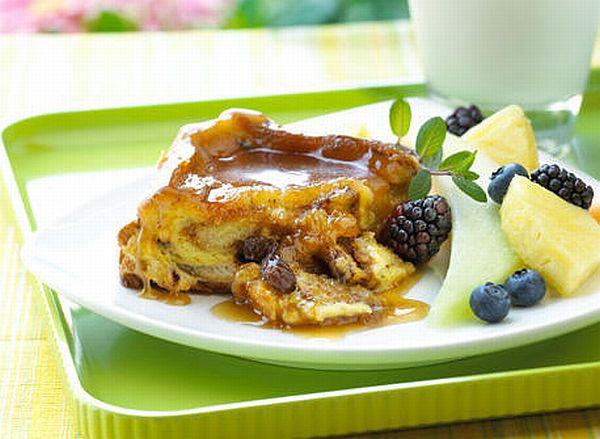 It is very hard to refuse a great French toast. Often the restaurants offer us with a false version of the French toast which is soggy and limp due to improper cooking. If you want to get the real taste put in a little effort and cook it yourself. It is a perfect option for a Sunday brunch, when you are lazy and seeking a shortcut. As almost every one knows about the basic French toast, here is a different recipe for the same dish. The Creme Brulee French Toast has an amazing taste and requires very minimal effort. Here are a few steps which you can follow to make a Creme Brulee French Toast that serves 8 people. Toast it yourself and enjoy the delicacy.
Complexity level: Easy
Time taken: 20 to 30 minutes
Ingredients:
1/2 cup unsalted butter
2/3 cup brown sugar
3 tablespoons maple syrup
1 large loaf challah bread, cut into 2 inch pieces
6 eggs
1 cup half and half
1/4 teaspoon salt
1/4 orange juice (or bourbon for a spiked version)
1/4 cup sugar
Process:
1. Firstly preheat oven to 350 degrees. Keep ready the baking sheet and the baking pan.
2. Take a saucepan and put it on medium heat. Melt butter with maple syrup and brown sugar until the mixture begins to boil and becomes similar to the brown color of caramel. Stir the mixture continuously. When the mixture shows the golden color and a smooth looking texture. Put off the flame of the stove and pour mixture from the saucepan into a baking dish. Spread the bread pieces over caramel so that it gets locked inside.
3. Whisk 6 eggs in a bowl, big enough to dip the size of bread you are going to use. Put half and half, vanilla, orange juice, salt and sugar in the mixture. Slowly pour this mixture over the bread so that every piece of bread is moistened.
4. After soaking the breads for 10 to 15 minutes put them on a baking sheet spread on a baking pan. Put it in the oven and bake for 30 to 35 minutes. You can also toast the bread on a frying pan with butter. If you are planning to toast the bread in a frying pan, first melt butter. Put the moistened bread in the pan and toast until golden brown.
5. Serve hot with whipped cream and strawberries if you want. The recipe serves 8 people.
FAQs
How can i make the French toast crunchy?
Use a little bit of flour if you want to make your French toast crispy and crunchy. Add the flour to the mixture of whisked eggs and stir continuously to dissolve it well. Toast the bread in a lot of butter and you will definitely succeed in making a crispy French toast.
Quick tips
Always use the right bread for your French toast. You can use Challah egg bread or brioche. These breads have thick slices.
Use stale bread for a better result. A stale bread is slightly dry and hence absorbs liquid mixture in a better way.
Things to watch out for
Try to avoid milk and use cream instead. You can easily mark the difference when using cream. Custard is a better option as well.
Always use thick slices of bread to make a French toast which is crispy from outside and supple from inside.
If you are making a French toast do not be stingy in using butter, put a lot of it. If you are on a diet it is a better option to skip this dish rather than eating a bad version.
Via: Myburningkitchen